Ireland rugby players Paddy Jackson and Stuart Olding have been found not guilty of raping a student at a house party in Belfast in 2016.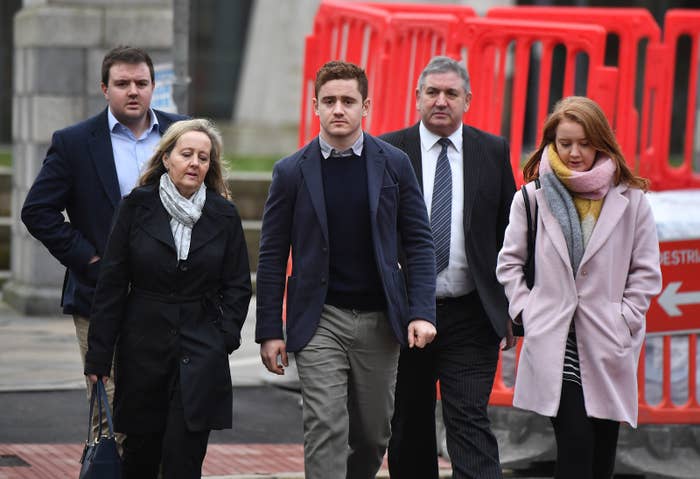 Following the acquittal, people began using the hashtag #IBelieveHer – an international hashtag which has been used previously to criticise how the justice system handles sexual assault and rape cases.
Author Claire Allan expressed sympathy for the woman.
The online outrage wasn't confined to Northern Ireland. Irish actor Tara Flynn and presenter Sarah McInerney also tweeted using the hashtag.
Others using the hashtag are donating to charities that help those who have been sexually assaulted.
The hashtag has also received criticism from people who say the trial was fair.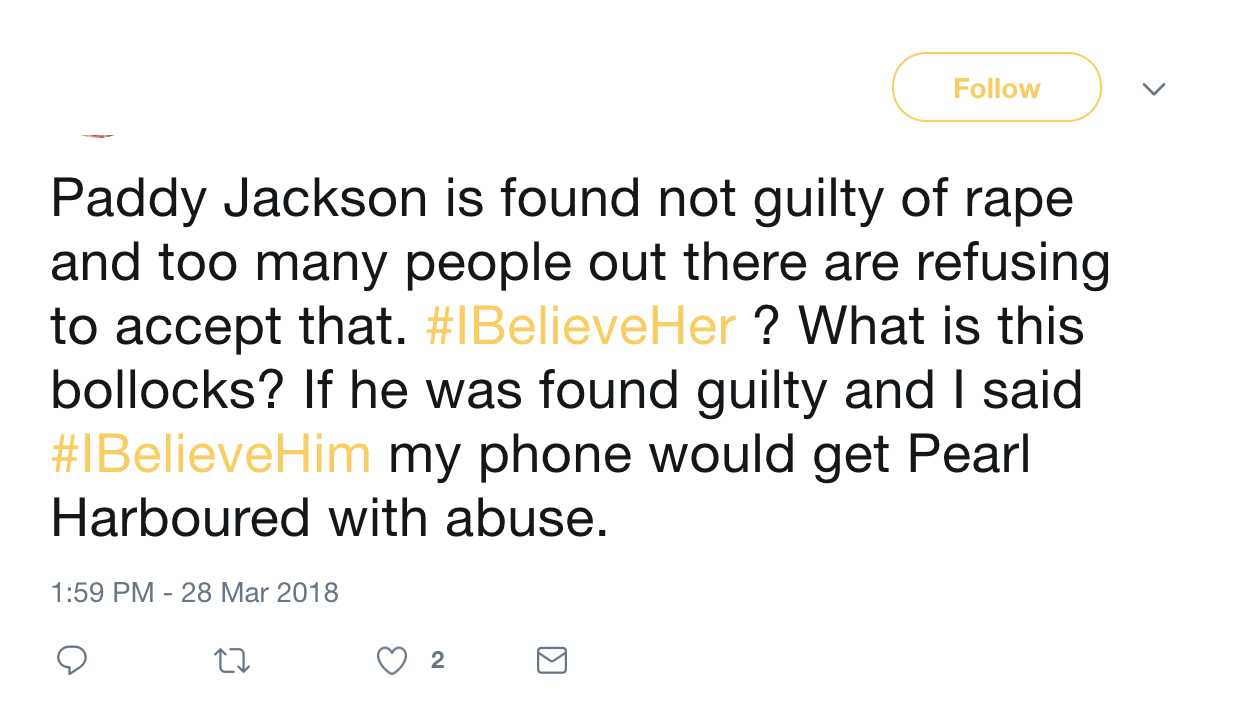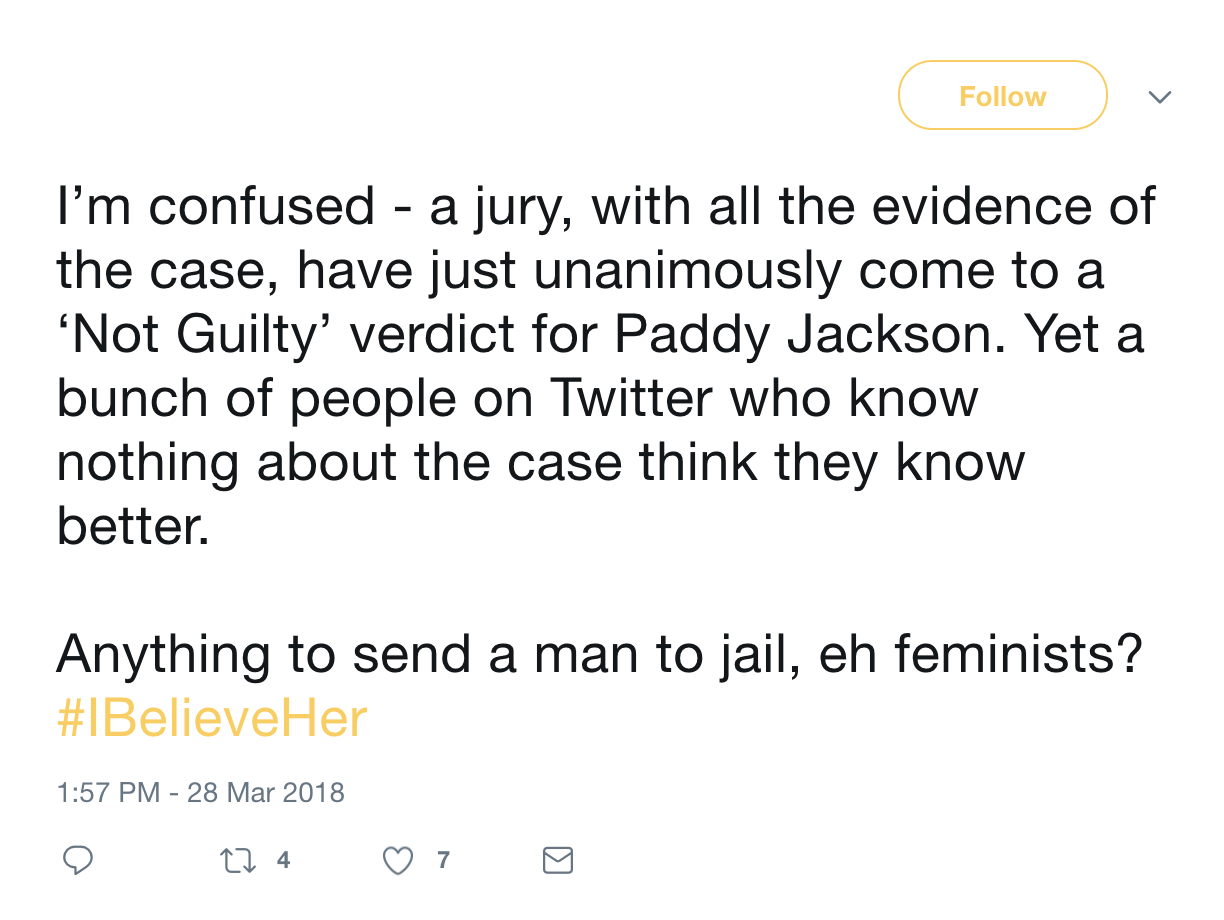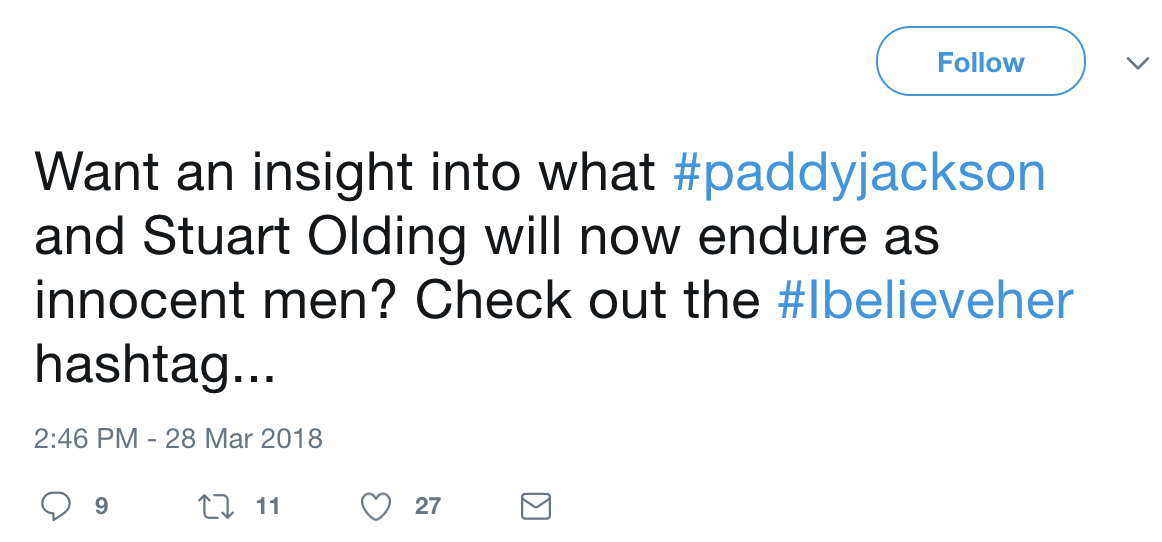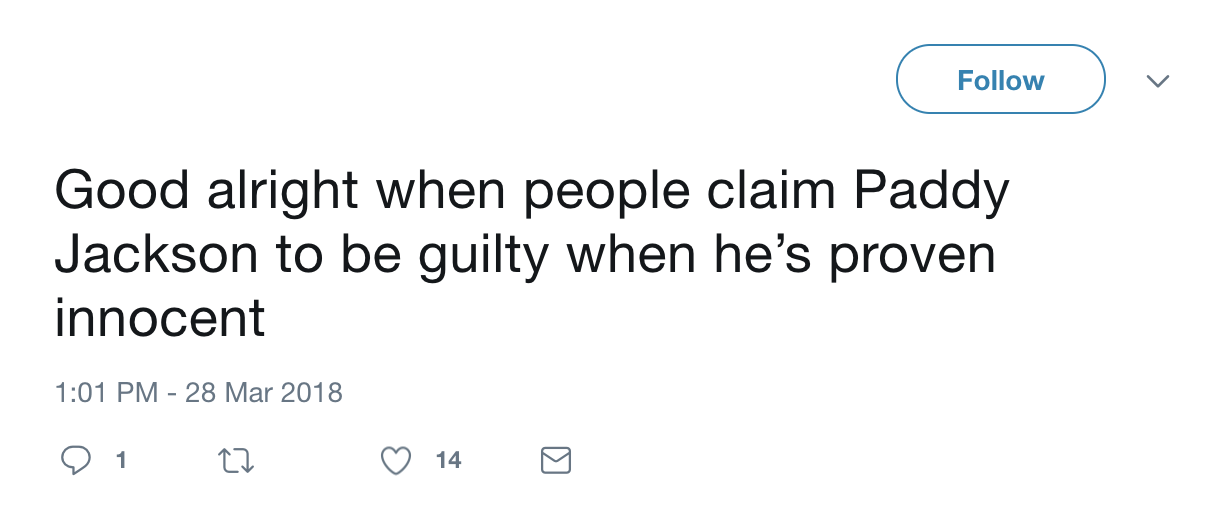 After leaving the court, Olding's lawyer read out a statement written by the player.
He expressed gratitude to the jury for finding him not guilty, then continued: "I want to acknowledge publicly that although I committed no criminal offence on 28 June 2016, I regret deeply the events of that evening.
"I want to acknowledge that the complainant went to court and gave evidence as to her perception of those events. I am sorry the hurt that was caused to the complainant. It was never my intention to cause any upset to anyone on that night. I don't agree with her perception of events and I maintain that everything that happened that evening was consensual."
Following the news, Jackson delivered a statement outside the court, thanking the judge for a fair trial, and declining to comment further, "out of respect for my employers".
Irish Rugby also released a statement on Wednesday acknowledging "that this has undoubtedly been a difficult and extremely traumatic time for all involved."
The IRFU and Ulster Rugby note the verdict handed down today at the Belfast Crown Court in relation to the case brought against Paddy Jackson and Stuart Olding. We wish to acknowledge that this has undoubtedly been a difficult and extremely traumatic time for all involved.

To respect the judicial proceedings the IRFU and Ulster Rugby postponed any internal review of the matter with the players, until the proceedings concluded.

IRFU and Ulster Rugby officials will review the matter, in line with existing procedures for all contracted players. A Review Committee, made up of senior representatives of the IRFU and Ulster Rugby, has been appointed and will conclude its review as soon as practicable.

The players will continue to be relieved of all duties while the Review Committee is in process and determining its findings.