Earlier this week, model Munroe Bergdorf made history when she was announced as the first openly transgender woman to front a L'Oréal UK campaign.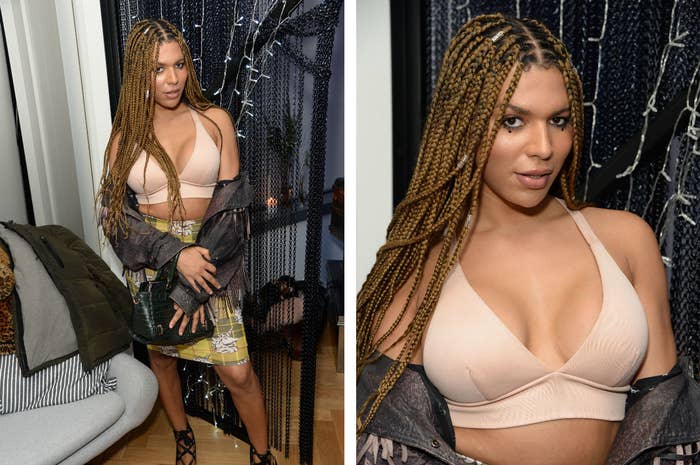 The announcement received considerable press coverage, and L'Oréal was praised for the campaign, themed around diversity.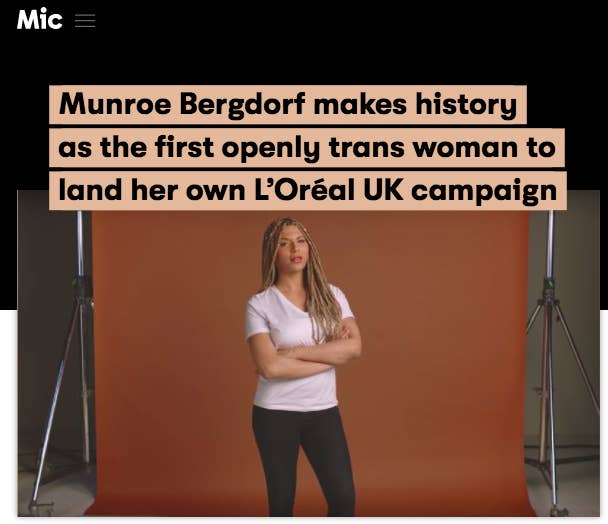 However, this week the Daily Mail published details of a Facebook post Bergdorf had written after August's violent far-right rally in Charlottesville, Virginia, where she apparently called for white people to "admit their race is the most violent and oppressive force of nature on Earth".
The post has since been deleted, but the Daily Mail claimed to have text from it:
"Because most of ya'll don't even realise or refuse to acknowledge that your existence, privilege and success as a race is built on the backs, blood and death of people of colour. Your entire existence is drenched in racism. From micro-aggressions to terrorism, you guys built the blueprint for this s***.
"Come see me when you realise that racism isn't learned, it's inherited and consciously or unconsciously passed down through privilege.
"Once white people begin to admit that their race is the most violent and oppressive force of nature on Earth… then we can talk.
"Until then stay acting shocked about how the world continues to stay f***** at the hands of your ancestors and your heads that remain buried in the sand with hands over your ears."
Following publication of the Daily Mail's story, people on social media expressed their anger at what they believed was a L'Oréal model expressing "racist" views.
Some began using the hashatg #BoycottLOreal, saying they would stop using the company's products until Bergdorf was removed from the campaign.
On Friday morning, L'Oréal UK's official Twitter page wrote that the company would be parting ways with Bergdorf.
But this then also resulted in a backlash from people on social media who believed Bergdorf had done nothing wrong. They too began using the #BoycottLOreal hashtag.
Many people found it hypocritical of the company to remove someone from a diversity beauty campaign for speaking out on diversity issues.
Bergdorf subsequently released her own statement on her Facebook page. In the post, she called out the Daily Mail for claiming her statement was made this week and taking her words out of context. She also addressed L'Oréal for failing to acknowledge underlying racist issues in the beauty industry.
Following L'Oréal's decision to part ways with Bergdorf, she posted again on Facebook, saying the brand cares about "nothing" other than money and urging people to boycott it.
Speaking to BuzzFeed News, Bergdorf said that if L'Oréal actually cared about the diversity element of the campaign, it would have supported her when she spoke out.
"Big brands are willing to profit from black women without standing up for them," she said. "I'm not saying all white people are racist. What I'm talking about is social fact. White people are socially conditioned to be racist in the same way men are conditioned to be misogynistic. It's society – what the Daily Mail has done is not only make me look like a hate preacher, but directed hate to me. I expected more from L'Oréal. But they appear to only care about brand. It speaks volumes about the legitimacy of the campaign."
Bergdorf said that while she has received support online, none of the other models involved in the campaign have contacted her.
L'Oréal provided the following statement to BuzzFeed News when contacted about the decision to part ways with Bergdorf:
"L'Oréal supports diversity and tolerance towards all people irrespective of their race, background, gender and religion. The L'Oréal Paris True Match campaign is a representation of these values and we are proud of the diversity of the Ambassadors who represent this campaign.
"We believe that the recent comments by Munroe Bergdorf are at odds with those values, and as such we have taken the decision to end the partnership with her. L'Oréal remains committed to celebrating diversity and breaking down barriers in beauty."
Outside Your Bubble is a BuzzFeed News effort to bring you a diversity of thought and opinion from around the internet. If you don't see your viewpoint represented, contact the curator at bubble@buzzfeed.com. Click here for more on Outside Your Bubble.