Earlier this month, Netflix canceled Sense8 — a show about a group of mentally and emotionally linked strangers — after two seasons.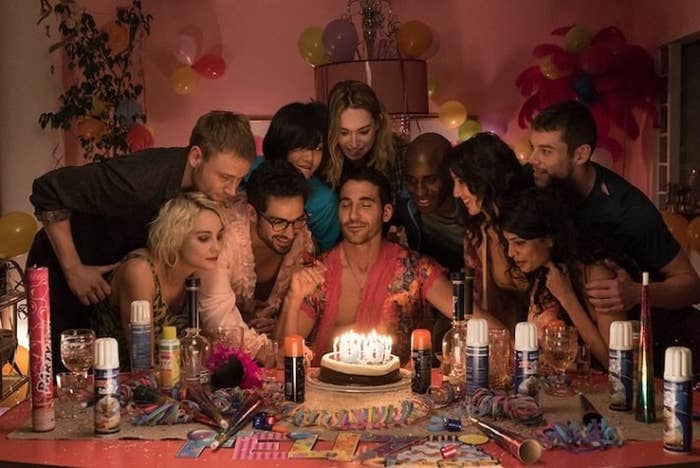 During its run, the show gained a strong fanbase thanks to a diverse cast, and plots that dipped into politics, civil rights, and religion.
With the news of the show's cancellation, fans took to social media to express their anger.
Some fans said they were going to cancel their Netflix accounts.
Others decided to contact Netflix directly with their complaints.
One group of fans quickly started a petition to bring the show back, which went on to gain over half a million signatures.

Basically, it was chaos.
In the weeks since the show's cancellation, groups of fans began devising organized, long-term plans to get the show back on air.
Pretty much ever since the show ended, the first reply to most of Netflix's tweets was about Sense8.
Many of the tweets featured lyrics from the 4 Non Blondes song "What's Up?" which featured in the first season of the show. Other tweets featured campaign hashtags, like #BringBackSense8, which trended intermittently throughout the month.
Netflix seemed to struggle with the constant attention. Two weeks after the show was canceled, the streaming service's main Twitter account replied to a group of fans, apologizing and saying the cancellation of the show was due to funding.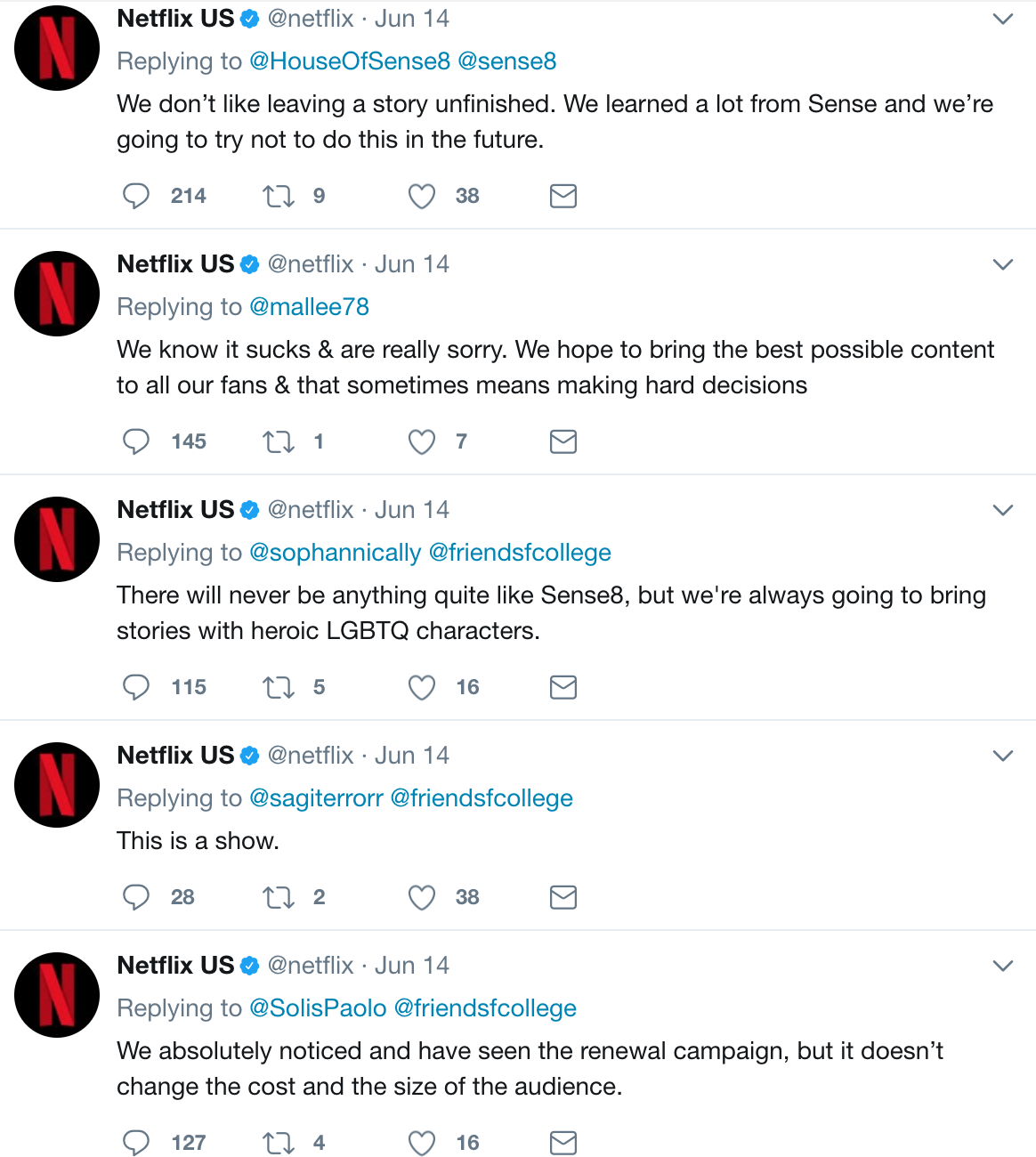 Fan groups, such as @Global_Cluster created a series of daily tasks aimed at drawing attention to the campaign.
The tasks included voting for Sense8 in TV polls, sending emails, and tweeting at media companies — like BuzzFeed — to get attention.
A representative for Global Cluster told BuzzFeed News about the wide range of techniques used by fans to spread awareness of the show.
"In the aftermath of the cancelation, our role in all of this was that we wanted to organize our efforts a little bit," they said. "We have fans all over social media and all over the world – Reddit, Facebook, Tumblr, Instagram and Twitter. So we created one main account in order to focus our efforts and to get the word out on campaigns that we as a fandom are working on."
Along with hashtags and tweets, Global Cluster confirmed that fans have been encouraged to send flip-flops to Netflix — a reference to a scene in the show.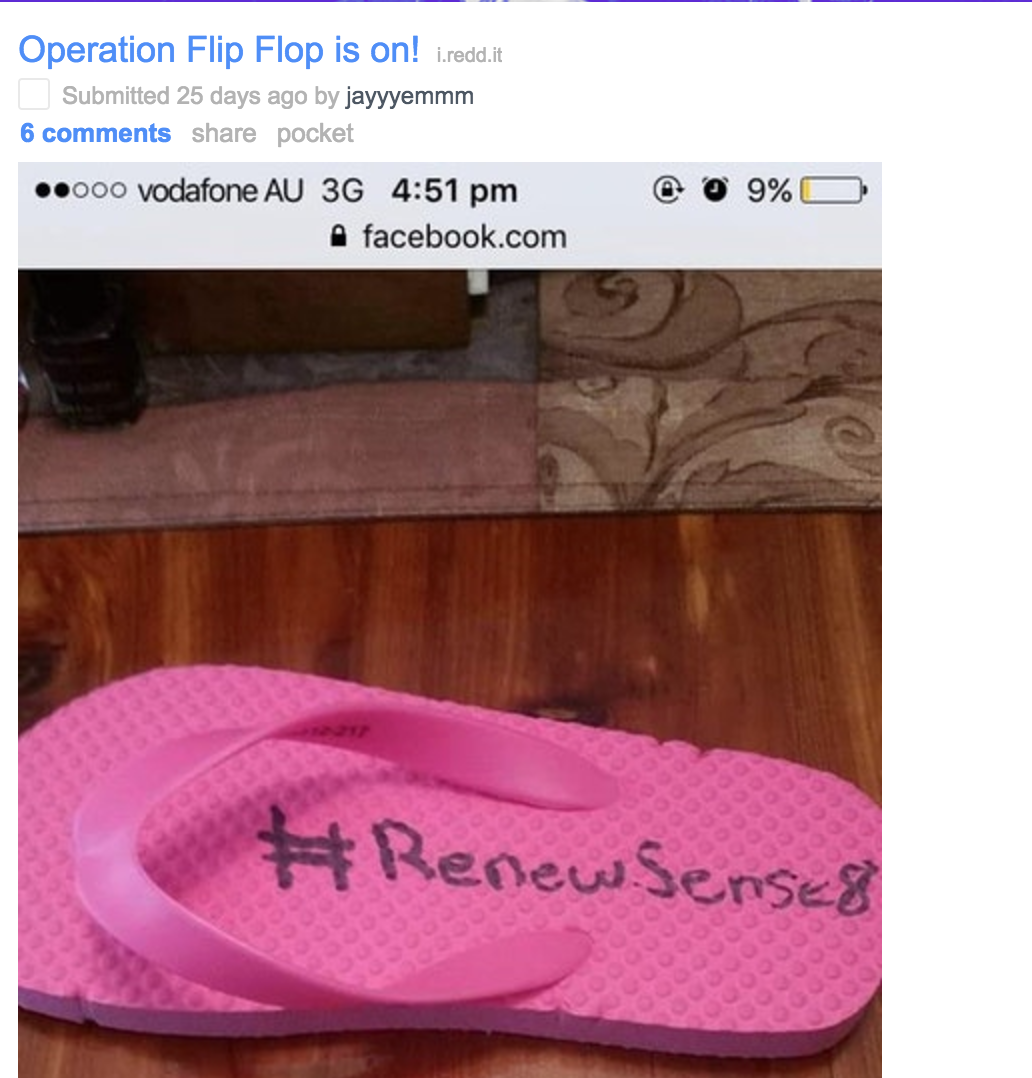 "We have such a passion for this show, that it might come across as overbearing to some people," they said. "But doesn't that show what an impact this series has had on so many people?"
When asked if they feel that the campaign has been intense, the representative for the group said that fans of the show have been let down throughout its life span, and that their frustration is therefore valid.
"The only reason people FOUND the show is through its active online fan base," they said. "They financed a show that costs $11 million an episode and never promoted it to any visible degree. The show was canceled 27 days after the season was released, resulting in very little time for people to actually watch the show. For a show so heavily rooted in LGBTQIA issues, they never brought the cast to LGBTQ events AND canceled the show the first day of Pride month. So we believe any frustration with Netflix is valid."
Prior to the announcement of the show's special, the group said it did not see an end to its campaign.
"The Wachowskis and J. Michael Straczynski conceptualized this show for ten years. If they dedicated that long of a period of their lives to this show, then we're willing to fight for as long as it will take," the representative said.
After a little over a month of protests, petitions, and hashtags, it looks like Global Cluster's efforts have paid off.
Netflix announced on Thursday that the show would be coming back — sort of. The streaming service told fans on Friday that Sense8 would return as a two-hour-long movie.
Neflix did not respond to multiple requests for comment.