Cookies & Creme Come True Stuffed Cookie Kit
These Tasty cookies & creme stuffed cookies are the perfect treats for a cozy day at home.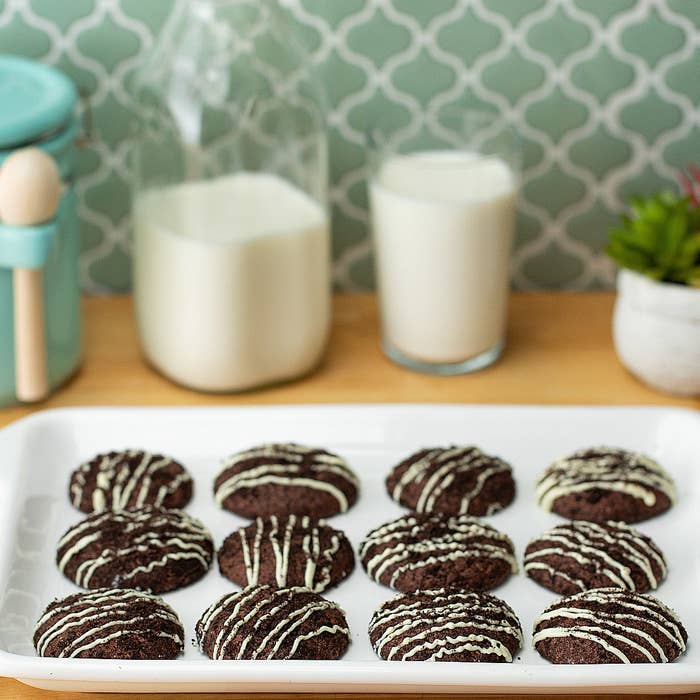 Ingredients:
¼ cup butter, softened
1 egg
Cookie Mix (Included in kit)
White Chocolate Bar (Included in kit), divided
Chocolate Cookie Crumbs (Included in kit), divided
Preparation:
1. Heat oven to 375°F (350ºF for convection ovens).
2. Beat butter, egg, and Cookie Mix with hand mixer until blended. Freeze dough for 30 minutes.
3. Meanwhile, break off 6 small rectangles from the White Chocolate Bar, then break each small rectangle in half. Place remaining chocolate in a small bowl and set aside for later.
4. Scoop chilled cookie dough into 12 mounds, using 1 tablespoon dough for each mound; flatten each into a 2-inch round. Place 1 rectangle of the White Chocolate in the center of each round and mold dough around Chocolate to completely enclose it.
5. Set aside one tablespoon of Chocolate Cookie Crumbs, placing the remaining crumbs into a shallow dish. Roll each of the dough balls in the crumbs until coated and place on a parchment-lined baking sheet.
6. Bake for 10 to 12 minutes, or until puffed and lightly browned around the edges.
7. Remove cookies from oven and cool for 2 minutes, before transferring to a wire rack.
8. Microwave the remaining White Chocolate in the bowl on high for 1 minute, stirring after 30 seconds, until melted and smooth.
9. Drizzle chocolate over the cookies and sprinkle with reserved Chocolate Cookie Crumbs.
10. Enjoy!
Note: To make drizzling easy, spoon the melted white chocolate into a small sandwich-size resealable plastic bag. Cut a small corner off the bag, then use to drizzle the melted chocolate over the cookies.