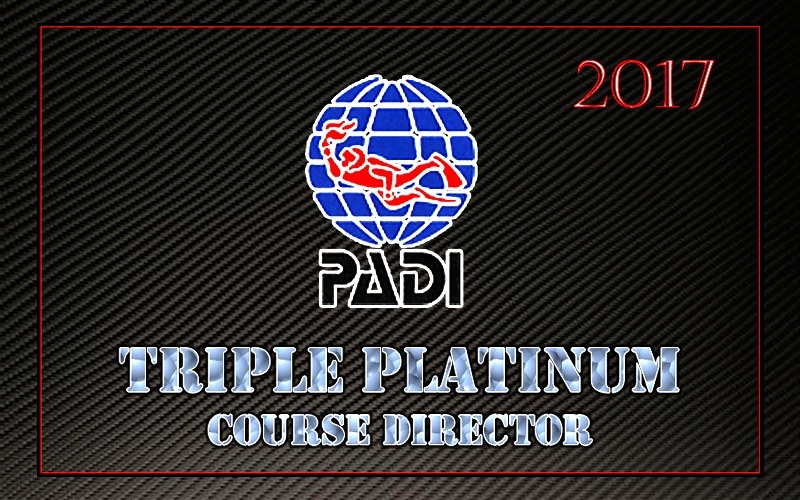 The PADI Elite Award is issued to all PADI Scuba Diving Instructors who have issued the required amount of certifications within any particular year to meet the requirements of the Award, for example the highest Elite Award available is the PADI Elite 300 Award and although Holly has certified well over 300 Instructor level certifications she meets the requirement having issued over 300 certifications. The Platinum PADI Status Award is given to PADI Course Directors through the PADI frequent trainer program and denotes PADI Course Directors that excel based upon the number of certifications issued, the quality of the program delivered and the overall commitment to the entire diving industry
The PADI Instructor Development Course (IDC) in the Gili Islands, Indonesia has become an extremely popular choice for dive professionals taking the next step in the diving career. The popularity is most likely due to a number of reasons including the vast experience of Holly Macleod and the way in which she combines her experience to benefit the learning experience of new instructors.
As well as being awarded by PADI for overall quality of training provided the course itself is structured in a way to deliver the entire PADI syllabus whilstadding a range of additional components based on the industry experience of Holly Macleod. Additional workshops generally revolve around in depth methods, tips and ideas for future instructors to organize their training activities in a fun, interesting and safe manner and administrational and paperwork elements of conducting training activities. In terms of training facilities the entire program is conducted at the first ever PADI 5 Star IDC Career Development Center (CDC) to be established in the Gili Islands, offering an altogether superior standard of training facilities.
So in the end, dive professionals looking to take the next step in their career would be strongly advised to check out Triple Platinum PADI Course Director Holly Macleod, having won multiple awards for the PADI Instructor Development Program in the Gili Islands, Indonesia and offering world class training facilities and a wealth of industry experience to go beyond preparing candidates for the Instructor, but to prepare them for a new life as a scuba diving instructor.
There are many way to find out more information about this exciting opportunity to join some of the world best professional scuba diving instructor and create a rewarding and successful career within the diving industry.
Check out the First Hand Reviews of Indonesia's best PADI IDC Program and it's easy to see why this is become one of the best possible instructor level training opportunities available to professional Divemasters.
This post was created by a member of BuzzFeed Community, where anyone can post awesome lists and creations.
Learn more
or
post your buzz!
Looks like there are no comments yet.
Be the first to comment!