China is under attack from a brutal enemy, the Huns. Mulan's father has been called to serve his country at war, but she knows that if he leaves, he won't come back. Mulan sees no other option but to disguise herself as a man and take her father's place in war. It's a dangerous mission. Any female caught pretending to be a man will be punished with death. Please help Mulan pretend to be a man and save China!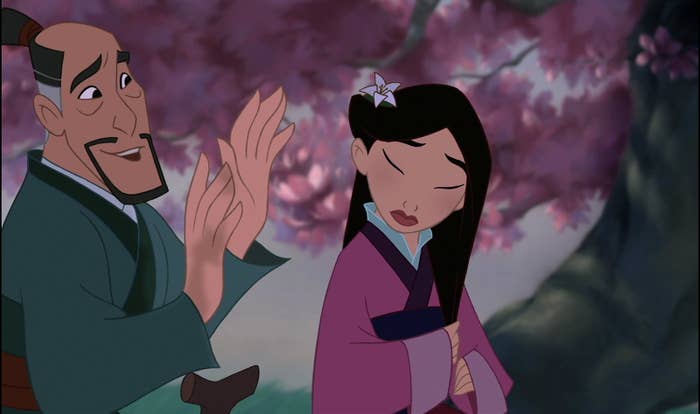 Mulan leaves her home to attend army training. She takes with her a strange red dragon and a cricket that is said to be lucky. Mulan has to make herself look as manly as possible. What should she change?

Disney

Her hair. It needs to be short like all the other army men's hair.

Her clothes. The army uniform seems pretty manly.

Her name. She needs to think of a strong, manly sounding name.

Via Disney

Her bare skin. Some fake tattoos will just scream "I'm a man."

Via Disney

Mulan arrives at the army training camp. She sees nothing but strong, sweaty men and realises that she's in for some tough times ahead. Maybe it would be nice to confide in someone. Who should Mulan befriend?

Disney

The red dragon and the lucky cricket are the only friends Mulan will need.

Chien Po. He seems like a nice and easy going guy.

Chi Fu. He seems to know everything that goes on around this place.

Via Disney

No one. It would be best for Mulan to just keep to herself.

Via Disney

Oh, no! Some tough guy wants to pick a fight with Mulan. Mulan has no idea how to react. What should she do?!

Disney

Fight back. Maybe Mulan can get a couple of good punches in.

Reason with him. Maybe he just needs to be calmed down.

Take the beating. Fighting back would be pointless.

Via Disney

Leg it! He can't hurt Mulan if he can't catch her.

Via Disney

Great, that worked! Now, which of these activities would make Mulan seem the manliest? She needs to make a good impression amongst her fellow comrades.

Disney

Practice with the bow and arrow. Everybody loves a sharp shooter.

Mess around with some sticks. Maybe if she swings them around enough she'll look cool.

Practice lighting rockets. That could come in handy later on.

Via Disney

Get in a quick workout. A good solider needs strong legs.

Via Disney

Things are going great, everyone appears to be deceived thus far. Mulan decides to climb a tall pole to prove her manliness. But, uh-oh! She's stuck, and everyone is looking. What can Mulan do to get down?

Disney

Cry out of sheer embarrassment and hope someone helps.

Cling to the pole for dear life and slowly slide down.

Just jump down. Her legs will probably break, but maybe then she can go home and forget this mess.

Via Disney

Call out for help. But remember to make it sound super manly.

Via Disney

Phew! She made it down. The general approaches Mulan. Wow, he's dreamy! But she can't let her guard down now. If he finds out that Mulan is actually a woman, she will be killed. How should Mulan distract herself from the hunky general?

Disney

Set off some fireworks. It could attract the enemy, but meh, she needs a distraction.

Go for a swim. That should help her cool off.

Listen to the red dragon's latest rap song entitled "Limp Noodle." He's so talented.

Via Disney

Eat her feelings. Mulan has no chance with the general.

Via Disney

Mulan forgets about the general for now, the distraction worked! A siren signals; that means it's time to go to war. The army rolls out. There is going to be a lot of walking, how should Mulan pass the time on the journey to the battle front?

Disney

Focus on the placement of each step. The terrain is quite dangerous.

Collect dolls. Mulan has a killer doll collection back home.

Give the other soldiers much needed make overs. Beautiful.

Via Disney

Sing songs about what kind of women she likes.

Via Disney

The army reaches the battle front. In the distance, the Huns are approaching. Mulan needs to think of a plan to stop them quickly, otherwise her entire army will fall. What should she do?

Disney

Tell the leader of the Huns that he's beautiful and ask "Who hurt you?" He just needs a friendly ear.

Send the cricket into battle. He's supposed to be lucky, right?!

Make the Huns some food. They're probably just hangry.

Via Disney

Fire a rocket and hope for the best. Maybe that will stop those nasty Huns!

Via Disney
This post was created by a member of BuzzFeed Community, where anyone can post awesome lists and creations.
Learn more
or
post your buzz!