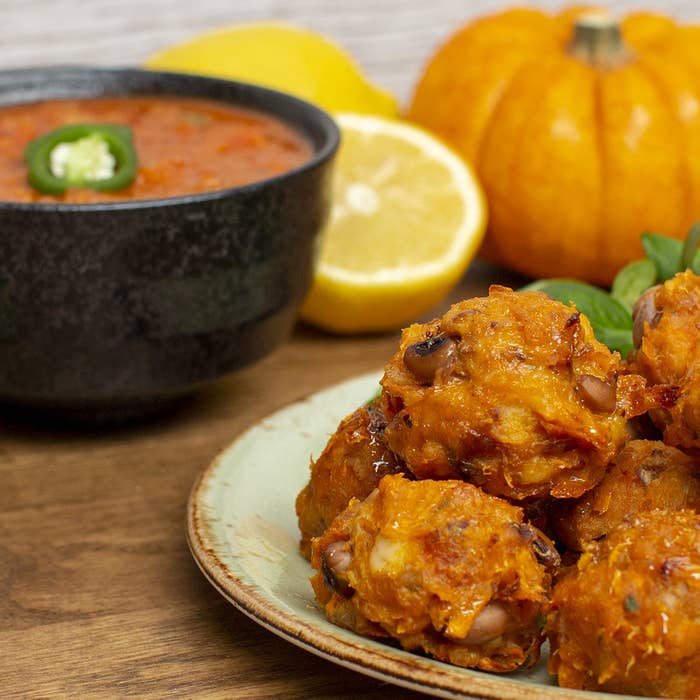 SERVES: 4
INGREDIENTS
FRITTERS
1 lemon, sliced
250g hake fillet
150g cowpeas, cooked
2 teaspoons ginger, chopped
2 cloves garlic, chopped
½ teaspoon jalapeño pepper, chopped
150g pumpkin, shredded
1½ tablespoons Knorr Tomato Base Dry Cook-in-Sauce
60g plain flour
2 eggs
1 tablespoon oil
CHAKALAKA SAUCE
1 tablespoon oil
1 clove garlic, chopped
1 teaspoon ginger, chopped
1 teaspoon jalapeño pepper, chopped
½ small onion, chopped
½ green pepper, chopped
½ red pepper, chopped
1 small carrot, grated
1 teaspoon curry powder
1 pouch Knorr Tomato Base Dry Cook-in-Sauce
400ml water
Juice of ½ lemon
PREPARATION
Preheat the oven to 200°C. Line and grease a baking tray.

Bring a large pan of water to boil, and set a steamer basket on top. Arrange lemon slices on the bottom of the steamer, placing the hake on top.

Cover and let steam for 8–10 minutes, or until the fish flakes easily.

In a medium bowl, mash cowpeas, garlic, ginger, and jalapeño until chunky.

Add flaked hake, pumpkin, Knorr Tomato Base Dry Cook-in-Sauce, flour, and eggs to bean mixture. Stir until combined.

Form 20 fritters, transferring to baking tray.

Lightly brush each fritter with oil.

Bake for 10–12 minutes, or until golden.

Meanwhile, make the chakalaka sauce. Heat oil in a pan over medium heat.