Chicken Fajita Stuffed Peppers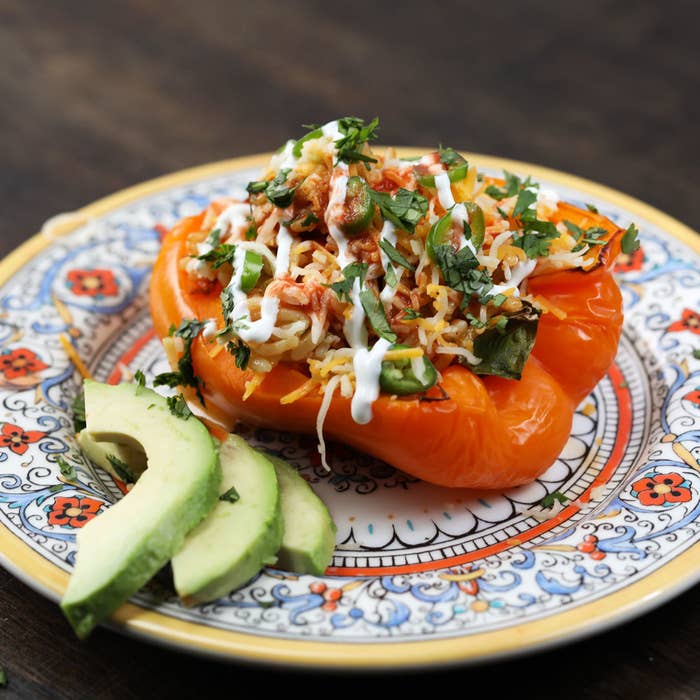 INGREDIENTS
Servings: 4
1 packet (5.4 oz) Knorr Creamy Chicken Rice
1 tablespoon butter
2 cups water
1 chicken breast (about ¾ pounds), diced
½ small onion, sliced
3 bell peppers, halved
1 tablespoon vegetable oil
¼ teaspoon cumin
¼ teaspoon paprika
¼ teaspoon chilli powder
¼ teaspoon garlic powder
¼ teaspoon salt
¼ teaspoon pepper
Garnish
Shredded cheddar cheese
Sour cream
Cilantro
Avocado
Hot sauce
Lime wedge
PREPARATION
1. Preheat oven to 425˚F / 220˚C.

2. In a bowl, season the chicken with all the spices, salt, and pepper. 

3. Heat oil in a sauté pan and and sauté the chicken and sliced onions. Allow to cook and reserve. 

4. Using the same pan, place water, butter, and contents of Knorr Creamy Chicken Rice. Bring to a simmer and cover. Let cook for about 7 minutes. 

5. Place the halved bell peppers in the oven and bake for 10 minutes.
6. Stuff the bell peppers with cooked Knorr Creamy Chicken Rice and top with the chicken and onions. 

7. Garnish with shredded cheese, sour cream, avocado, hot sauce, lime and cilantro.

8. Serve and enjoy!