79 Thoughts I Had While Watching The "Game Of Thrones" Season 5 Finale
A whole lot of "nope." SPOILERS AHEAD!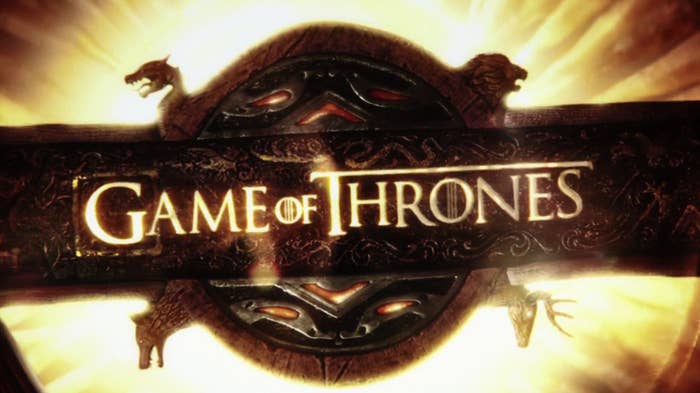 1. No amount of wine is going to prepare me for this finale I don't think.
2. But hey, a girl can try.
3. OMG, flashback to Uncle Benjen. Missed that babe.
4. For a brief moment of bliss I forgot about Shireen and now I'm upset again.
5. Also, are Dany's friends still standing in the pit high and dry after she peaced on a dragon?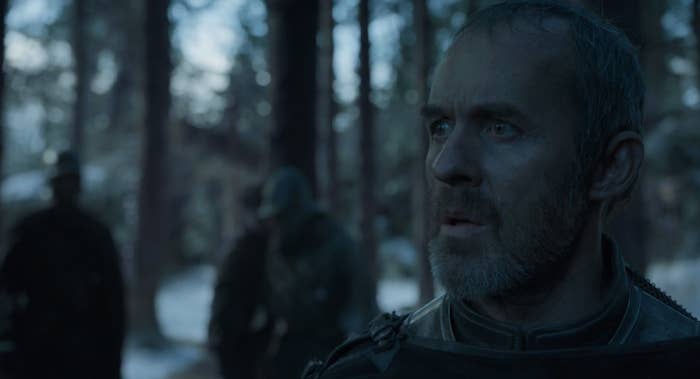 6. Melisandre can suck my hypothetical dick (sorry).
7. Stannis too.
8. Of course your men deserted you, Stannis! You burned your daughter alive in front of everyone.
9. Your wife is dead and your mistress just bounced. Karma is a bitch.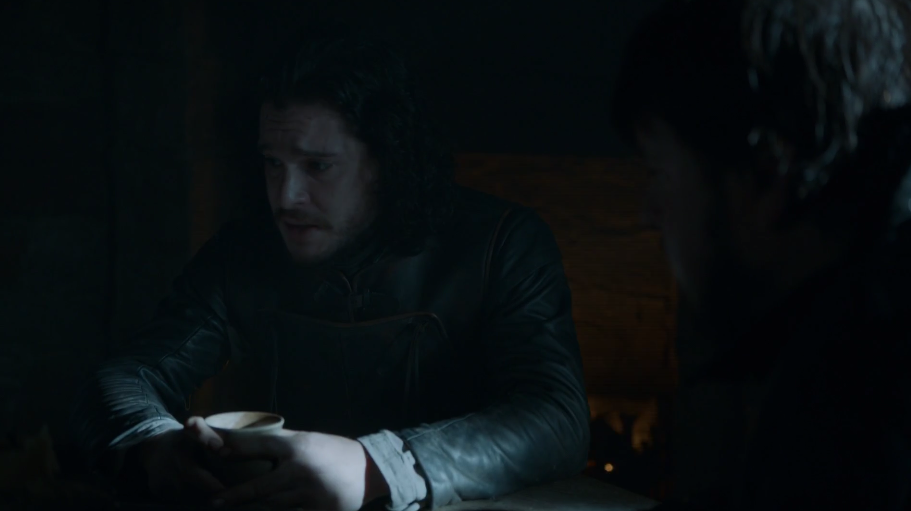 10. "I'm gonna hope they don't learn how to climb the Wall." It seems like we need a bit more of a concrete plan than that, Jon.
11. LOL at Sam comparing his lack of popularity to Jon's experience as Lord Commander.
12. Sam's like, "Jon, it's getting really scary, send me away."
13. HAHA this exchange between Jon and Sam over Sam getting laid is too good.
14. It must be so sad saying goodbye to friends without cell phones.
15. Not sure what Stannis thinks he's going to do walking up to Winterfell with 20 people.
16. Yes, please tell me Sansa is making some escape moves right now.
17. I love how Brienne's only role has been to longingly stare at Winterfell the past four episodes.
18. NOOOOO. Brienne is going to leave her post the moment Sansa lights that damn candle.
19. I mean, of course that would happen. There can be no joy on this show.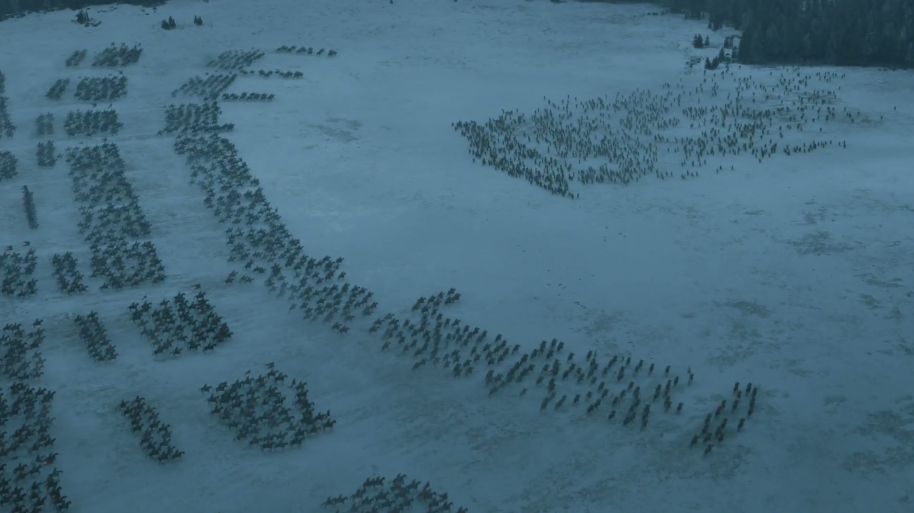 20. If ever there were a time for Stannis to let out an exasperated "Fuck," this would be it.
21. Sansa's like, "Well, this isn't looking good for the Bolton defeat."
22. Where is that guy with his legs chopped off in such a hurry to get to?
23. For a half-dead guy, Stannis is a hella good fighter.
24. "Do you have any last words?" ... "Yes. It's fewer. Not less..."
25. Stannis is like, "All right, get on with it. You're killing me, not making a college graduation speech."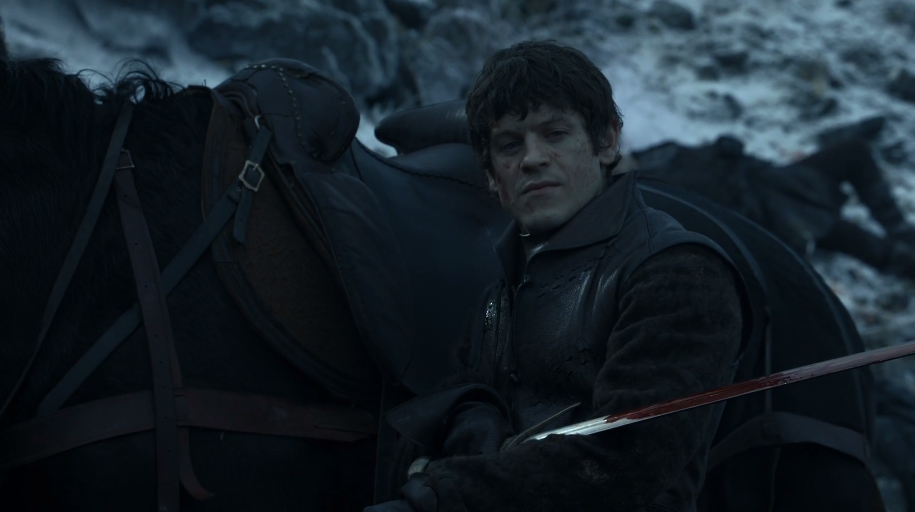 26. Ramsay looks like a little kid on a playground with how he's acting around those dead bodies.
27. God, Ramsay and his little sociopath girlfriend are meant for each other.
28. YES REEK/THEON. YOU'RE FINALLY WAKING UP.
29. So, I'm going to hope that snow they're jumping into is real deep.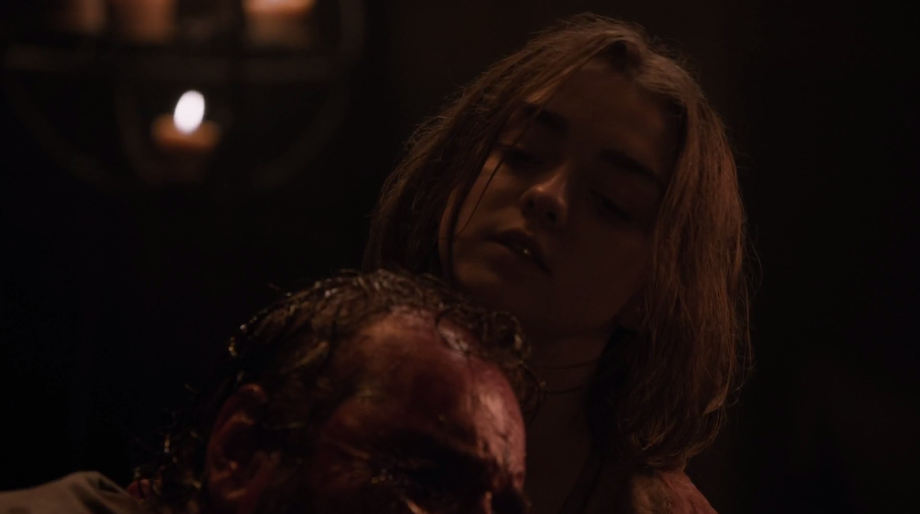 30. I'm ready for Arya to kill this pervert already.
31. Oh shit, that's totally Arya.
32. GET HIM.
33. I mean, this is horribly graphic and disgusting, but get him.
34. "Do you know who I am?" I mean, he can't exactly look at you right now, Arya...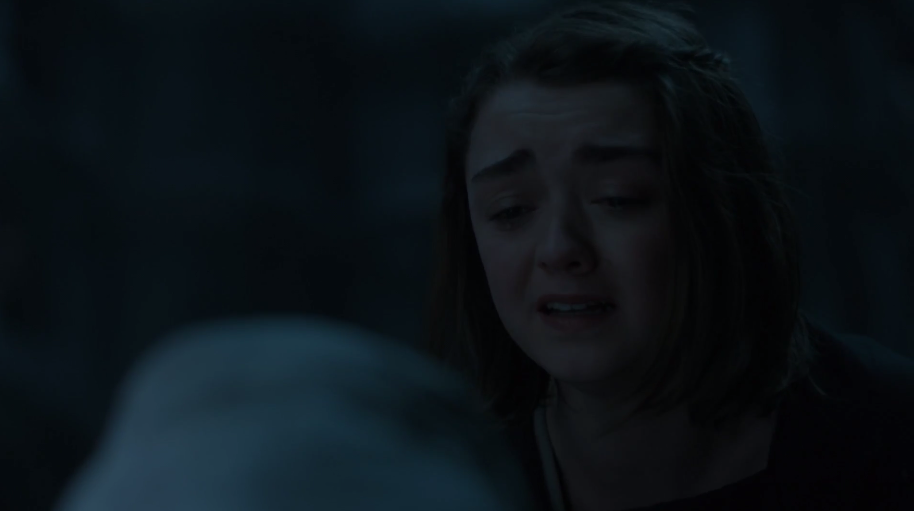 35. Oh shit, Arya, you can't just rent a face without clearing it with your boss first!
36. Arya, you're having trouble understanding the whole being "no one" concept.
37. But then again, so am I.
38. WAIT, WHAT IS HAPPENING TO ARYA?!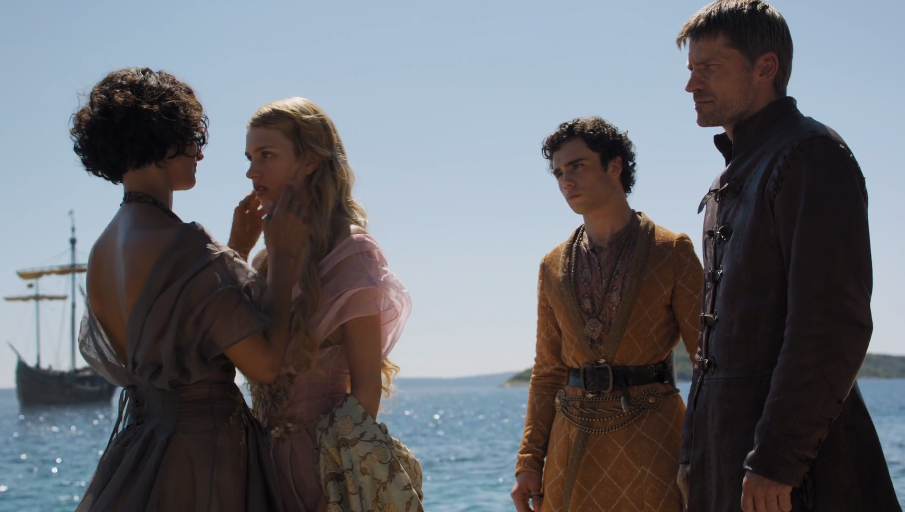 39. Ellaria really went for that Madonna-style kiss with Mrycella.
40. Wait, but there's totally going to be poison in her lipstick.
41. Safe to say the Dornish say goodbyes differently.
42. "We don't choose who we love." Eh, but we can usually chose a non-incestuous relationship...
43. This little father-daughter love talk is getting real.
44. It must be hard to comfort someone with a solid gold hand.
45. I KNEW IT. I KNEW ELLARIA POISONED HER.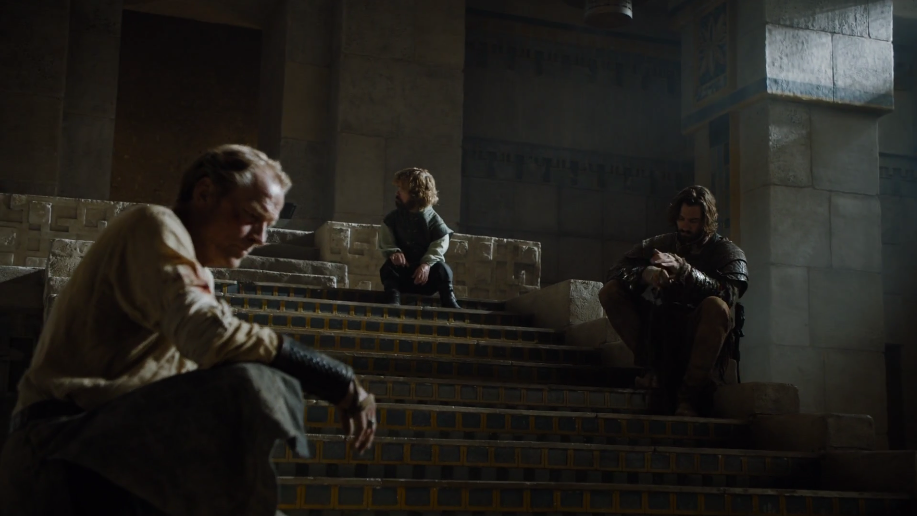 46. So, is everyone just twiddling their thumbs waiting for Dany to fly back on her dragon?
47. "A bit nostril." I think Tyrion speaking Valyrian is similar to how my Spanish translates.
48. "You missed a good scrap." I love Daario too much.
49. Was that prolonged awkward silence between Tyrion, Missandei, and Grey Worm necessary?
50. "Hello, old friend." OK, Varys just did a real-life version of sliding into Tyrion's DMs.
51. Daario and Jorah traveling together has to be the most awkward road trip.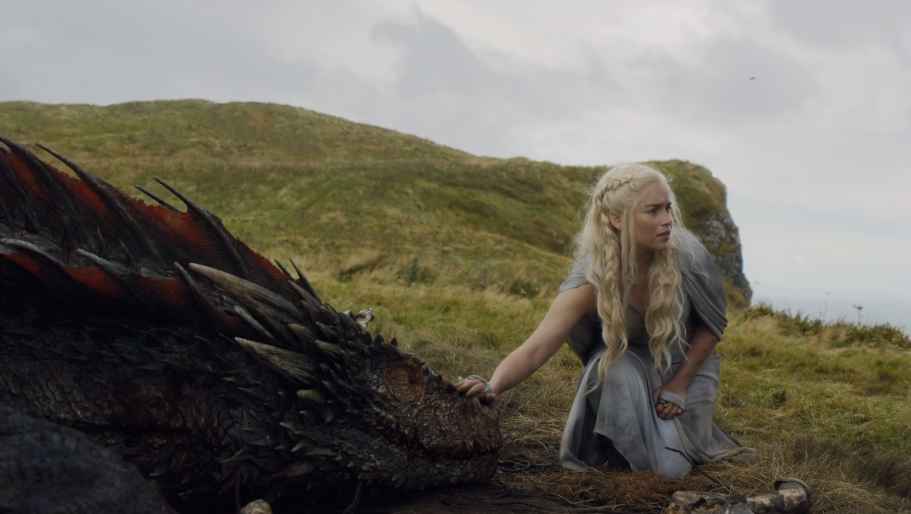 52. "How far did you carry me?" I don't think he's going to answer ya.
53. Drogon is like me on a Sunday when someone asks me if I want to do something.
54. Are these Dothraki? Or another band of people with super-long ponytails?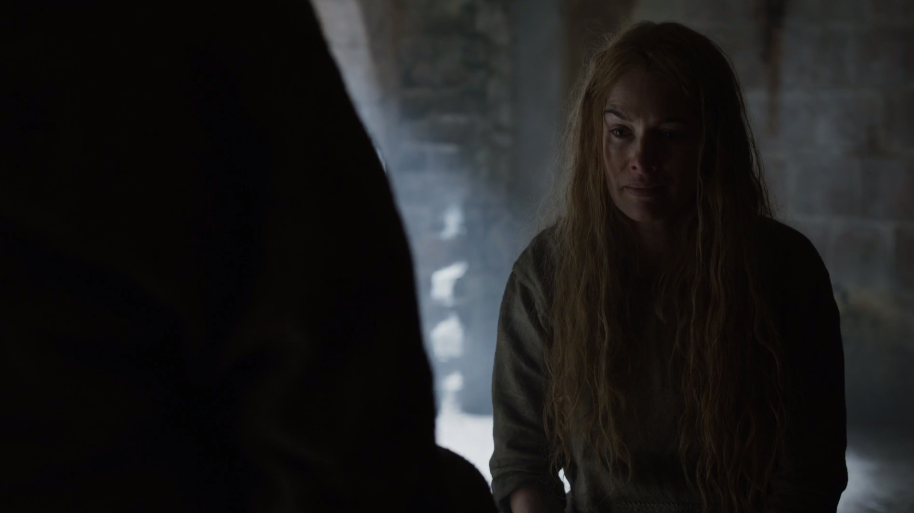 55. If someone walked into my room every day and eerily said, "Confess," I'd be admitting to all kinds of shit.
56. God, I can't imagine not brushing my hair for that long.
57. I mean, the lack of food, water, shower, respect, etc., is also terrible.
58. Cersei's got some dope cheekbones though, so she'll be able to pull off the short hair.
59. You would think for being "holy" people, they'd be a little more gentle.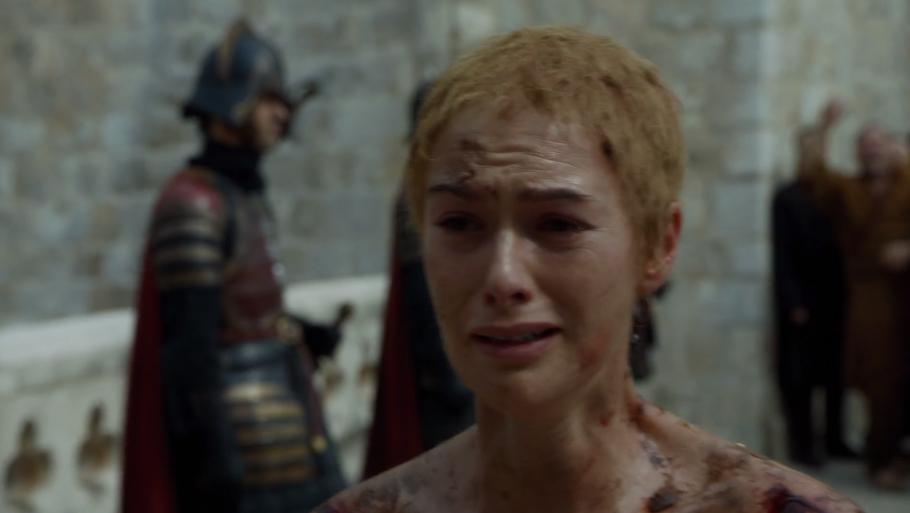 60. Is it really necessary to make her go on a naked walk of shame?
61. OMG and this bitch chanting "shame" behind here.
62. It would be impossible NOT to turn around and punch her.
63. I am crying for Cersei right now. I didn't think I'd ever cry for Cersei, but this is brutal.
64. This. Is. Horrible.
65. First order of business when Cersei gets in the castle is to kill that bitch chanting "Shame."
66. Soooo... did this dude just create a Frankenstein 2.0 to do Cersei's dirty work?
67. Ser Davos is a bit late on the update. This is why we need cell phones.
68. Melisandre, screw you for coming into Castle Black and acting sad when it's all your fault.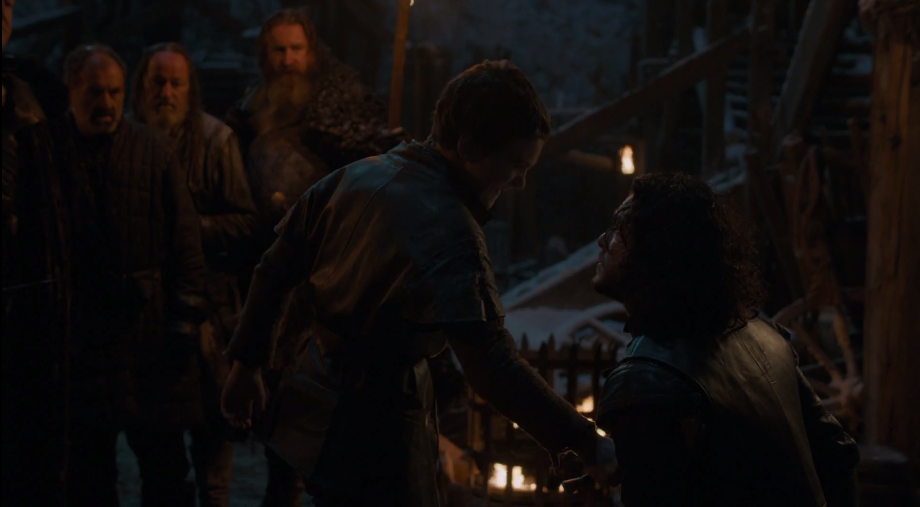 69. An Uncle Benjen comeback would be so clutch right now.
70. OH. MY. GOD. NO.
71. NO NO NO NO NO NO NO.
72. FUCK THIS SHOW.
73. NO.
74. NOPE.
75. This is such a messed up way to kill him.
76. I KNEW I HATED OLLY. THAT LITTLE SHIT.
77. YOU KNOW. I'M REALLY DONE WITH THIS SHOW.
78. God, I need a tissue.
79. I sincerely hope there is a support group for me to talk to tomorrow at the office.