This Train In Canada Has A Glass Ceiling So You Get All The Views
Step aside, planes: We've got a new favorite mode of transportation.
There's no denying that Canada's nature is absolutely breathtaking.
Even — or maybe especially — in the snow.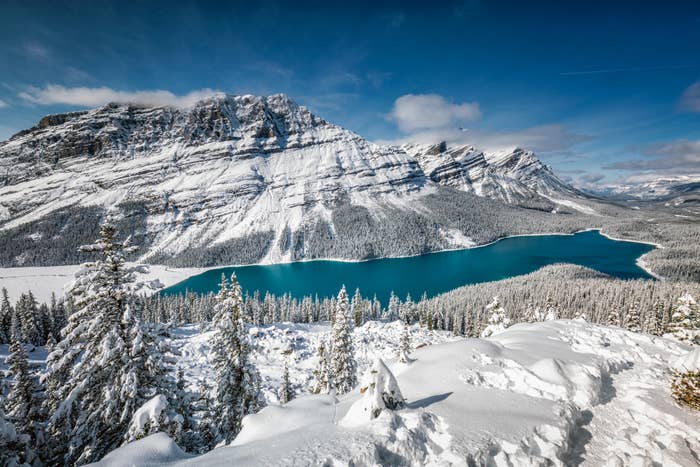 Even the cities have nature paths that look like THIS:
If you're anything like me, you want to see as much of that gorgeous nature as possible. Enter: Rocky Mountaineer. It's a train that travels through the Canadian Rockies and has a completely clear glass ceiling so you never miss ANY of the views.
The huge curved windows make for amazing photo opps, too.
The train runs across the country, offering three different routes from Vancouver to Banff and Vancouver to Jasper, all with access to sights like blue lakes, lush forests, and snowy mountains.
Rocky Mountaineer has a few different packages, with length options from two to five days (staying in local hotels at night), and excursions like sightseeing tours and helicopter rides.
They also serve meals on the train (and drinks!) so you can just sit back, relax, and watch the scenery roll by.
But let's be real, we're mostly here for these views on views on views.
Want to discover more unique experiences around the world? Check out all BuzzFeed's travel content at Bring Me!

CORRECTION
An earlier version of this post misstated the train route.