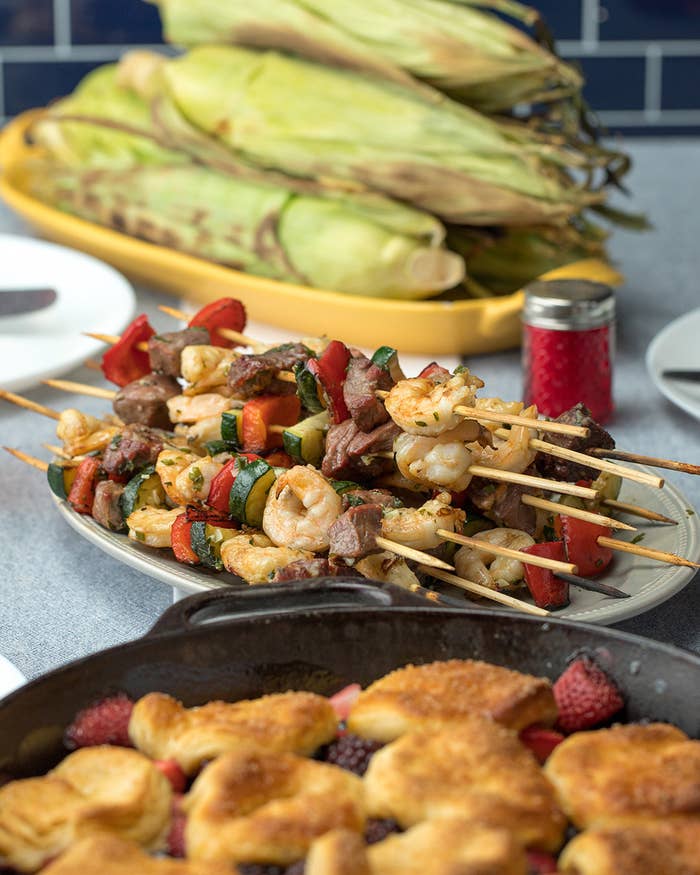 Surf and Turf Skewers & Corn
Servings: 6
Ingredients:
Herb Butter
1 cup butter, softened
⅔ cup chopped herbs (parsley, chives, basil, etc.)
4 cloves garlic
1 teaspoon salt
Skewers & Corn
1 pound shrimp, peeled and deveined
1 pound rib eye steak, cut into ¾-inch cubes
1 zucchini, cut into ½-inch-thick half moons
1 red bell pepper, cut into 1-inch squares
6 corn on the cobs
Preparation:
1. Soak bamboo skewers for 30 minutes in cold water.
2. Butter: Mix together all ingredients. Set aside until ready to use.
3. Skewers: Place shrimp, steak, zucchini, and bell peppers in a large bowl. Drizzle with olive oil, sprinkle generously with salt, and toss to coat. Thread items onto bamboo skewers.
4. Corn: Pull down husks, without completely removing them. Pull off the silk, brush cobs with herb butter, then wrap the cobs back up in the husks.
5. Preheat the grill to medium-high. Place the skewers in the center of the grate and baste with herb butter. Add the corn to the skewers and place on the edges of the grill grate.
6. Cook the skewers for about 8 minutes, turning over once halfway through, and baste the other side with the herb butter. Cook the corn for 15 minutes, turning occasionally throughout until charred.
7. Baste skewers with the herb butter once more before serving.
Summer Berry Cobbler
Servings: 6
Ingredients:
9 cups mixed berries
½ cup sugar
Zest and juice of 1 lemon
6 premade biscuits
2 tablespoons milk
3 tablespoons turbinado sugar (or other coarse sugar)
Preparation:
1. Mix berries, sugar, lemon zest, and juice in a large bowl. Pour into a 10-inch cast-iron skillet.
2. Slice biscuits in half horizontally. Place biscuits in an even layer on top of berries. Brush each biscuit with milk and sprinkle with turbinado sugar.
3. Remove the grate from the grill and scrape the coals to one side. Replace the grate and place the skillet over the area without the coals. Cook using indirect heat for 25 minutes or until the liquid is reduced and the biscuits are browned.