Tom Hardy Has Proved Yet Again That He Is The Kindest Celebrity Around
The actor has launched a fundraising page to help victims of the tragic Grenfell Tower fire. And it turns out he's been launching other fundraisers under the radar for those in need.
Ever since the horrific news broke about the Grenfell Tower fire, which killed at least 30 and injured many more earlier this week, celebrities have been flocking to social media and even to the scene to help survivors as best they can.
Stars like Jamie Oliver also offered food, drink, and shelter to residents in his nearby restaurants on the morning that the news broke.
And Rita Ora was just one of the famous faces who headed down to volunteer her services to those in need, after revealing she used to play in the block as a child.
And now it's been revealed that Tom Hardy is doing his bit too. He has set up an emergency fundraising JustGiving page to help those affected.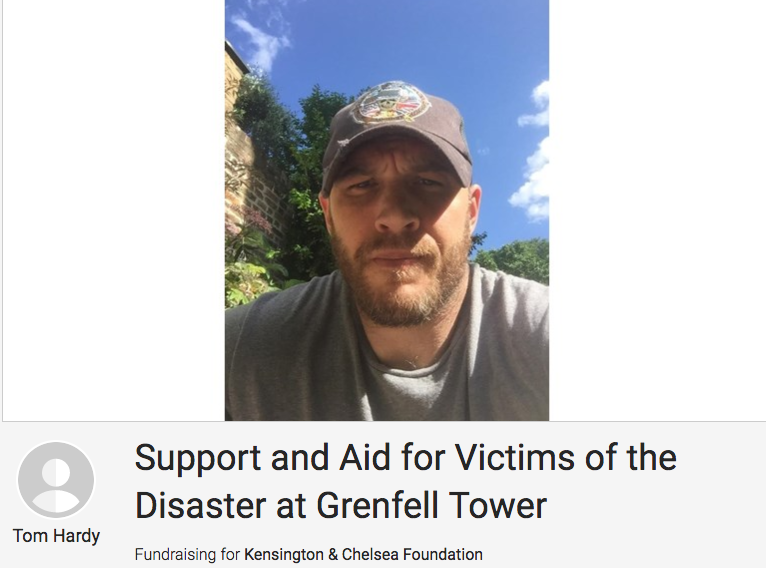 Tom has even written a long message to fans explaining his reasons for doing so – calling those responsible "shameful" and admitting how affected he's been since learning of the "harrowing" tragedy.
He writes:
Thanks for taking the time to visit my JustGiving page.

As a Londoner and as a human being, it is impossible to be unaffected by the harrowing, unnecessary loss of life, injury, sorrow and the continuing desperate and disturbing situation facing those that were residents of Grenfell Tower, Latimer Road West London. It is impossible not to feel deep, profound shock and just stand by and not make the effort to help those who are innocent victims of a seemingly gross negligence. It is impossible not to commend the local community for their response of coming together to support those immediately affected by this tragedy at this time, and I am asking you to please help me raise funds to assist those who are suffering and their families.

For me, culpability and accountability falls entirely on those responsible for providing secure, safe housing for those who live in public housing and the citizens/residents of the UK who are vulnerable. It is shameful. There must be a dramatic change. Tonight, all of the people who lived in Grenfell Tower and survived have lost their homes and are displaced with uncertainty and suffering. Many traumatised are still in hospitals throughout the capital recovering from this tragedy. Many are in a critical condition. And many men, women, and children have lost their lives as a direct result of this gross negligence. This disaster feels like it could have been undoubtedly avoided. It is unacceptable in this day and age that men, women, and children are not safe in their homes - homes that are provided by public/social housing - because those homes were not adequately maintained to a correct and appropriate standard. It is shameful.

My heart goes out to those who have lost their lives and their loved ones. My thoughts are with the innocent families who are suffering - those who have lost their homes and possessions, their friends, families, relatives, children and their lives in a disaster which could have been avoided. People who now have literally nothing within a matter of hours due to what appears to be a man-made mistake and a gross act of negligence, which demands a full public enquiry. Those found guilty to be held responsible and to account for gross and criminal negligence.

In the meantime, there are families and children in crisis that desperately need our help and support tonight, both now and ongoing. Please will you help them in any way you can.

Every little helps.

Thankyou in advance.
The Legend star also did a lot of research into what the money will go towards before launching the page.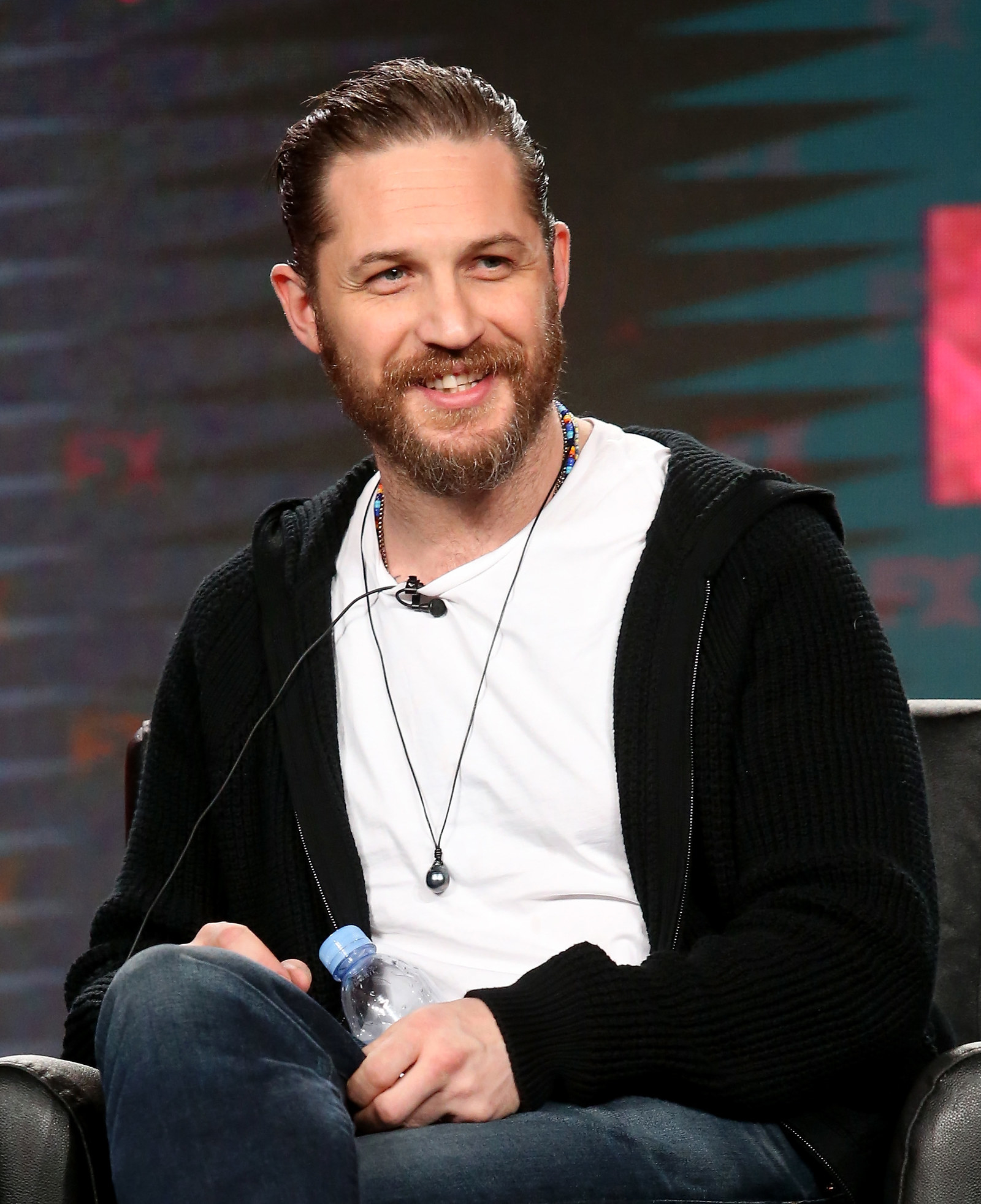 He adds:
I searched for appropriate charities where the funds raised would go directly to victims and families.

This is some info I have gathered on the charity fund above:

— This is the fund that both the Kensington & Chelsea Council and Mayor of London have asked people to donate to, as well as the London Emergency Trust Fund and London Funders.
— 100% of all donations go directly to victims/families (their core costs are covered separately), so can have confidence in how money used.
— Their team is very knowledgeable about the area and the community, as well as how families can be helped (for instance, they were the only one that informed me that since the Grenfell Tower is social housing – it's up to the Council to oversee finding new housing – which the Foundation is also talking directly to.)
— Other local charities have been coming to them for advice on how best to administer funds to meet immediate needs, and they will also be assembling a meeting with the various local charities in the area so they can efficiently work together to coordinate efforts.
— Planning to make first round of cash donations in the next 48-72 hours.



Thankyou for your time. And your support.



Tom H
At the time of publication, Tom had already raised over two thirds of his target.
And it's not the first time Hardy has created a fundraising page to help those in need. He raised 259% of his target when he launched a fund for the victims of the Manchester attack at Ariana Grande's concert on 22 May.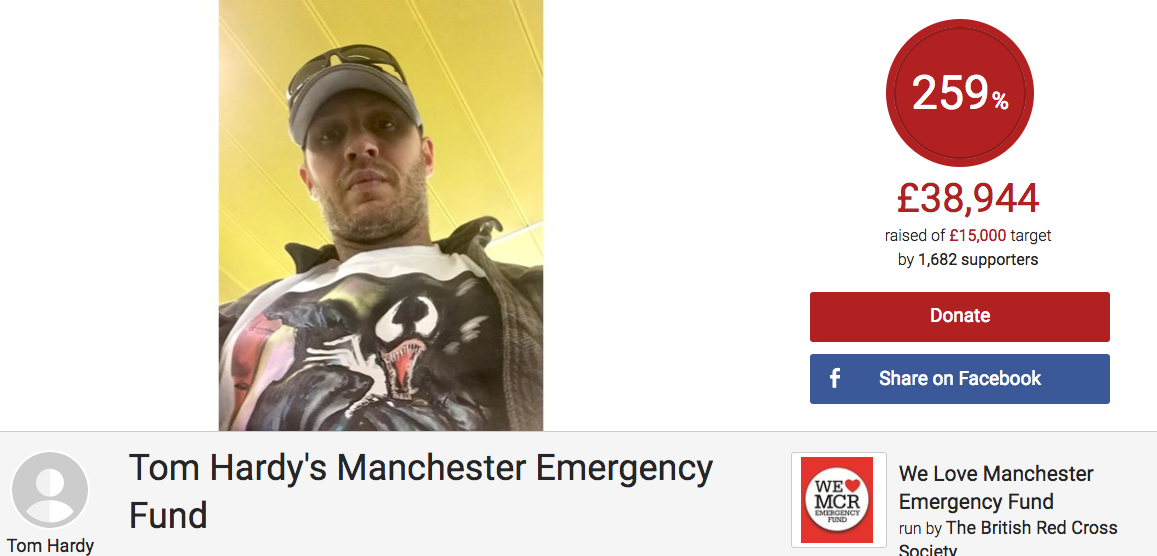 A representative for Tom Hardy has confirmed to BuzzFeed that the JustGiving page is authentic and that the actor set it up on Thursday evening.
A police investigation is ongoing as to the cause of the fire.