1.
When Anna Kendrick reacted how we all would if we got to meet Beyoncé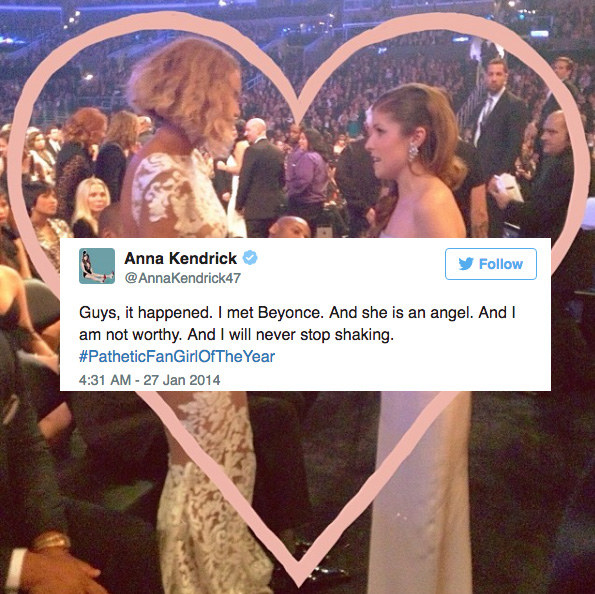 2.
When Justin Bieber declared his love for Emma Stone to his millions of followers
3.
When Selena Gomez lost her shit on behalf of Demi Lovato
4.
When Ariana Grande didn't care how much praise she gave Bruno Mars
5.
Then two years later actually ran into him!
6.
When Bella Thorne didn't GAF about fangirling over Zooey Deschanel
7.
When Liam Payne wanted to share this picture of himself with his idol Jay Z
8.
When Hilary Duff and Lorde had a mutual love off
9.
When Lucy Hale reacted how anyone would if Aaron Paul casually strolled past them
10.
When Kerry Washington revealed what a big Selena Gomez fan she is
11.
And she in turn lost her shit
12.
When John Green revealed himself to be a big Swiftie after she declared her love for him
13.
When Miley Cyrus got as excited as she should be about being this close to Britney Spears
14.
When Nick Jonas praised Lorde, and she reacted by being hilariously awkward
But he approved because they love each other
15.
When Amy Schumer made Tatiana Maslany's day
16.
And then again and she just couldn't keep it cool
17.
When Simone Biles pretended she was totally fine about spending the night eating next to Usain Bolt
18.
When Tori Kelly and Kelly Clarkson spread their mutual love
19.
When JK Rowling called Amy Schumer a goddess, quite rightly
20.
And they chatted about Harry Potter, because of course
21.
When Liam Payne lost his shit over getting a selfie with Niall Horan*
22.
And when Chance the Rapper called Kate McKinnon his unicorn and we were like "same"
See... celebs can be dorky too!