The Ultimate Guide To UK Festival Season, By Clara Amfo
Everything you need to know, from what to pack to the best festivals and survival guide essentials.
Music festivals have become a pretty big part of British culture over the last few decades. Every year more and more crop up, and it's become just as much of a tradition to attend a festival each year as it is to go on holiday. Whether it's T in the Park, Bestival, Secret Garden Party, or Boomtown that's your festival of choice, chances are you've been to one or are getting geared up to go to one this season.
So we thought who better to talk to about a survival guide than Clara Amfo, the face of the BBC's Glastonbury coverage this year? The radio and TV presenter is currently best known for introducing us to the best in UK music during Radio 1's Live Lounge every weekday. But she's set to be everywhere this summer, thanks in large part to her leading Glastonbury's festival coverage on the BBC, as well as covering Radio 1's Big Weekend for the broadcaster.
So BuzzFeed invited her to our London office just as the 2017 festival season kicked off to ask everything we needed to know: from what to pack to tips on surviving and the best areas and shows to head to.

Wet wipes

Phone charger

Shorts over trousers

Take hand sanitiser

Bring a light waterproof
My top tips for surviving festivals are:
– Always pack wet wipes. Wet wipes are your friend. They help you when it comes to spillage with food, with drink, with mud... you want to just get that off of you. So always pack wet wipes, in bulk!
– I would also say for festivals: charge up! It's all well and good having a fully charged phone but what you really need is one of those external battery things. So make sure you have at least two of those on you. I know that's what I'm going to be doing!
– I do advocate for wearing shorts over trousers to festivals, just because the weather is unpredictable, and if it rains you can just get dry quickly or wipe down your legs. And if it's sunny, legs out and enjoy the sun on your skin.
– Hand sanitiser. I'm a germ-phobe. So when it comes to festivals I need a hand sanitiser at all times. Hand sanitiser and antibacterial wipes are my best friends. Hopefully they'll be yours, too.
– Make sure you pack a lightweight waterproof jacket, something that is easy to take on and off. If it rains, you're good, you're protected and if it doesn't rain you can just have it around your waist and you're sorted.

Screenshot your festival guide app.
Be green and recycle. Bring your own bags. Leave no trace.

Get cash out before you go.

Bring a cheap pair of sunglasses – you'll probably lose them.

DON'T FORGET YOUR TICKET!

– When it comes to festivals, we all know that mobile phone signal can be a bit [rubbish]. So I like to take screenshots of everything I want to keep on looking at during the festival. So if I've used an app and I've got all my set times all ordered, I will take a picture of that on my phone, so whatever happens, if you're trying to get on the app, I've got what I need to do there quickly for me to check on my phone.
– I hate to litter. It's just a pet hate of mine, I hate people that litter. I'm the type of person that will give someone side-eye if I see them leaving a can of drink on the seat on a train. No honestly, I really do. So I would say, if you're going to festivals this year, try to be as green as possible. Maybe just take a big old rubbish bag that you can just put everything in that you use in your tent. Whether it's your beer cans, your drink bottles, your sweet wrappers, your food wrappers, whatever. Just make sure you have all that and don't leave anything lying around your tent. It's not cute. It's not clever.
– I know it sounds obvious, but don't forget your ticket! Because there is nothing worse than travelling somewhere for a very, very long time and realising you can't. get. in. So make sure you leave your ticket by your bedside table before you leave the house or where your keys are, just so you know you absolutely are not going to forget it.
– My other festival tip is always get your cash before you go to the festival, just because the queues for cash points can sometimes be really long. You don't want to have to stop your fun in between a performance and have to go out of site and back in. So always pack your cash before you go.

– Also, sunglasses! Bring a couple of pairs of cheap sunglasses because the chances are you'll probably lose at least one!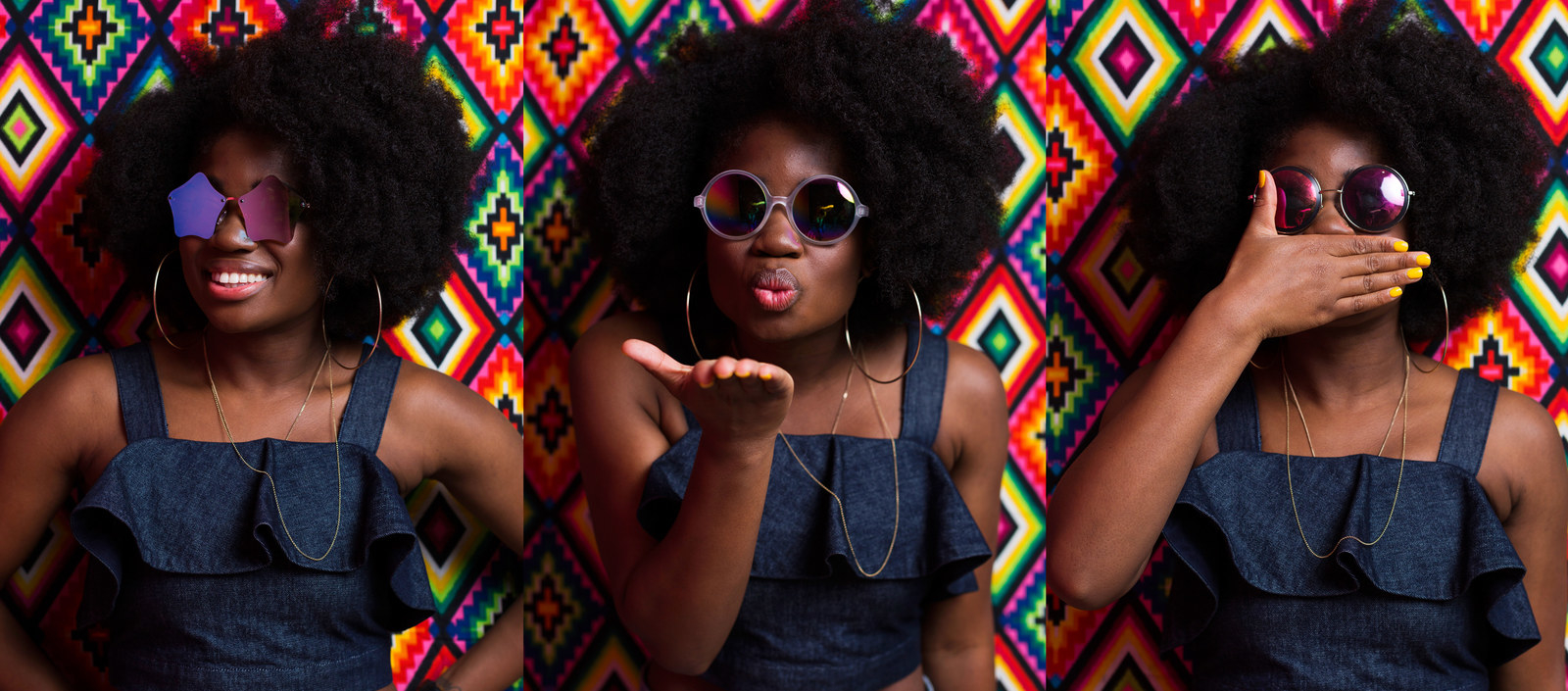 Glastonbury

Afropunk

Lovebox

Bestival

Outlook
Silver Hayes

Shangri-La

Circus Area

Block 9

Pyramid Stage

Glastonbury – obviously there is so much to do, so much to see. The Pyramid Stage, you know you're going to get all your main artists there but I always think it's worth venturing out and not just sticking around there. Silver Hayes is always fun. Shangri-La – the elusive Shangri-La where you hear about all types of things. I think the rule is what happens in Shangri-La stays in Shangri-La, but it's something to behold. And the Circus Area. Now, besides music there's lots of cool things you can do at Glastonbury and I actually got to hang out at the Circus Area last year – which, I'm not going to lie, it wasn't on my 'oh my god I've got to do this' list. But once I got there I had the best time ever. And I got to learn how to trapeze, which was really fun – scary, but fun.


Rex Orange County, "Sunflower"

Arcade Fire, "Everything Now"

SZA, "Prom"

Steve Lacy, "Dark Red"

Mabel, "Bedroom"

Vic Mensa ft. Pharrell & Pusha T, "OMG"

Songs I know I'll be listening to loads this summer are Rex Orange County, "Sunflower", which I just love. The new Arcade Fire tune, "Everything Now", it's just joyous, upbeat, kind of disco vibe, which I really enjoy. This kid called Steve Lacy, who is part of The Internet, he's got a song called "Dark Red" which I haven't stopped listening to. I'm obsessed with his whole EP. The new SZA album, Ctrl, is just a delight to my ears; she has written feels that I need. There's a song on there called "Prom" which I really like.


Hunter wellies

Bobbi Brown concealer, to hide a multitude of sins

Shea butter for all your moisturising needs

Ka-Brow by Benefit

Carmex lip balm

So when it comes to looking, you know, somewhat decent at festivals, my things are I always have to have a brow on and I've always got to make sure my lips are well moisturised. I like a strong brow. So I go for this thing called Ka-Brow by Benefit. It's nice and small in a little pot – you can stick it in your coat pocket. Easy. Get the brows on.
I like a well moisturised lip. I'm obsessed with Carmex. They've got this one with a little berry tint in which is good, as you can give a nice red lip and protect your precious gob from unpredictable weather conditions! And also concealer. Concealer hides a lot of sins. So Bobbi Brown concealer. And if all else fails a pair of sunglasses will fix everything. And I also like to be well moisturised. I'm a shea butter advocate, with a bit of vanilla oil in a travel-sized pot.
You can catch Clara presenting Glastonbury coverage across BBC Radio and TV from this Friday 23 June.