Upper lip hair: It's a real issue for many women, although it's still largely a taboo. But WHY? Not for the beautiful Thandie Newton though, who decided to be open about it and share this "dealing with the tash" photo on her Instagram page earlier this week.
Followed by this finished effect.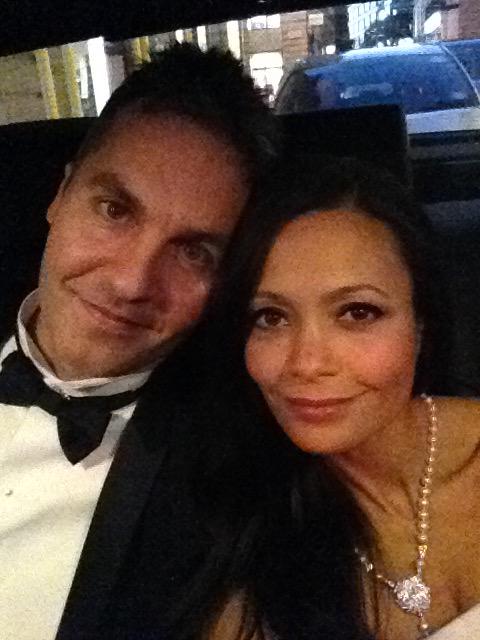 The actress has spoken out to 1) show that WOW she is indeed human, too and 2) support other females who have moustache issues.
On Tuesday night Thandie attended the premiere of her husband's movie The Second Best Exotic Marigold Hotel and decided to reveal her preparations for getting red carpet ready. Which yes, involved bleaching her upper lip hair.
She's decided to speak out about it because no, it's not something that should even be an issue. Right?
And she even made this joke after the picture started to go viral.
But that's not all, Thandie decided to go one step further and help her friend, make-up artist Kay Montano, who she runs a blog with, open up about their grooming techniques on ThandieKay.com.
Kay writes in the post:
While in my Uber en route to The Second Marigold Hotel premiere (Thandie's hubby Ol Parker was the screenwriter) last Tuesday, I checked our instagram and saw that Thandie had posted the above self-portrait with strategically placed Jolene Creme Bleach while getting ready at Claridges Hotel in London.

I giggled to myself because I too had 'dealt with my tache' that day with my method of choice-Nair Facial Hair Removing Cream and having not seen Thandie since January, I loved that we were on the same wavelength, or rather, tache length. I'm always nagging Thandie to do more selfies while at work for our instagram, and she came up trumps yesterday as there's nothing like a little FACIAL HAIR REMOVAL to get the worldwide web going!

Neither of us are at Tom Selleck levels but we do, like most women have a little non-blonde down (okay- alright- hair) above the upper lip.

More surprising is that it's clearly still a little taboo, otherwise it would not have gone as viral so quickly, with women high-fiving Thandie for her candour with the facial fuzz.
And she too discussed bleaching Vs. hair removal cream.
So THANK YOU ladies for raising the subject. May it no longer be a taboo.
You can read the whole blog post here.