Here's The Awkward Moment Students Staged A Mass Walk Out On Katie Hopkins
They protested as soon as she started to speak.
by
,
This year Katie Hopkins has continually caused controversy with her opinions on everything from the refugee crisis to food banks.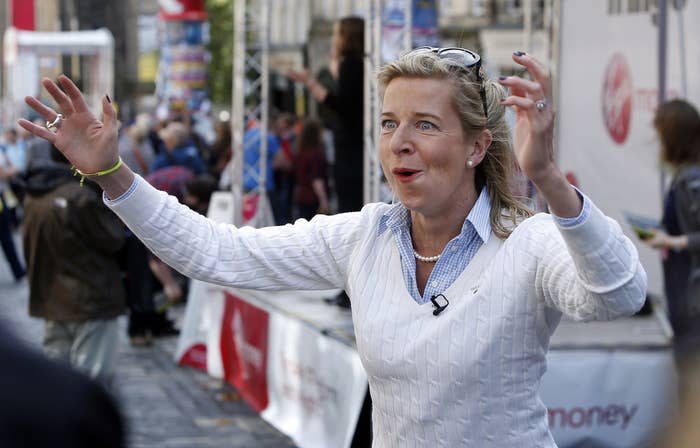 So when she was revealed as a speaker at Brunel University on Monday night, she wasn't met with the warmest of welcomes.
The TV star was a guest speaker at a talk titled "Does the Welfare State have a place in 2015?" as part of the university's 50th anniversary celebrations.
But before she'd even had a chance to speak the students staged a mass walk out.
At first they stood up and turned their backs to her in protest, then they walked out in unison.
Brunel University had invited Katie Hopkins to speak at an event as part of their 50th anniversary celebration.
Many students were not happy with the University's decision, and approached the Student's Union to "vocalise their anger", Ali Milani, President of Brunel's Student Union, told BuzzFeed News.
"It seemed like a silly decision from the university, but someone thought this was a good idea," he added.
The Student Union decided that "the most powerful" way to communicate their dismay to the institution was for students to walk out of the event.
"The whole idea of the action was that we shouldn't be feeding fuel to an online troll and someone who says offensive things just to get publicity.
Milani said that the demonstration went really well, with over 50% of attendees (between 50 and 70 students) walking out of the room as Katie Hopkins started to speak.
The reaction towards the walk-out has been "overwhelmingly positive", he said. "We're really proud of our members, the key distinction that is made – and often these things get lost in the argument – is that this wasn't a conversation about free speech at all.
"Katie Hopkins was given the right to speak, but the students equally have the right to express themselves and to communicate their discontent, and they did so."
So far Hopkins has kept quiet about the awkward moment, and has simply retweeted a news story on it.

BuzzFeed has contacted Hopkins' representative for comment.