Here's The First Press Shot For The New "Absolutely Fabulous" Movie
We can't wait to see it in 2016, sweetie dahling.
There's been months of rumours, hints, and reports but now Absolutely Fabulous: The Movie has FINALLY been confirmed.
Here's the first press shot for the movie, which has just started filming in the South of France.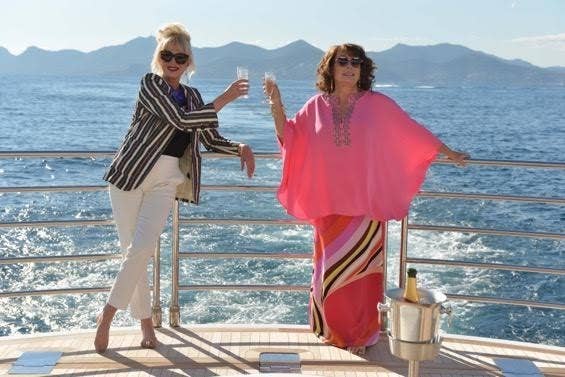 Joanna Lumley and Jennifer Saunders are reuniting to film the highly anticipated project over the next seven weeks, ready for a 2016 release date.
It will also see the return of Julia Sawalha as Saffy, Jane Horrocks as Bubble, and June Whitfield as Mother. And some A-list cameos, who are yet to be confirmed, have also been promised.
A press release for the movie has described the plot:
Appropriate for their big screen debut, Edina and Patsy are still oozing glitz and glamour, living the high life they are accustomed to; shopping, drinking and clubbing their way around London's trendiest hotspots. Blamed for a major incident at an uber fashionable launch party, they become entangled in a media storm and are relentlessly pursued by the paparazzi. Fleeing penniless to the glamorous playground of the super-rich, the French Riviera, they hatch a plan to make their escape permanent and live the high life forevermore!
Earlier this year Saunders told the Mirror she had finished the script, which had taken her 20 years to write.
And we're hoping for plenty more of this.