Adele confirmed to fans that she may never tour again as she started her final set of world tour gigs in her hometown, London, on Wednesday night.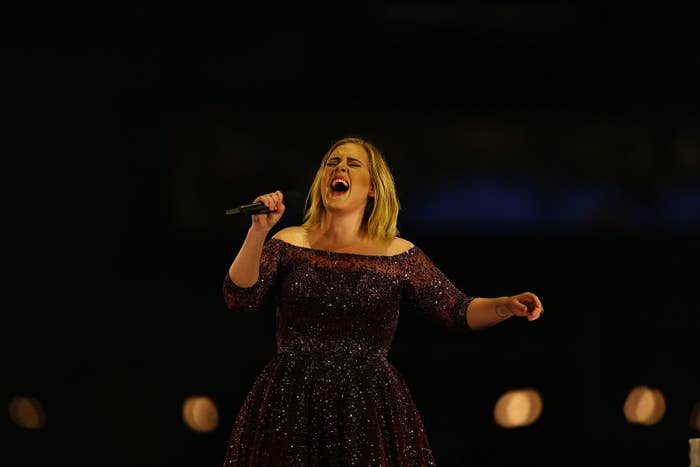 The singer has spent the last 15 months travelling the globe to places like Australia, New Zealand, North America, and all over Europe. When she performs her fourth and final London date of the trek on Sunday night, she will have completed 123 shows since she started touring her latest album, 25, last year.
But fans who are attending her London concerts at Wembley Stadium over the next few days may be the last to see her perform live, as she left handwritten notes in all of her tour programmes revealing that she may never tour again.
Adele wrote that touring doesn't suit her "particularly well" and just in case she does decide to quit life on the road in future, she wanted to end her shows in her home city. The full note reads:
So this is it. After 15 months on the road and 18 months of 25 we are at the end. We have taken this tour across UK + Ireland, throughout Europe, all over America and I finally got to go to Australia and New Zealand too. Touring is a peculiar thing, it doesn't suit me particularly well. I'm a real homebody and I get so much joy in the small things. Plus I'm dramatic and have a terrible history of touring. Until now that is! I've done 119 shows and these last 4 will take me up to 123, it has been hard but an absolute thrill and pleasure to have done. I only ever did this tour for you and to hopefully have an impact on you the way that some of my favourite artists have had on me live. And I wanted my final shows to be in London because I don't know if I'll ever tour again and so I want my last time to be at home. Thank you for coming, for all of your ridiculous love and kindness. I will remember all of this for the rest of my life. Love you. Goodnight for now. Adele.
We love you, Adele. Please don't let it be true. 😢