This post has not been vetted or endorsed by BuzzFeed's editorial staff. BuzzFeed Community is a place where anyone can create a post or quiz.
Try making your own!
The Galactic Champions League
KICKTV brings you the semi-final match ups of this year's Galactic Champions League. Empire United, Cloud City FC, Galactic City Senators, and Real Naboo remain in the universe's top football competition. May the Fourth be with you.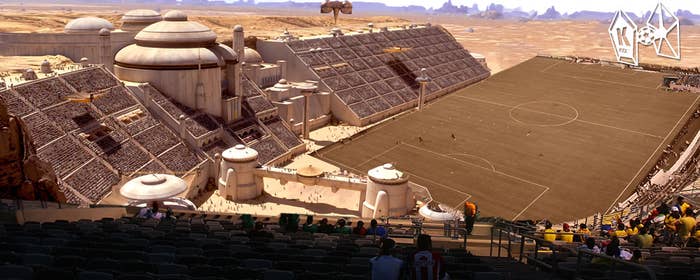 Truly there is no time quite like Champions League, and the run up to the semi-final has vividly stoked the passions of supporters around the galaxy. Emotions perennially run high here, in the grandest competition of them all.
Cinderelgnok stories like Dynamo Odos and Utapau United have been dispatched, and each remaining club is set to field nothing short of galaxy-class athletes at the height of their powers.
From the Tingel Arm to the Kathol Sector, and every port in-between, it's come down to these four:
Empire United (Core Worlds League Champion) vs. Cloud City FC (Outer Rim League Champions)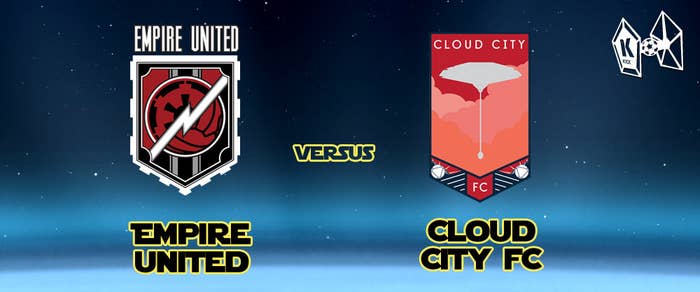 How they got here:
Empire United defeated Mos Eisley Blasters in a classic tie that needed penalty kicks to decide a winner. Despite a stirring performance by Blasters away from their famed "wretched pitch of scum and villainy", United ultimately won the day and sent Blasters off into the double-sunset. Mos Eisley club owner Jabba the Hutt has formally contested the result and accused Empire head honcho Sheikh Mansour bin Zayed Al Palpatine of reprogramming the droid match referees to give his team an advantage on questionable calls. The governing Jedi Council has placed the match under review, however with Jabba being found guilty of the very same violation during last year's group stage, he's highly unlikely to win the appeal.
In any event, Empire United enters on a roll and hoping to book a date in the final with their intra-planetary rivals Galactic Senators, whom they still trail by 5 points in league play with only four matches left to be contested. Legendary United Striker Dakbus Sello has nine goals in the competition and made Mos Eisley keeper (and Tatooine native) Markef Thrales look like a helpless wamp rat with a natural hat trick over the final 45. Can United finish the job and reach their third final in five years?
Cloud City continued its surprising dominance, easily handling an outclassed Corellia Cruisers in their quarterfinal tilt. Though featuring long sequences of the "beautiful football" championed by Owner/Manager Luther Mondragon, CCFC's 5-1 aggregate triumph will be remembered primarily for Corellia defender Mitch Antilles' ill-advised challenge in the box during the 8' of the second leg. Haka Elprin coolly converted the ensuing penalty and it was off to the races for the boys from Bespin, as they struck for two more before the half (Calrissian Beta IV 33' Pemulis 41').
Cloud City had a famously difficult time emerging from the Outer Rim League, fending off late season charges by planet-mates Sporting Bespin and the upstart Geonosis Flyers. It took a 2-1 result away at Dagobah United under exceptionally swampy conditions to punch their ticket. They arrive at this semi-final with plenty of momentum however, and in Elprin a striker that of late has shown the terrifying efficiency of a droideka. How they match up against the Empire United powerhouse remains to be seen. Some might say CCFC has made it look too easy thus far, a trend which almost certainly won't continue against the club from Coruscant.
Galactic City Senators (Core Worlds League Runner-Up) vs. Real Naboo (Mid Rim League Champions)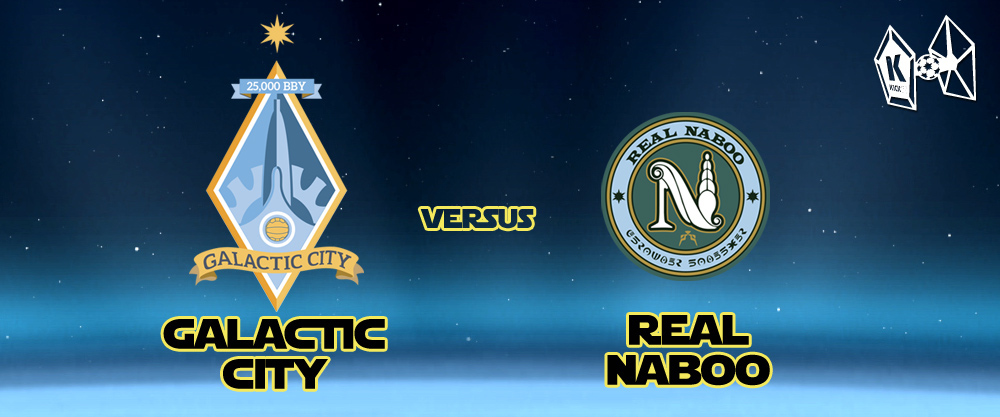 How they got here:
Galactic City Senators barely staved off plucky underdogs Forza Yavin 4 to qualify for the semifinals. The small moon-based club made a historic run to the quarterfinals this year, the furthest any non-planetary based team has advanced in the competition since Polis Massa Engineers thirty-one years ago. Unfortunately for the Forza, they ran into the Core Worlds giants from Coruscant in the quarters. After a disconcerting 0-0 draw in leg one on Yavin, the venerable Senators scored a decisive 3-0 victory in the friendly confines of their planet-sized city. Following the match, GCR manager Major Phil Akbar praised the opposing club's efforts. "That's no moon, that's an emerging football powerhouse."
Though surely welcome, such kudos are most likely cold comfort to a Yavin 4 club who had justifiably begun to dream of much grander things. GCR has largely been bolstered by the inspired play of their enormous Wookie keeper Isshaddik. The Kashyyyk native has had a fabulous tournament, allowing a meager two goals since group play ended. In what has become a tradition amongst the Republican faithful, while shutting out Forza last month he was serenaded with a boisterous rendition of "Let The Wookie Win" during second half stoppage time. GCR have no glaring flaws heading into their first meaningful tilt with Real Naboo in more than a decade.
Real Naboo has enjoyed an unfamiliar degree of success in Champions League this time out, advancing to its first semifinal in 19 years with a dramatic win over Hoth FC. An energetic and lively crowd at Queen Amidala Memorial Stadium functioned as a true twelfth man, noticeably affecting the play of usually unflappable Hoth. Just a few weeks earlier, HFC took advantage of the sub-zero conditions during their home leg and capture a neat 2-0 advantage to take with them to the more forgiving climate of Naboo.
Real, however quickly turned the tables in a beautiful first 25 featuring goals from both of their dexterous young Gungan forwards Neddy Phipps and Tarsem Binks. A dramatic stoppage time goal completed the comeback and booked the upstarts from Naboo a place in the semifinals. Supporters flooded the streets of Theed in an ecstatic frenzy after the match, with drums and horns blaring well into the morning hours.
Though Hoth has enjoyed a good run of late, both domestically and abroad, Real Naboo was particularly well suited to handle Hoth's icy, possession based gameplan. How they'll fare against the more balanced Senators remains to be seen.
Will we see some fresh faces in the final, or are we headed for another all-Coruscant affair? Let's hear what you think! Place your predictions in the comments, and we'll see you after the semis!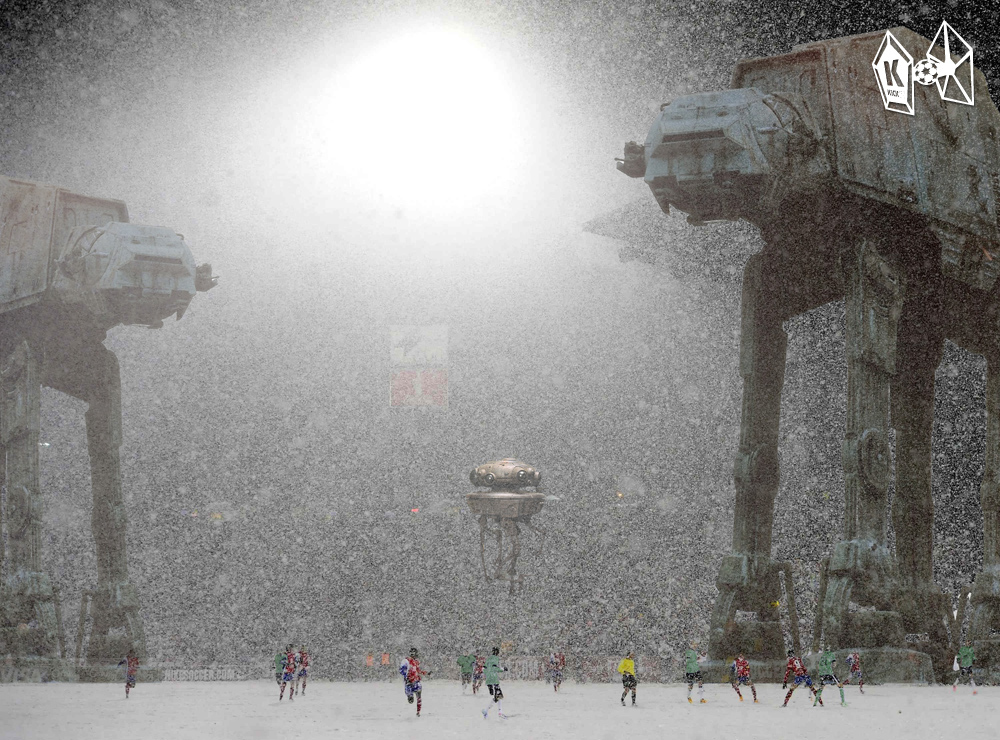 Star Wars Galactic Champions League Semi Final - Football Galaxy