Summer Salmon Dinner For Two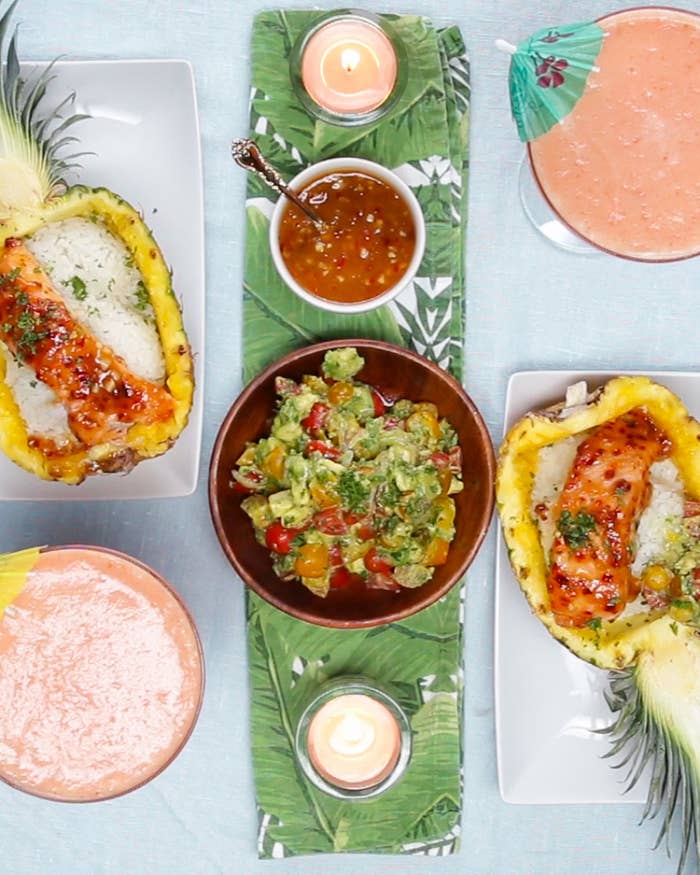 Avocado And Tomato Salad
INGREDIENTS
1 avocado, diced
1 cup cherry tomatoes, finely chopped
A quarter of a medium, red onion, thinly sliced
Juice of a half a lime
Salt, to taste
2 tablespoons parsley, chopped
PREPARATION
1.Combine all ingredients in a bowl and gently stir to combine.
2. Cover, and store in the refrigerator until ready to serve.
3. Enjoy!
Pineapple Sweet Chili Salmon
INGREDIENTS
1 whole pineapple
½ cup water
½ cup sugar
2 tablespoons chile flakes
2 teaspoon salt
2 cloves garlic garlic, minced
1 tablespoon cornstarch
2 tablespoons water
2 salmon fillets
PREPARATION
1. Preheat your oven to 375°F (190°C).
2. Cut pineapple in half lengthwise, cutting from root through the leaves.
3. Hollow out the pineapple by slicing around the perimeter, leaving a ½" border. 4. Slice the pineapple inside the cut border, and scoop out with a spoon. Repeat with the other half and set aside, as this will be the serving bowl for the salmon.
5. Add 2 cups of pineapple and water to a blender and blend until smooth.
6. Pour pineapple purée into a saucepan set over medium heat.
7. Add sugar, chile flakes, salt, and garlic to the pan and bring to a simmer. Stir frequently until sauce has become lighter in color and slightly thickened.
8. In a separate small bowl, combine cornstarch with water to make a slurry. Add the slurry to the sauce, cooking until sauce has thickened, about 4-7 minutes. 8. Remove the pan from the heat.
. Place the salmon on a parchment paper-lined baking sheet and cover each fillet with the sauce
10. Bake for 12-15 minutes, depending on your desired doneness.
11. Serve in the pineapple bowls over rice with extra pineapple sweet chile sauce on the side. Enjoy!
Tropical Rum Punch
INGREDIENTS
1 cup pineapple, chopped
½ cup frozen strawberries
1 tablespoon lime juice
1 tablespoon sugar
½ cup coconut rum
2 cups ice
PREPARATION
1.Using a blender, blend all ingredients until smooth.
2. Serve immediately. Enjoy!