Kiano's Chicken Jollof Rice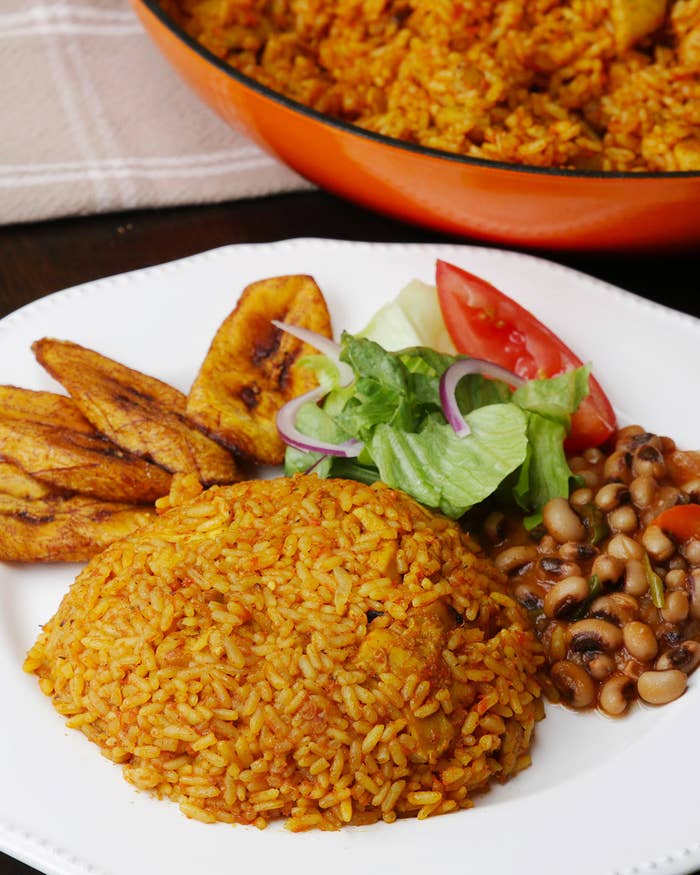 INGREDIENTS
6 medium tomatoes, sliced
1 red bell pepper, stemmed, seeded, and quartered
2 small red onions, 1 quartered, 1 diced
1 habanero pepper, stem removed
½ cup, plus 2 tablespoons vegetable oil
1 pound boneless chicken thighs, cubed
2 teaspoons curry powder
1 teaspoon dried thyme
2 cups parboiled long grain rice, washed
2 stock cubes dissolved in ⅔ cup water
PREPARATION
1. Add the tomatoes, red bell pepper, quartered onion, and habanero pepper to a blender and blender until smooth.
2. In a pot over medium heat, add 2 tablespoons oil, diced red onion, chicken, and curry powder. Cook until onions are soft and chicken has browned, about 8-3. 10 minutes. Remove chicken from pot and set aside.
4. Raise heat to medium high, and using the same pot, add pureed tomato mixture, cooking until reduced by half.
5. Add in remaining oil, and fry sauce for 8-10 minutes. Stir in chicken, along with rice, stock, and thyme leaves.
6. Cover pot tightly with foil. Cover with lid and reduce heat to low, cooking for 30 minutes.
7. Once rice is cooked, fluff up before serving. Enjoy!