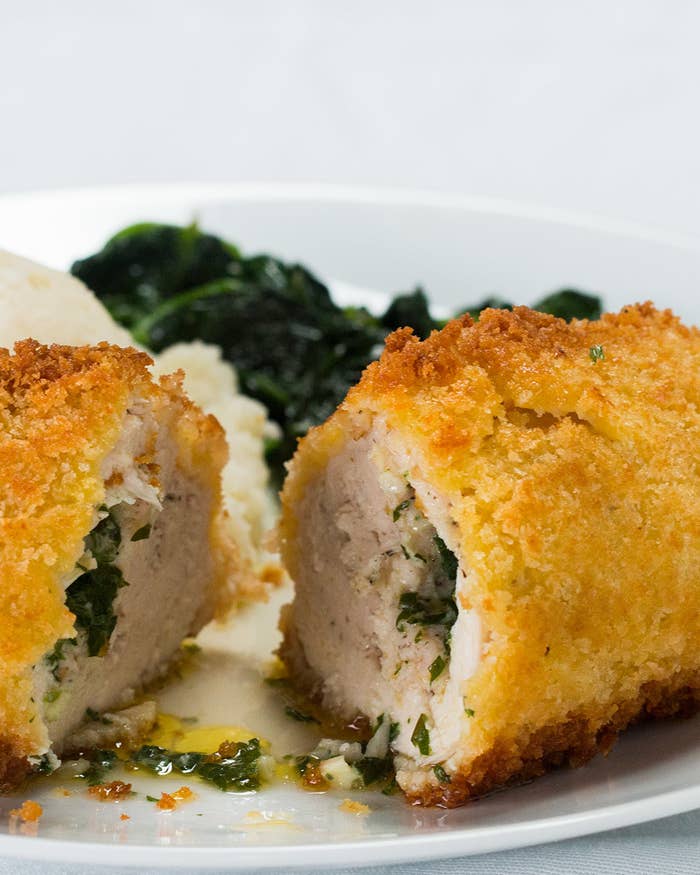 Ingredients:
for 4 servings
½ cup butter, room temperature (115 g)
2 cloves garlic, minced
2 tablespoons fresh parsley, finely chopped
4 boneless, skinless chicken breasts
1 cup flour (125 g)
3 eggs, beaten
2 cups panko breadcrumbs (100 g)
oil, for frying
salt, to taste
pepper, to taste
Preparation:
1. Preheat oven to 375°F (190°C).
2. In a bowl, add the butter, garlic, and parsley and mix until fully combined.
3. Shape butter into a log and wrap in plastic wrap. Freeze for 15 minutes.
4. On a cutting board, slice the chicken breasts in half horizontally.
5. Wrap in plastic wrap and pound until the chicken is ⅛-inch (3 mm) thick.
6. Divide the butter into fourths.
7. Season with salt and pepper. Place a portion of butter on the flattened chicken breast and roll it up, creating a log.
8. Coat the rolled chicken in flour followed, by eggs and bread crumbs. Repeat once more.
9. Cover the chicken in plastic wrap and chill for 15 minutes while the oil is heating.
10. Fry in oil for 3-4 minutes, until edges are golden brown.
11. Bake for 20-25 minutes.
12. Let rest for 5 minutes before serving.
13. Enjoy!