Tropical Rainbow Sherbet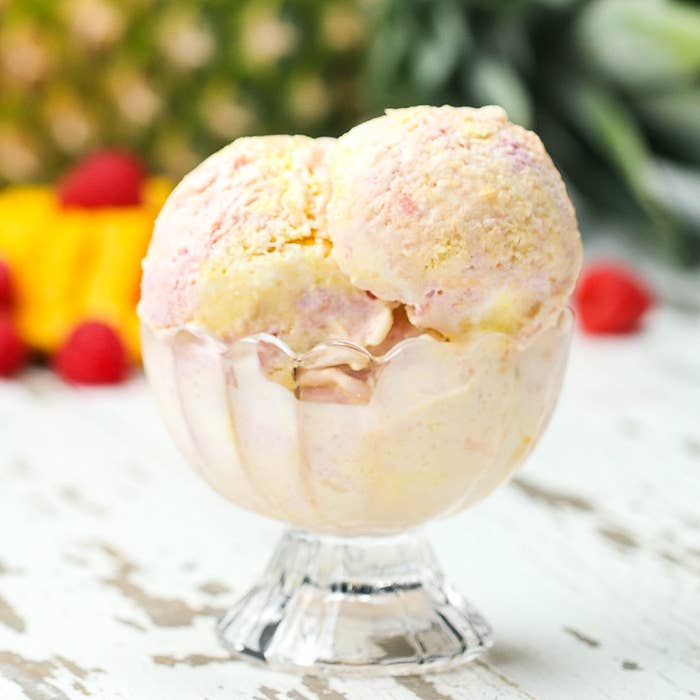 INGREDIENTS
2 cups heavy whipping cream
1 14-ounce can condensed milk
1 cup raspberries
2 tablespoons water
2 cups mango, diced
1 cup crushed pineapple, strained
PREPARATION
1. In a large bowl, using a hand mixer, whip heavy cream until soft peaks form.
2. Whisk in condensed milk. Evenly divide the cream base into 3 separate bowls.
3. In a saucepan set over medium heat, add raspberries and water. Cook until berries have burst, about 3-5 minutes. Remove the pan from the heat and cool for 5 minutes.
4. Place a mesh sieve over one the bowls of cream. Add the raspberries and using a spatula to press on the mixture so that the seeds are caught in the strainer. Mix until uniform in color.
5. Using a blender, puree mango until smooth. Add mango puree to the second bowl of cream. Mix well.
6. Add pineapple to the third bowl of cream. Mix well.
7. Alternating each flavor, layer the 3 flavors into a freezer-safe loaf pan. Once all flavors are added, use a butter knife to gently swirl the sherbet. Be careful not to over stir, making more than 5 passes with your knife.
8. Freeze until solid, about 3-4 hours.
9. Enjoy!