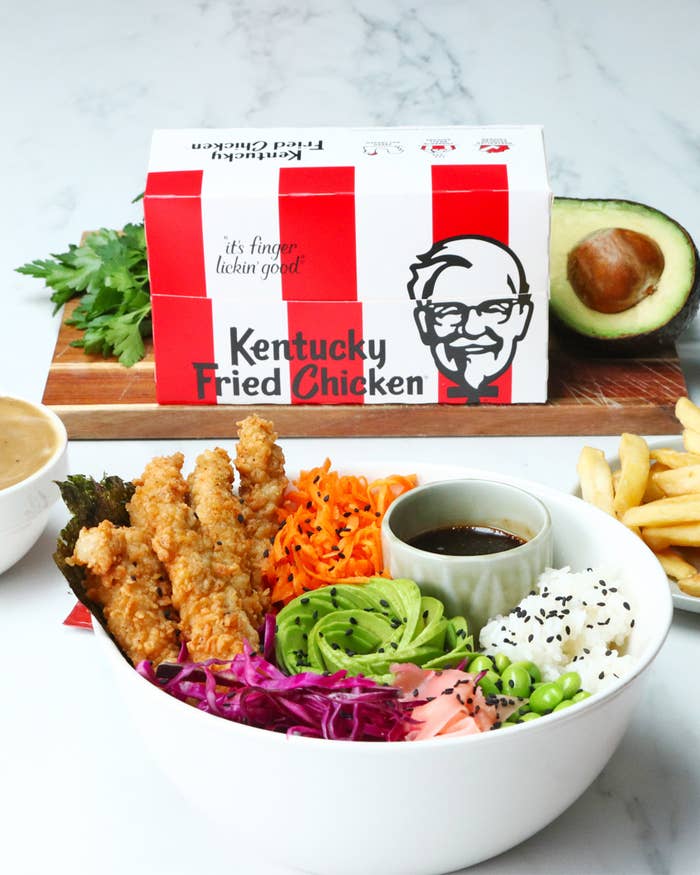 Ingredients:
Filling for poké bowl:
5 KFC Original Tenders
400g sushi rice
2 cups water
1 avocado
60ml mirin seasoning
¼ purple cabbage head
2 carrots
2 tsp sesame seeds
1 cup rice wine vinegar
1 tsp sugar
1 tsp salt
1 shallot
100g edamame beans
20g pickled ginger
1 nori sheet
BBQ Dressing
2 tbsp BBQ sauce
1 tbsp soy sauce
1 tbsp ponzu dressing
1 tbsp honey
To garnish:
2 tsp black sesame seeds
Method:
STEP 1: Set KFC Original Tenders aside in their box to ensure they keep warm.
STEP 2: Add sushi rice and 1½ cups of water to a rice cooker. It should take approximately 15 minutes to cook. Remove the rice from the cooker and add to a mixing bowl. Stir through mirin seasoning, then allow to sit while you prepare the rest of the ingredients.
STEP 3: To make the pickling mixture, add rice wine vinegar, ½ cup water, salt and sugar to a mixing jug and stir until combined.
STEP 4: Shred carrot then separate into a small bowl. Shred the purple cabbage and thinly slice the shallot, then place both in a small mixing bowl. Divide the pickling mixture and pour evenly between the two bowls. Set each aside in the fridge for 10 minutes.
STEP 5: Place edamame in a bowl of hot water and let them sit for two minutes. Add cold water to bring the temperature down, then separate the beans from their pod into a small bowl and set aside.
STEP 6: In a small bowl, mix BBQ sauce, honey, soy and ponzu dressing, then stir until fully combined.
STEP 7: Slice an avocado in half. Using the side that does not hold the seed, peel off the skin, then lay the flat side down on a chopping board. Carefully slice the avocado thinly and fan out the slices so that they continue to overlap and create a long thread. Curl the avocado starting from the top and roll it around so that it starts to form a coil. Use your fingertips to guide the formation and your palms to support the base, ensuring it doesn't break.
STEP 8: To build the poké bowl, layer rice at the bottom of a deep serving bowl. Then arrange vegetables on top, starting with purple cabbage, carrots, the avocado rose in the centre, edamame, two slices of nori, KFC Original Tenders and pickled ginger.
STEP 9: Drizzle with BBQ dressing and garnish with black sesame seeds.
STEP 10: Enjoy!