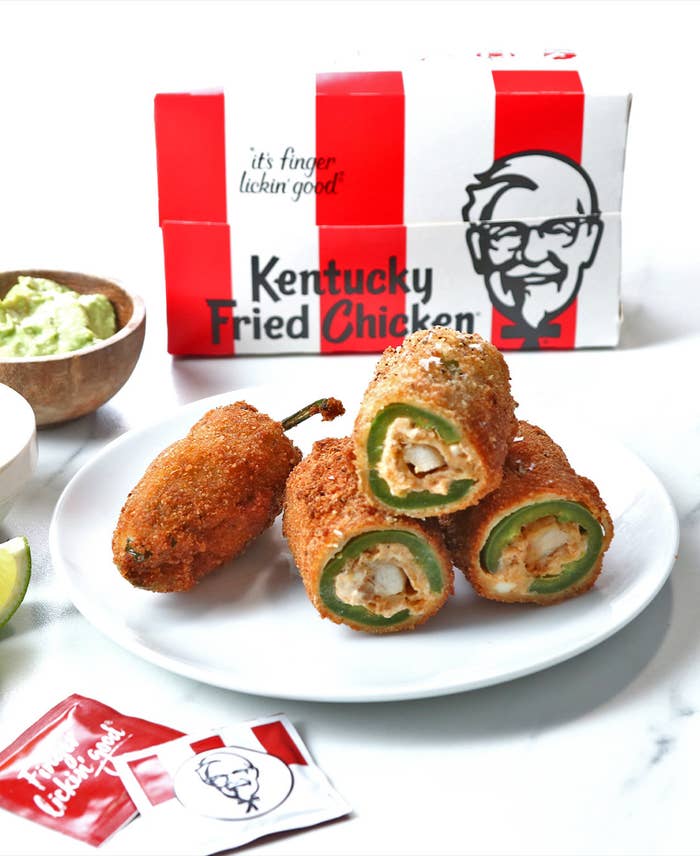 Ingredients:
5 KFC Original Tenders
10 jalapeños
225g cream cheese
100g mozzarella, shredded
2 tbsp mayonnaise
1 tsp paprika
150g bread crumbs
110g plain flour
5 eggs
Salt, to taste
Pepper, to taste
1ltr peanut oil
To garnish:
Lime wedges
Salt
Pepper
Ranch dressing
Method
STEP 1: Halve KFC Original Tenders and set aside.
STEP 2: Slice the jalapeños lengthwise down the centre, ensuring that you only cut through the top, leaving the bottom intact. This will allow you to open the jalapeño and reseal it. Use a small spoon to remove the seeds, then set aside.
STEP 3: In a mixing bowl, combine cream cheese, mozzarella, mayonnaise, paprika, salt, and pepper, then mix until fully combined. Spoon cream cheese mix into a piping bag.
STEP 4: Gently open the jalapeños and stuff half a KFC Original Tender inside. Pipe in cream cheese mixture to seal all the gaps, then firmly close.
STEP 5: Add flour, eggs and breadcrumbs to 3 separate shallow bowls. Coat the jalapeños in flour, then egg wash, then breadcrumbs. Coat once more in egg wash and breadcrumbs. This will ensure the coat is strong enough to cover the jalapeño without falling off.
STEP 6: Deep fry jalapeños in peanut oil on medium heat for 2-3 mins, until golden. Once cooked, allow to drain on paper towel.
STEP 7: Lay jalapeños on a lined baking tray, then bake in the oven for 10 minutes at 180°C. This will ensure the jalapeños are cooked all the way through.
STEP 8: Garnish jalapeños with lime, salt and pepper, then serve with ranch dressing for dipping.
STEP 9: Enjoy!