American treasure Dwayne Johnson aka The Rock is an angel...he's also very good at social media as you probably already know.
So, of course, on Voting Day in America, The Rock left us with this hilarious gem encouraging us to do it for "the little ones":
If you look a little bit closer that is actually Kevin Hart's face hilariously photoshopped over a child's body.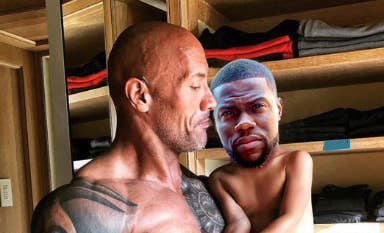 This isn't the first time The Rock has poked fun at Kevin being his "son", lol:
The Rock and Kevin Hart are frequent collaborators and always go back and forth on social media taking hilarious jabs at one another. Take for example the caption in the below photo:
But don't worry, Kevin has gotten in his fair share of shots at The Rock, too:
Leave it to this hilarious duo to always leave us with laughs and shout out to The Rock for coming up with a funny way to encourage everyone to vote today.