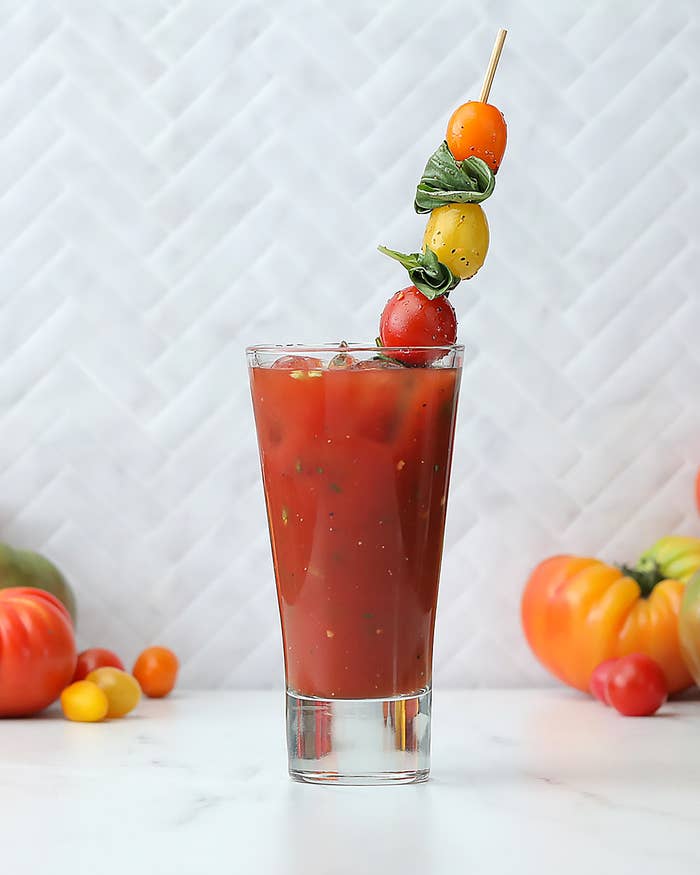 INGREDIENTS
Marinated Tomatoes:
Olive oil
2 tablespoons lemon juice
1 teaspoon salt
1 teaspoon pepper
1⁄2 teaspoon chili flakes
1 tablespoon thinly sliced basil
2 cups heirloom cherry tomatoes, assorted colors
Handful of basil leaves
Cocktail:
4 cups organic tomato juice
2 tablespoons minced basil
1 jalapeño, minced
1⁄4 cup lemon juice
1⁄2 teaspoon salt
1⁄2 teaspoon pepper
1 tablespoon balsamic vinegar, plus more for drizzling
6 ounces Ketel One Vodka
PREPARATION
1. Marinate tomatoes in a small bowl and cover with olive oil. Add salt, pepper, chili flakes, basil, and lemon juice. Stir and let marinate while you make the rest of the drink.
2. In a pitcher, mix together tomato juice, minced basil, jalapeño, lemon juice, salt, pepper, and balsamic vinegar.
3. Assemble skewers: Thread cherry tomatoes and basil leaves onto 4 skewers, alternating colors.
4. Place a skewer in each glass. Fill glasses with ice. Pour 1 1⁄2 ounces Ketel One Vodka into each glass, then fill with Bloody Mary mixture. Use skewer to stir. Drizzle each with balsamic and serve!