"The Nasty Women Project: Voices from the Resistance" Edited by Erin Passons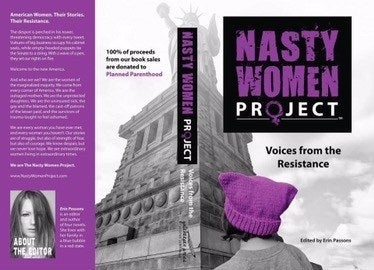 So I guess I said that being a 'nasty woman' isn't as political as it seems to be, and so far the whole top half of this post has been about politics... so I'm sorry if, up to this point, you've been sort of confused.
Let me explain:
The Nasty Women Project came out as a direct response to the election and Trump's proposal to defund Planned Parenthood (oh yeah, the money the book earns is going to go to PP in an effort to help keep it funded) so yeah, its creation was inspired by a political agenda, but what does being a 'nasty women' mean? Can you only be a 'nasty woman' if you voted for or supported Hillary? Can men be 'nasty women'? What is the deal??
Well, let me answer some of those questions the only way I know how... with my opinion.
For me, being a nasty woman means being a strong woman.
For the women whose stories are featured in the book, being a nasty woman probably means a lot of different things, like, it could mean equality, or equal pay for equal work, or it could mean determination, faith, reassurance, solidarity, togetherness... being a 'nasty woman' has become a label women everywhere can be proud to uphold, like, "hell yeah I'm a nasty woman!"
Are you still thinking that this is a politically fueled rant? Maybe you're thinking, "yeah okay but I still don't see how calling yourself a nasty woman won't trigger politics?" but hold on, empowering women really doesn't have to be! Finding strength in community as a woman, or a person who supports women, shouldn't have anything to do with whether you're right or left or wherever.
So forget politics for a second. Forget about Trump and Clinton.
Think about your mom. Think about your sister, your daughter, your best friend, your auntie who isn't really your auntie but she's pretty much been there since the day you were born so she's honorary family. Think about your grandmother, your great grandmother, and how different life was for them when they were your age. Being a 'nasty woman' is just about being a woman, and standing with other women who know what it feels like to be called 'nasty.'
Okay, so maybe I mislead you a little bit. Maybe being a 'nasty woman' has a lot to do with politics, but at the same time, it doesn't, because no matter what a women's right to be heard isn't political, it's human.
This post was created by a member of BuzzFeed Community, where anyone can post awesome lists and creations.
Learn more
or
post your buzz!