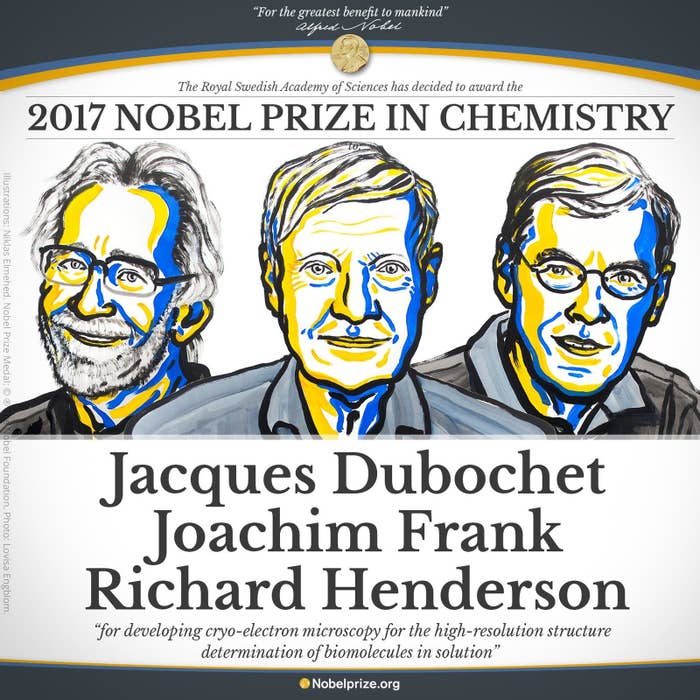 Three scientists have been awarded the 2017 Nobel Prize in chemistry for developing a technique to image molecules involved in life. The method has been used to analyse the Zika virus, among other applications.
Jacques Dubochet, Joachim Frank, and Richard Henderson came up with the technique, called cryo-electron microscopy (Cryo-EM). It allows scientists to freeze biomolecules – molecules involved in the processes of life. Once they are frozen, scientists can look in detail at the structures of these molecules and the processes they are involved in.
"A picture is a key to understanding," says the award announcement. "Scientific breakthroughs often build upon the successful visualisation of objects invisible to the human eye."

"This technology provides an essential step to move from the structure of individual proteins, to understanding how multiple cellular components interact to produce the chemistry of life," Roger Morris, associate head of the Department of Chemistry at King's College London, told BuzzFeed News.
Speaking by phone to reporters at a press conference, Frank said: "I was fully overwhelmed. I thought the chances of winning a Nobel Prize were minuscule because there are so many other innovations and discoveries that happen every day."
He added that the practical use of the technique is "immense" and he thinks it is about to transform the field of structural biology. "You can see from the way the X-ray crystallographers flock to the conferences about cryo-EM and there is a flood of applications for [postdoctoral research positions]," he said.

Frank was born in Germany but now lives in the US, working at Columbia University in New York. Dubochet was born in Switzerland and works at the University of Lausanne. Henderson was born in Scotland and works at the MRC Laboratory of Molecular Biology in Cambridge.
Dr Lucy Collinson, head of electron microscopy at the Crick Institute in London, told BuzzFeed News: "We all thought this was coming. In the last few years it's revolutionised the field so much, it's been speculated that it would win but we didn't know it would be this year."
She said the new Nobel laureates are "a good group": "Jacques [Dubochet] pioneered the process of vitrification, freezing without creating hexagonal ice. If you create hexagonal ice you blow apart your sample.
"Richard [Henderson] created a camera that can detect individual electrons in the microscope and that really increased the resolution, pushed the images into the atomic scale. Joachim Frank worked on the whole technique and reconstruction of single particles to give you models of individual proteins."
She added that the Crick has installed two of the microscopes that can use this technique in the last year: "We have about 40 researchers screening their proteins for high-res imaging on those big microscopes, and they'll be used to look at different potential drugs for malaria or HIV or drug targets in cancer. It's made discovery faster."
Dame Carol Robinson, professor of chemistry at Oxford University, told the Science Media Centre: "I am delighted to see this research recognised in this way. It is truly transformative allowing us to see new images of biomolecules – I am personally very happy for Richard [Henderson] who predicted this would be possible many years previously."