Charities say they are "dismayed" that the meningitis B vaccine won't be extended to all children in the UK up to 2 years old.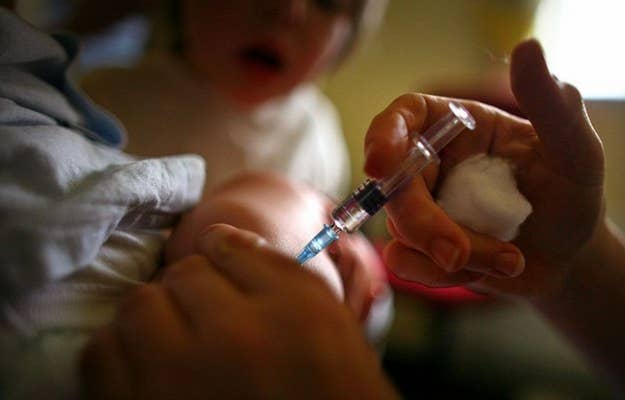 The vaccine was introduced last year and is routinely given to children up to the age of 1. Under-1s are most at risk from the disease, with cases of meningitis B currently peaking at five months.
A campaign to extend the vaccine and provide a catch-up programme for older children who missed out when it was first introduced gathered support when parents of a 2-year-old who died from the disease shared their daughter's story. A petition asking the government to make the vaccine available to all children up to age 11 became one of the biggest ever.

Since then, charities have been campaigning for the vaccine to be extended to children up to age 5, and in April the government asked its Joint Committee on Vaccination and Immunisation (JCVI) to look into extending the vaccine to children up to age 2.
But in minutes of its June meeting that were released on Wednesday, the JCVI said that while it could be cost-effective to extend the vaccination to children between 13 months and 2 years old, there were not enough vaccines to ensure supply for such a programme.
Trying to complete a catch-up programme for under-2s before the start of the meningitis season in December this year would mean using existing vaccines put aside as a "buffer" and could "potentially put the running of the infant programme at risk", they said.

The JCVI also said it would not be cost-effective to provide the vaccine to children aged between 2 and 11 because of the "very low levels of the disease" seen in those of 2 and above.
Liz Brown, CEO of Meningitis Now, said the charity was "dismayed" at the decision and that it will "continue to campaign passionately for all children under the age of 5 to receive this life-saving vaccine".
She added: "We stand for the many thousands of families who are unable to protect their children from this devastating disease because they cannot afford to buy the vaccine privately. We will continue to fight against a system that discriminates against the health of the nation's children on an ability to pay basis."
Vinny Smith, chief executive of the Meningitis Research Foundation, said the charity was "extremely disappointed with the JCVI's conclusion".
He said: "This is a significant opportunity missed to save young lives from this dreadful disease this winter. It is regrettable that vaccine supplies to protect these children cannot be secured in time for this year's meningitis season without jeopardising MenB vaccinations for younger children who run an even greater risk, despite the renewed availability of vaccine for the private market."
In a statement provided to the Science Media Centre, Dr David Elliman, a paediatrician at the Royal College of Paediatrics and Child Health, said that when the meningitis B vaccine became part of the routine immunisation programme last year there were "a lot of unknowns" and it was "barely cost-effective".
"We were the first country to introduce this particular vaccine and should be proud that babies can benefit," he said. "Lives will be saved and some babies will be spared having lifelong disabilities,."
On the new decision not to extend the programe, Elliman said: "The JCVI felt that the priority should be to immunise the younger children who were at greatest risk and that nothing should be done to put delivering vaccine to them in jeopardy. They therefore advised against the use of the vaccine in the additional group of children. This must have been a very difficult decision for the committee, but I am sure it is correct under the circumstances."