8 Myths About The Ebola Outbreak
TL;DR: You won't need to wear a hazmat suit to any cocktail parties any time soon.
by
,
1.
"Someone could have Ebola and be contagious without knowing it." 2.
"You can catch Ebola if someone coughs or sneezes on you." 3.
"You could catch Ebola from a pet dog." 4.
"You can catch Ebola at a cocktail party." 5.
"Ebola could mutate and become airborne/undetectable/more contagious." 6.
"Ebola is more contagious than XYZ." 7.
"Everyone should be wearing a hazmat suit."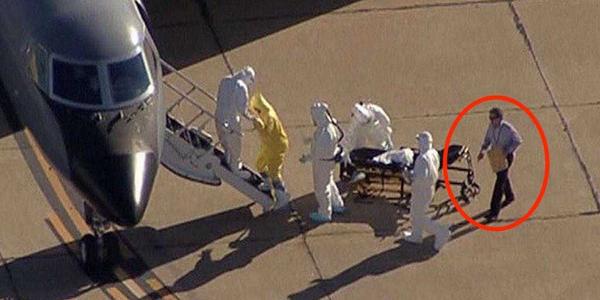 A photograph of a man in normal clothes escorting an Ebola patient and several healthcare workers (wearing full hazardous materials suits, aka hazmat suits) to a plane, did the rounds last week, with many people criticising his apparent lack of protection.
But the truth is, if you're not going to be in direct contact with a patient, you don't need to wear a suit. "The suit's there to stop bodily fluids contaminating you, and then you moving those fluids to your eyes or nose where infection would occur," Behrens told BuzzFeed News.
Even doctors treating Ebola patients in the US don't necessarily need to wear a full suit. The Centres for Disease Control and Prevention issued new guidelines on 20 October about what hospital workers should wear, and these include two sets of gloves, disposable hoods with full face shields and masks.
As science writer Kelly Hills points out in a blog post, the conditions in West Africa are far from those in the US or the UK, and so the protective gear required in each is different.
In places such as Guinea, Sierra Leone, and Liberia, Hills writes, "it's impossible to keep the patients inside a protective environment, due to the economy, the lack of infrastructure, the lack of ability because there's no technology, there's no power". In effect, it's the healthcare workers who are in isolation inside their hazmat suits. Doctors in the US, treating patients in fully equipped isolation units, don't need the same level of protection.
8.
"Ebola makes you bleed to death."