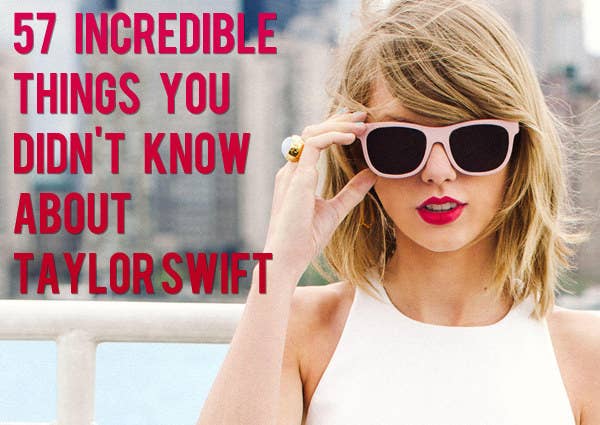 8. When she was a teenager, she spent an entire summer writing a novel about a shark that washed up on the dock of her family's shore house.
9. In high school she had a 4.0 grade point average.
10. She wrote "Our Song" for a high school talent show and decided to include it on her first album after she heard classmates singing it in the halls.
11. Her maternal grandmother Marjorie Finlay was an internationally known entertainer and opera singer who hosted a television show in Puerto Rico.
12. Nicki Minaj credits her for the crossover success of "Super Bass." Months before the song was released as a single, Taylor asked a Nashville radio station to play it during an interview and made headlines when she was coaxed into rapping a verse on air.
16. She worked as a CMA Music Fest intern when she was 14.
17. Her record label, Big Machine, had no furniture and only 10 employees when her first single was released. When a song needed to be sent out to radio, Taylor and her mom would sit on the floor to help stuff CD singles into mailers.
18. She learned how to play a 12-string guitar before ever picking up a six-string guitar.
19. She's an incredibly generous philanthropist who has donated hundreds of thousands of dollars to support arts education, children's literacy, natural disaster relief, LGBT anti-discrimination efforts, and charities for sick children.
20. She quietly changed the lyrics to "Picture to Burn" after it was brought to her attention that the line "So go and tell your friends that I'm obsessive and crazy/That's fine I'll tell mine you're gay" might be considered offensive.
21. Her first job was debugging Christmas trees on her parents' farm.
23. When she decided to sign with Big Machine after leaving RCA, her father made a small investment in the company and now owns 3% of the successful label.
24. Before moving to Nashville she was part of a sketch comedy group called TheatreKids Live!
25. She's still close with Abigail Anderson, her best friend from high school.