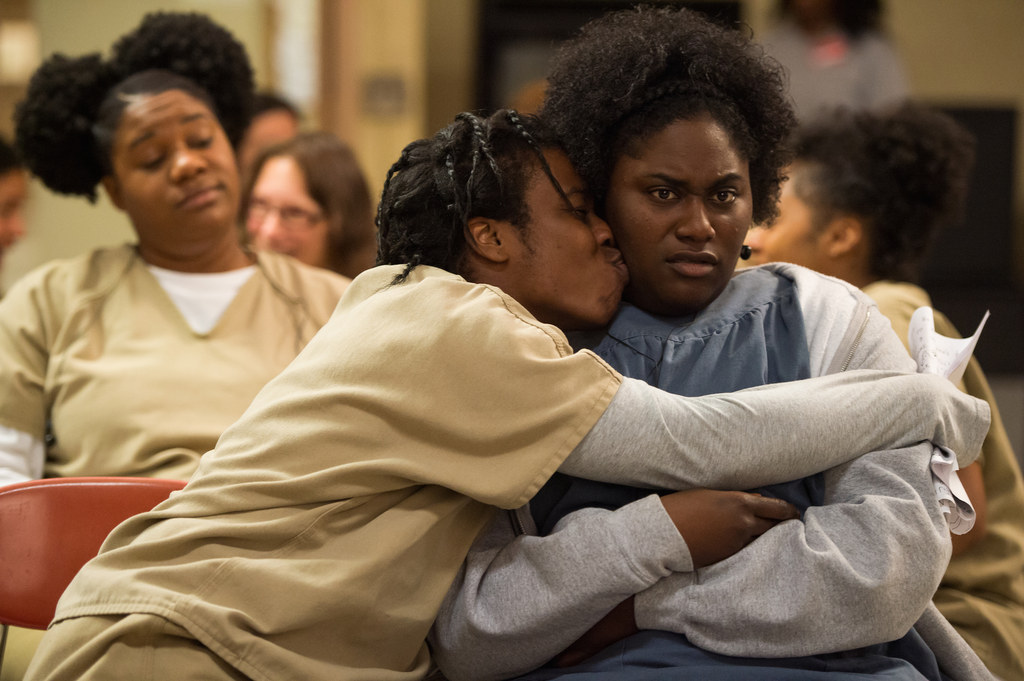 Some of the funniest and most honest moments in Netflix's hit series Orange Is the New Black happen when a particular combination of characters — Tasha "Taystee" Jefferson (Danielle Brooks), "Black Cindy" Hayes (Adrienne C. Moore), Janae Watson (Vicky Jeudy), Poussey Washington (Samira Wiley), and Suzanne "Crazy Eyes" Warren (Uzo Aduba) — get together.
The audience laughs as they sit around a cafeteria table making up rap songs, whispering about homemade hooch in the library, or answering trivia questions with "the white Michelle Williams." And we cry when they unravel, as we've seen with Aduba's Suzanne, who, in a highly emotional moment, repeatedly slapped herself in the head while she called herself stupid — a moment made all the more heartbreaking considering that her character lacks the same social development as her contemporaries.
Brooks calls the tribe of five the "Chocolate Goddesses." The actors are their own sorority, bounded by race and their impressive (and downright intimidating) academic pedigree — the women all have studied at some of the finest acting institutions in the country, and many can boast a classical Shakespearean training. But on Orange, they're playing a group of black women who — some have argued — are stereotypical, neck-swiveling, wrong-side-of-the-tracks criminals. And that potentially polarizing issue did give several of the actors pause, especially those who were signing up for their very first roles on television.
"When I first started this, I was very skeptical, being that I was a black woman playing an inmate. I was very nervous about that," Brooks told BuzzFeed News in a phone interview. "But … every story is valid, everyone's story. Whether we like to admit that, there's a lot of women that are of African descent that are incarcerated, or people of color who are incarcerated — those are stories that need to be told too. I feel like when they're told so specifically, and so authentically, and stated and done with so much truth, then I'm up for it."
And Orange Is the New Black does just that: All of the characters on the series landed behind bars for very specific and distinct reasons — the good girl gone bad, the drug mule, the airport employee who stole private property, and the list goes on. Yet these women feel fully realized. The beauty is in their backstories of college dreams dashed, the perils of growing up in the foster care system, and what happens when mental illness isn't properly treated.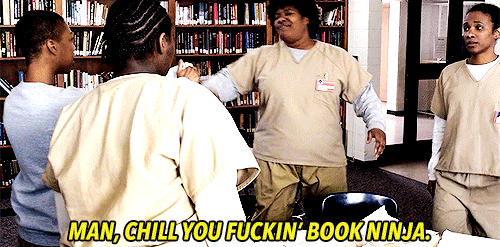 Moore's character, Black Cindy, is the outspoken member of the group who often spews every thought that enters her mind, with no consideration of the consequence. Moore herself studied psychology, history, and religion at Northwestern University as an undergraduate, has an MFA in drama from The New School, and said that she loves tapping into all of her character's unsuspecting layers.
"I know a lot of people, some of the naysayers about Orange, were saying, 'It's stereotypical. They're just showing black ghetto girls.' But I think that those that really take a deeper look into the world we create, and even the life and the things we talk about, they see a deeper picture," Moore told BuzzFeed News in a phone interview. "I had this professor in grad school, a Shakespearean guy … and he's all about the language. He taught me the importance of language, and how to elevate the language as best as you can. Because that's where the stakes lie. ... So when you read material like Orange, where you have your humor, but you see even behind the humor there is pain. I can take a joke, and I can make it funny, but if I can take a joke and turn it to be funny and break your heart at the same time, then I've done my job, and I think the language certainly does that."
Wiley, a Juilliard drama graduate, also took a chance on Orange: She had no idea what a success the series would become, but she was lured in by the story it told. "I didn't do Orange because I knew it was good," Wiley said on the phone. "I wanted to do this because it feels good. And I just knew that was the place I needed, wanted to be."
And Brooks, who also studied at Juilliard, said when she did a deep dive into the material, her initial concern went away. "If I was given a script and that wasn't the case, I don't think I would be taking the role," she said with a laugh. "One of my teachers said that great art is healing art. This, to me, is great art. And that's what I want to do with the story."
In Brooks' experience, Orange has transcended art. She has a childhood friend who is incarcerated, and at the insistence of her mother, Brooks reached out and wrote to him. She was taken aback by his response. "He was so moved. He said he's very grateful that we are doing a show like this because they're dealing with the same issues in prison; it's a real life thing. He feels that the officers are very corrupt, and they feel like they're being treated like animals," Brooks said. "Our show highlights that a lot. He's not able to see it, but he has been reading stories about it, and he sees these chocolate ladies in the magazines."
The Chocolate Goddesses are hoping that their taking on complex characters is a game-changer, not only for Hollywood, but particularly for viewers. The prison setting aside, they want young women watching to be inspired when they see a collection of black women with such remarkable academic backgrounds not only getting work in Hollywood, but also getting recognized for that work. Aduba, who studied classical voice at Boston University, won an Emmy last year for Outstanding Guest Actress in a Comedy for her performance.
"I think it's so moving and inspiring for little girls to say, 'Wow. Look at these African-American women that are on television, but they're not playing stereotypes. They're actually playing human beings that have so many different levels,'" Jeudy, who studied acting at SUNY New Paltz and also attended the New York Conservatory of Dramatic Arts, said in a phone interview. "I think what's also great is the fact that people can look at us and say, 'These young women took the time to study their craft.' And this didn't come easy. ... We're all working hard, we're still working hard, to accomplish the dreams that we have in our hearts. That takes determination, discipline, and perseverance. I think it's inspiring not only for Hollywood, but for everyone watching, every single person watching."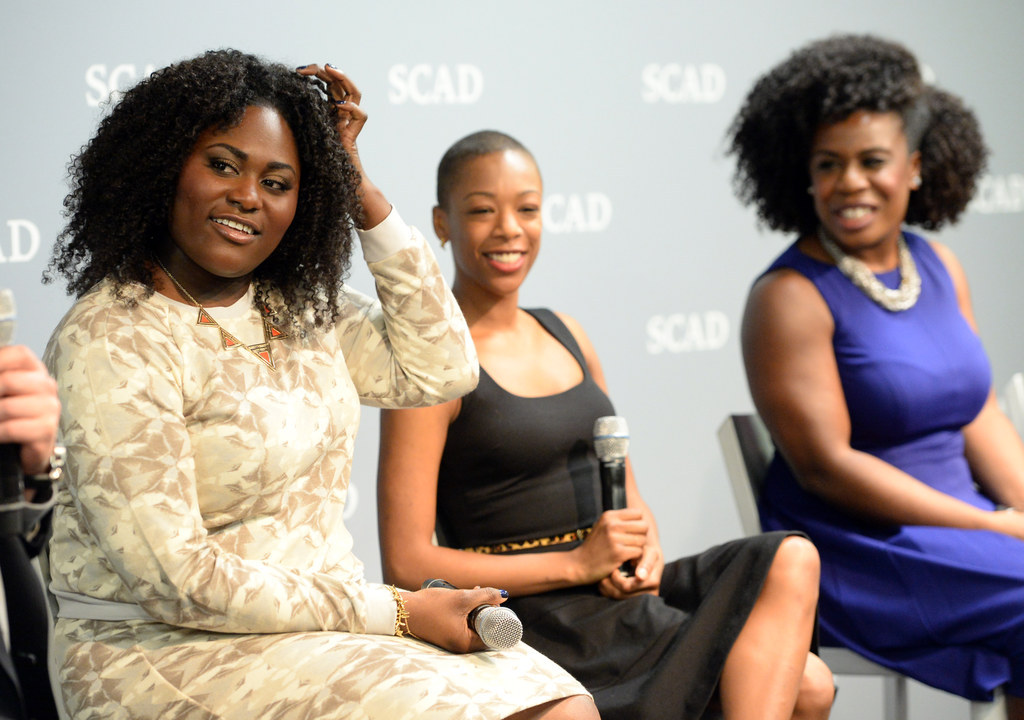 And, as it enters its third season, Orange is finally seeing the rest of TV follow suit in its inclusion of black stories. Fox's predominantly black freshman show Empire was the first broadcast series in more than 23 years to grow its viewership every single week; How to Get Away With Murder focused on the complicated life of a black law professor (Oscar-nominated actor Viola Davis); and ABC's look at an affluent black family, Black-ish, was one of the top new comedies this season. Expanding the television landscape allows for many different representations of blackness to exist and makes it possible to portray black female prisoners in a more nuanced way.
"I think of the prisoners on Orange Is the New Black, a lot of times, as uplifting. A lot of these women — in the kind of prison that our characters are in, a minimum security federal prison — have such brighter futures in front of them than, say, ladies in a maximum security do," said Wiley. "I'm not in the developing stage. I'm not a writer; I'm an actor. My job is to take whatever character I'm given and — especially because I have the responsibility of being a black actress, and I know young black girls are looking up, and everyone's looking to what's on television — to just try to give whatever character I'm playing as three-dimensional a portrayal as I can. I want to show that they're just not one thing. I want to show that it can be uplifting, show how they can be positive."
Looks like there are no comments yet.
Be the first to comment!