Many Golden Globes Acceptance Speeches Focused On Social Justice, Not Self-Congratulations
"I can and I did," said a tearful Gina Rodriguez. Trans issues, Michael Brown, freedom of speech, the ravages of AIDS, rape survivors, and the role of women were all given a spotlight at the 2015 Golden Globes.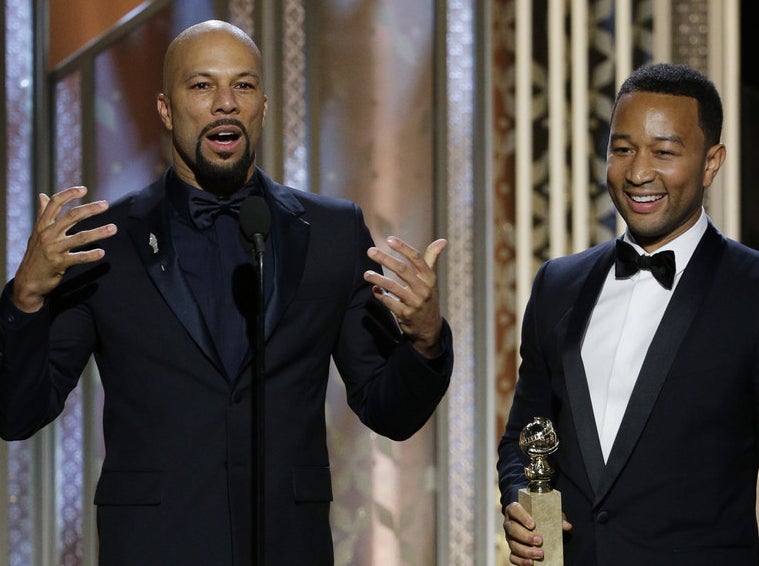 In a surprising twist, the Golden Globes acceptance speeches weren't always about winners reciting a litany of agents, managers, and enablers. Instead, the night felt in many ways to be a moving celebration of telling stories that matter, with social justice issues taking center stage in many speeches on Sunday evening.
It put an exclamation point on the idea that stories about race, culture, and identity need to be told and honored in Hollywood. And, watching from home, it felt like a cultural shift was happening, as winner after winner used their time to talk openly about social discrepancies and miscarriages of justice, both past and present.
Gina Rodriguez tearfully pointed out that her award also was for an entire culture that largely goes underrepresented on television; Jill Soloway, the creator of Amazon's Transparent, illustrated the perils faced in the trans community; Matt Bomer, who won for A Normal Heart, spoke of a generation felled by the horrors of AIDS. This wasn't just a few isolated speeches among dozens, but a thread that seemed to link these moments together into something bigger, more powerful and more profound than what normally happens at televised awards shows. (Unfortunately, that painfully unfunny Margaret Cho North Korea gag threatened to diminish its impact.)
The feeling extended with Common, who shared his award for Best Original Song with John Legend for "Glory," talked about how he knew from his first day on the set of Ava DuVernay's Selma that this was bigger than a movie, relating the events of 50 years ago to what is happening today.
"As I got to know the people of the civil rights movement, I realized I am the hopeful black woman who was denied her right to vote; I am the caring white supporter killed on the front lines of freedom; I am the unarmed black kid who maybe needed a hand but was instead given a bullet; I am the two fallen police officers murdered in the line of duty," said Common, who portrayed Martin Luther King's advisor, James Bevel. "Selma has awakened my humanity ... Now is our time to change the world. Selma is now."
But it wasn't just Ferguson — or the deaths of Michael Brown and Eric Garner — that was on people's minds. Charlie Hebdo and the recent massacre of the newspaper's staffers was invoked by Jared Leto; Joanne Froggatt talked of rape survivors after winning for her portrayal of Anna Bates on Downton Abbey; Bomer spoke of the power of film and television, and how they can shine a light into the darkness. "To the generation that we lost and the people we continue to lose to this disease," he said, "I just want to say, we love you, we remember you."
With seconds that could've been spent reading a long list of names off cards, many celebrities instead invoked so much more in that limited time. Rodriguez's powerful speech — her win was for Golden Globe win for Best Actress in a Television Series - Musical or Comedy for her portrayal of the title character on The CW's Jane the Virgin — centered on Latino representation.
"This award is so much more than myself," she said, choking back tears. "It represents a culture that wants to see themselves as heroes. My father used to tell me to say every morning, 'Today's going to be a great day. I can and I will.' Well, Dad, today's going to be a great day. I can and I did."
And that message of "I can and I will" — those few simple words — wound its way through so many speeches. A little while after Rodriguez spoke of her father, Soloway cited her "Moppa," the inspiration for Amazon's Transparent, which deals with the adult Pfefferman children discovering that their father Mort (Jeffrey Tambor) is transgender.
"You're watching at home right now," Soloway said to her parent, "and I just want to thank you for coming out, because in doing so you made a break for freedom, you told your truth, you taught me how to tell my truth and make this show. And maybe we're gonna be able to teach the world something about authenticity and truth and love. To love!"
Tambor, who would win later in the evening, turned to Soloway: "Thank you for the responsibility ... I would like to dedicate this award to the transgender community. Thank you for your courage. Thank you for your inspiration. Thank you for your patience. And thank you for letting us be part of the change."
The last year has seen the deaths of two young men and the slaying of policemen in New York City; it's seen cartoonists killed by terrorists and North Korea treating a film as an act of war. If art reflects life and life reflects art, it's possible that just bringing these issues before an audience of millions — and allowing them to be discussed in raw, real, personal terms at the Golden Globes, of all places — might point us toward healing and toward further progress.