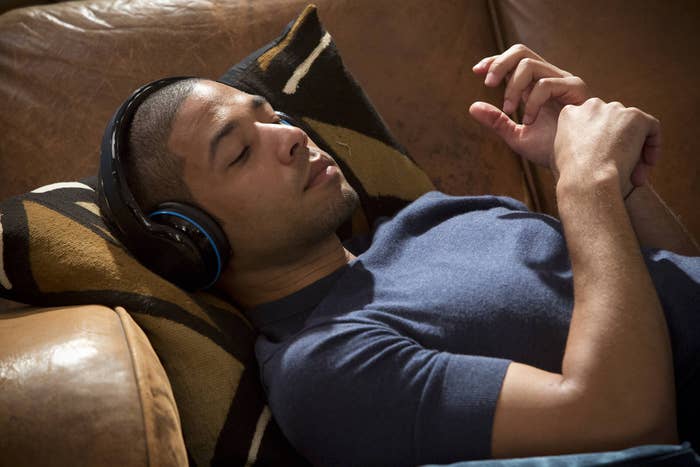 One of the most gripping scenes in the first episode of Fox's new series Empire is a flashback in which a younger version of Jamal Lyon — played by Jussie Smollett as an adult — walks in front of his parents and their friends, stumbling in his mother's high heels and wearing one of her head scarves. He catches the disappointing, angry glare of his father, Lucious (Terrence Howard), who immediately jumps up, drags Jamal into a bedroom, and closes the door. His mother, Cookie (Taraji P. Henson), yells after Lucious not to hurt their child. In another flashback scene, Lucious attempts to dump Jamal — who looks to be around 4 years old — into a trashcan.
In the show's present timeline, Jamal lives with his Latino boyfriend. His friends and family are aware of who he is, but he isn't publicly out, seeing as his famous father — an incredibly successful rapper turned music mogul — isn't supportive of him.
Empire was co-created by Lee Daniels, who has delivered riveting — and at times, horrific — tales of black American life. He was nominated for an Oscar for directing Precious, the 2009 film that depicts the emotional, physical, and sexual abuse of an obese New York teenage woman.
But the message of Empire — which premiered on Wednesday to 9.8 million viewers, making it Fox's biggest new show in years — is particularly personal for the out gay filmmaker. When he signed on for the series, Daniels told BuzzFeed News, he was tired of seeing the same hyperfeminine portrayals of gay black men on screen. He wanted to give mainstream TV audiences something very different. "I think that the stereotype that we have seen … is like that of black women. That Aunt Jemima stereotype," he said. "We went right for the gut with this one, turned the knife."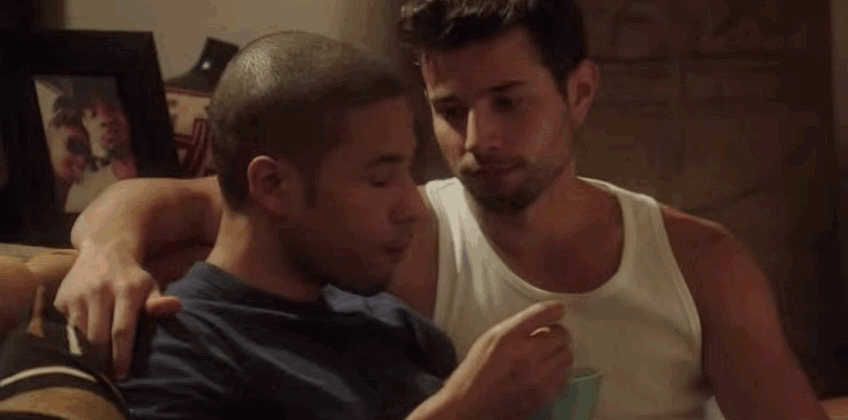 Empire — a modern, black version of Shakespeare's King Lear — centers on the Lyon family: patriarch Lucious; his ex-wife Cookie, who's newly freed from prison; their power-hungry, Ivy League-educated oldest son Andre (Trai Byers); their youngest, Hakeem (Bryshere Y. Gray), a rapper on the rise; and middle child Jamal, a singer-songwriter prodigy.
Empire, Smollett said, is "not shoving anything down your throat. It's not preaching, it's not telling you the way that you should feel about a certain issue, but it is giving you options. Lee holds up the mirror to us as human beings."
"Look … there are all different types of gay people, you know?" Daniels said.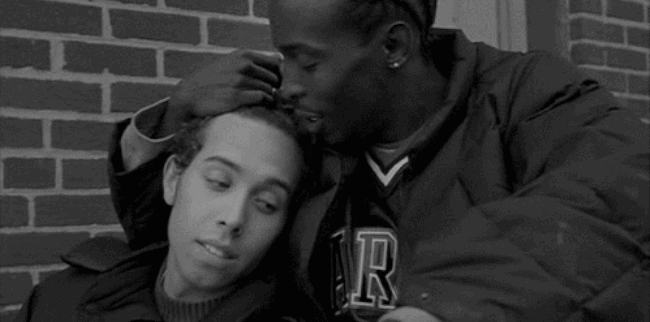 But you wouldn't necessarily know it from the last 20 years of TV, which mostly portrayed gay black men as hyperfeminine — characters probably best embodied by the "Men on Film" skits from the '90s series In Living Color, in which David Alan Grier and Damon Wayans snapped their fingers in the air, protruded their perfectly glossed lips and walked with a sexy, cat-like sway in their hips. Gay black characters who challenged this stereotype were few and far between, but included Terry Crews' Damon in Friday After Next, the buttoned-up Captain Ray Holt (Andre Braugher) on the current Fox hit Brooklyn Nine-Nine, and Omar Little on HBO's The Wire, a murdering dope dealer in Baltimore's mean drug game.
"I had a lot of men — black men particularly — come up to me and say, 'Thank you for breaking the stereotype of how gay men are perceived in Hollywood,'" actor Michael K. Williams, who portrayed Omar, told BuzzFeed News via phone.
Daniels' own experience with being black and gay informed how he crafted Jamal and the world around him on Empire, and Jamal is played as a down-the-middle, well-mannered, even-keeled, guy-next-door type. With Jamal's storyline, Daniels said he is hoping to help normalize gay romantic relationships (particularly between two men of color), while wrestling with the notion that the black community at large is homophobic. It's a perception Daniels dates to the AIDS epidemic and the idea that the pandemic stems from black men who might be living on the down low (or DL).
He said he first started thinking about black men on the down low because of a close female friend who contracted HIV from her husband, who was gay. Years later Daniels was doing research for Precious, which is set in the '80s and deals with AIDS and HIV, and went to the Gay Men's Health Crisis in New York City's Chelsea neighborhood. There, to his surprise, he saw black women and children and realized they too had HIV or AIDS.
"Black women are dying, and our kids are dying because of the homophobia that exists in the African-American community and Latino community," Daniels said. "Rather than to come out, [gay black men] live on the DL, and they infect our women, and that is an atrocity. It's murder. And it's sad because your mother says, your priest says, your best friend says, your neighbors say, your classmates say, your teachers say you can't be who you are. And that's lethal."
Henson said she hopes the storyline changes black parents' opinions. "I hope it gets people out of the closet and living their life the way they should, the way they want to, the way that they have every right to do," she said. "I hope it reunites family — fathers that don't want to talk to sons because of their sexual preference. You're no better than the racists. You ain't getting in bed with him, so what the hell does it matter?"
Showrunner Ilene Chaiken, who co-created Showtime's The L Word — a successful scripted series about gay women in Los Angeles in the early '00s — said that Jamal's father, for one, will make some progress. "He's not going to stay right where we met him," she said of Lucious. "That doesn't mean that at the end of the day, he's suddenly going to be a tolerant, open-minded, open-hearted individual. We're going to try and find those moments where you feel a shift, but you feel his own internal resistance to it."
And the character's arc throughout the season will continue to shatter perceptions of what it means to be gay and black on television. "We're going to go places with Jamal that are unexpected and that you've never seen a television show go — certainly not a broadcast television show — with a gay black character," Chaiken said. "Maybe not with any gay character, frankly."