 James Bay is having a good year. The English singer-songwriter released his first album, Chaos and the Calm, in March, won the Critics' Choice Brit Award, and nabbed a highly coveted spot opening for Taylor Swift on the European leg of her 1989 world tour. Before all that, however, Bay was just another Stones-obsessed teenager with a hand-me-down guitar. He taught himself to play by strumming along to his favorite records and developed his back-to-basics sound in the process. Now that a new generation of guitarists are learning their craft by noodling along to Bay's music, we invited the Hitchin-born singer (and his beautiful D'Angelico EX-59) to stop by our offices in New York and talk to us about everything aspiring guitarists should know.
James Bay: Callouses are your friend. Your fingers are going to hurt a lot, for a long time. The pain will go and the pain will come back and you'll think it will never go again. For a long time you just feel like it's never-ending agony.
3. Get used to tuning and restringing your guitar — you're going to have to do it a lot.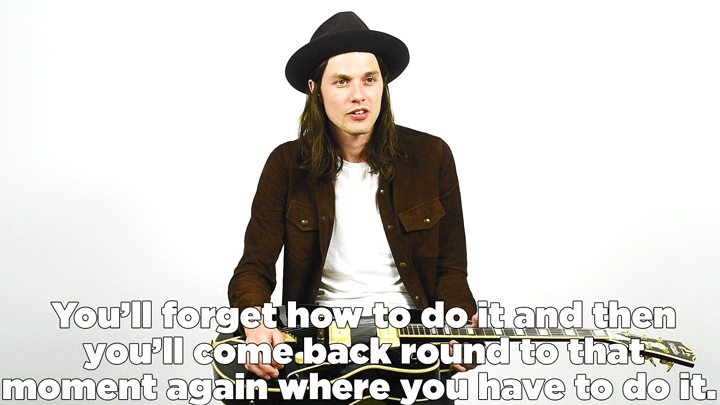 JB: Before you learn how to play guitar, you have to accept that you're going to spend a lot of time breaking strings and losing strings. So, you're going to spend a lot of time restringing. You have to get your head around that first, because that's really boring.
JB: Start simple. There's a great Jeff Beck quote. He said, "The best guitarists can make anything sound good." You could buy, like, a $20 guitar from a crappy corner store and if you can really play, then you can make it sound good. That doesn't have anything to do with gear — that's about what your fingers can do.
JB: You'll learn things. You'll pick things up.
JB: Electric guitars generally have smaller necks and are just a little bit easier to get your hand around. Acoustic guitars and classical guitars generally have wider necks, thicker fret boards, and higher action. It's harder to push the notes down and hold them down when you're just starting out.
JB: Go in blind! Less is more in a million different ways.
JB: Broaden your horizons! Keep them broad.
JB: You have to remember that you cannot eat your guitar — even if it looks tasty. You cannot eat guitars. You could try, but they don't taste that good.
James Bay's debut album Chaos and the Calm is available on iTunes now.