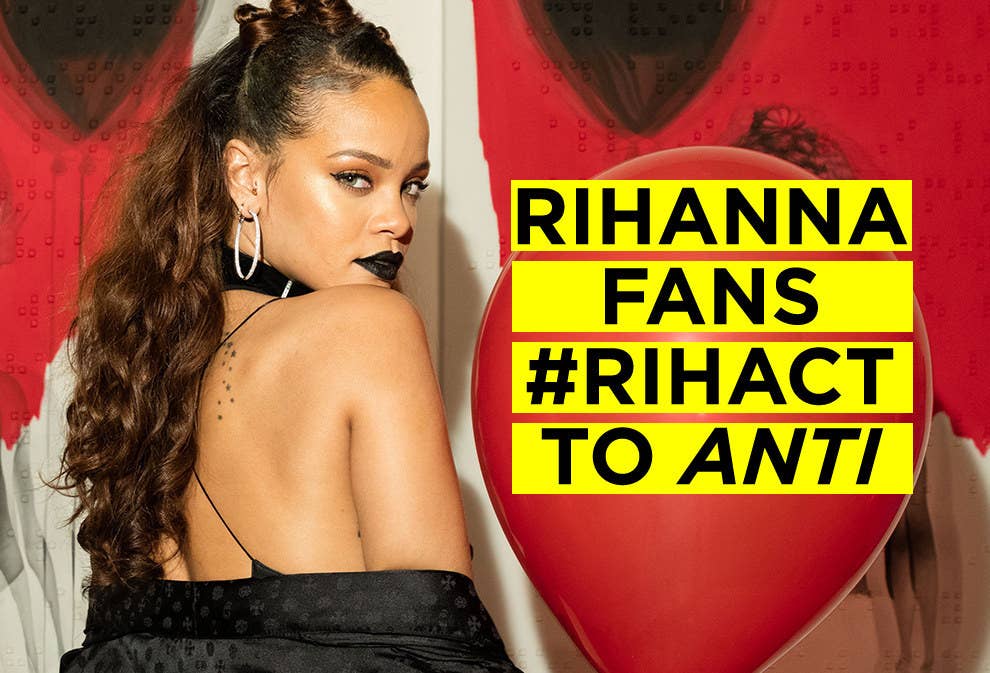 The wait is over! Rihanna's eighth album, Anti, is finally here and it barely resembles the glossy, hook-laden pop she's released in the past. Was it worth the wait? Is it any good? We convened a panel of Rihanna stans to listen to the album and find out.
1. "Consideration (ft. SZA)"
Kevin Smith: I like the beat. The song is very chill… It doesn't necessarily strike me as a intro type song but I mean it's not bad. Rihanna's voice lessons have been paying off.
Michael Hinson: As soon as Rihanna starts singing I lost it, it's the perfect vibe for a intro. After about a minute or so it just becomes a really good SZA song, which isn't necessarily a bad thing but I don't hear a lot of Rihanna in it.
Abid Anwar: Whenever I hear SZA, I always think about how she got called out on Twitter over and over for her bad tweets about Beyonce and Rihanna. Anyway, this song is a good reminder to always delete your old tweets. The beat is pretty solid.
Taylor Miller: I think this is one of my favorites on the album. It's catchy and the beat really stands out compared to the rest of the album. Rih's voice blends perfectly with SZA and I could basically listen to this on repeat all day (which I have pretty much been doing for the last hour).
Kelley Dunlap: It's less a song than a thesis statement, but the SZA is a welcome presence.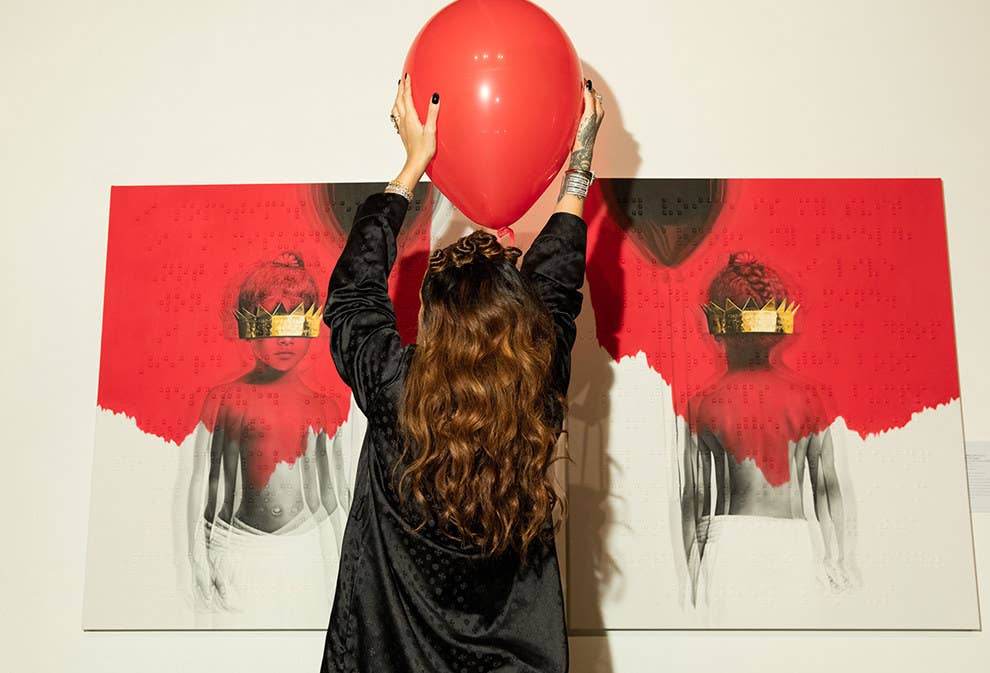 2. "James Joint"
KS: Eh. It's a little slow for my liking but like, whatever. I guess this is an interlude. I wonder what happened to the full song? This is kinda meh, but again it's just an interlude.
MH: Definitely needs to be labeled as an interlude. Super smooth but I feel like I shouldn't be allowed to listen to this song until it's warm outside again.
AA: This song would be nice to put on during a rainy day. She starts the song saying "I'd rather be smoking weed whenever we breathe" which is actually very romantic — not that I've ever done drugs...
TM: It's a great song to be stoned to, but I think I would enjoy it a lot more if it was a full song.
KD: This song starts to fade out before it even hits the one-minute mark! It feels like the writers worked until they were too stoned to continue. The Rih apologist in me thinks it's just a sequencing issue. Like, I could see being less irritated by the 1:12 runtime and overall haphazardness if the song arrived as an interlude later on. Maybe.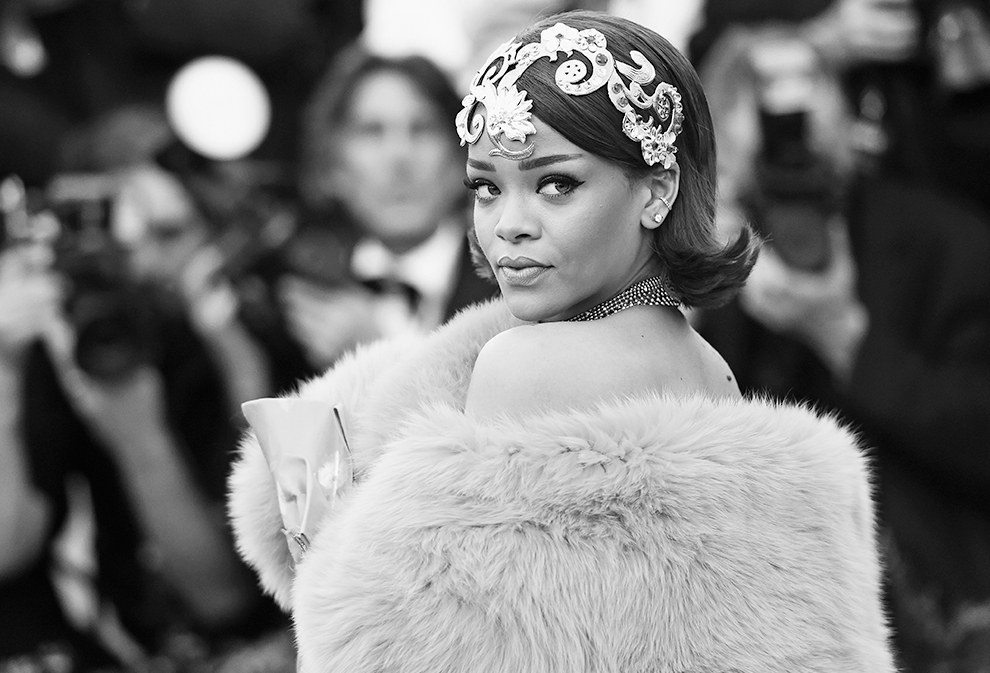 3. "Kiss It Better"
KS: This one's kinda cute. I'm trying really hard not to be negative, but I'm really disappointed. I don't know what I wanted from Rih, but I feel like this album isn't it. If I had a car I guess I would like this one more. It seems like a "car song."
AA: This sounds like a song that would live on a The-Dream album and I mean that as a compliment. I like the electric guitar and when Rihanna says, "man, fuck your pride," I really felt like listening to that advice. I also think this song lyrically sums up the rest of the album better than any other song. Rihanna is just being very honest about what she wants.
MH: All I can think of after this one is how dope it will sound live and also how Purple Rain is the greatest movie of all time.
TM: This is another one of my favorites. Between the electric guitar and the silky vocals. THIS is the Rih I love. Reminds me a lot of "Dance for You" by Beyoncé, but on steroids.
KD: Rih does Prince. I can dig it. However, I followed all the pre-release drama surrounding this song and bought into the idea that it would be a monster. "Kiss It Better" is good — maybe even great! — but it isn't the obvious smash I was hoping for.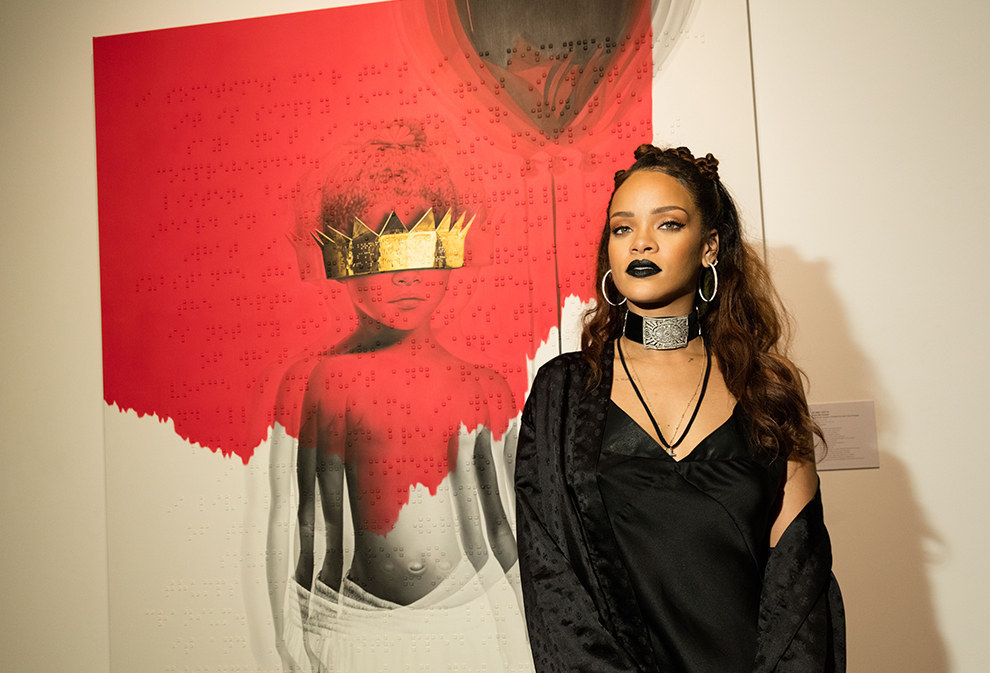 4. "Work (ft. Drake)"
KS: This is my favorite song. I really like the beat, I like the chorus, I like everything about it. It's pretty obvious why this was the "first" single. Drake's verse is wack, but I'm still OK with that. I guess I just really appreciate the clubby turn up songs, because who doesn't want to turn up all the time?!
TM: For me, "Work" is basically "What's My Name" (Pt. II), which is the highest of all compliments because I was obsessed with that song. Definitely gets my pussy popping while I'm sitting at my desk.
AA: This song makes me wish I could whine. It also makes me very excited for the summer. I guess Drake is on this song too.
MH: Early jam of the year contender. Starting a petition to replace the Aubrey verse for another minute of Rihanna saying "work" over and over.
KD: I understand the impulse to get Drake on the "first" single, but they should've scrapped the idea after he turned in that weak-ass verse. Just let Rihanna slur her way through the song uninterrupted!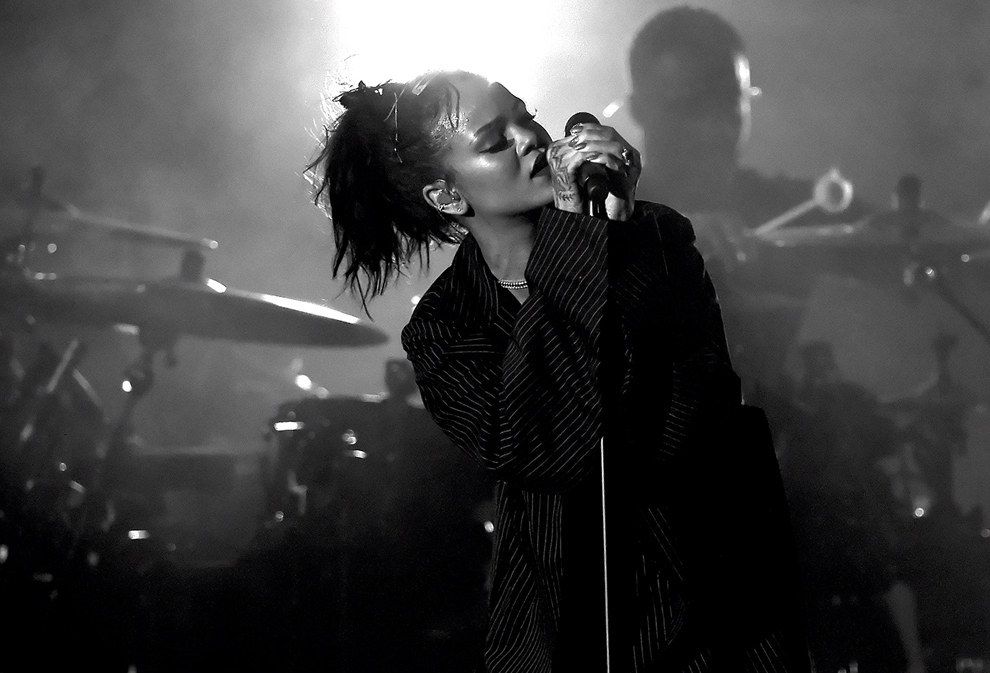 5. "Desperado"'
KS: I feel like this should have been the first track. I really like this one. I like the sound, I like the flow. This one's good.
AA: This song would make for a great opening for a western and I think Rihanna should star in her own western that's not directed by Quentin Tarantino.
MH: First song so far that it isn't doing a whole lot for me, it just kind of exists. One of the two songs on here where you can really hear Travis Scott behind the boards, which explains a lot.
TM: This song gave me a lot of Rated R vibes. I could totally see it being used in an ABC promo for a new drama series. That being said, I do like it a lot.
KD: I've spent every year since Britney released "Toxic" wondering why more pop stars don't play around with that weird spaghetti western sound, so this works for me, even if I'm pissed I can't turn up to it.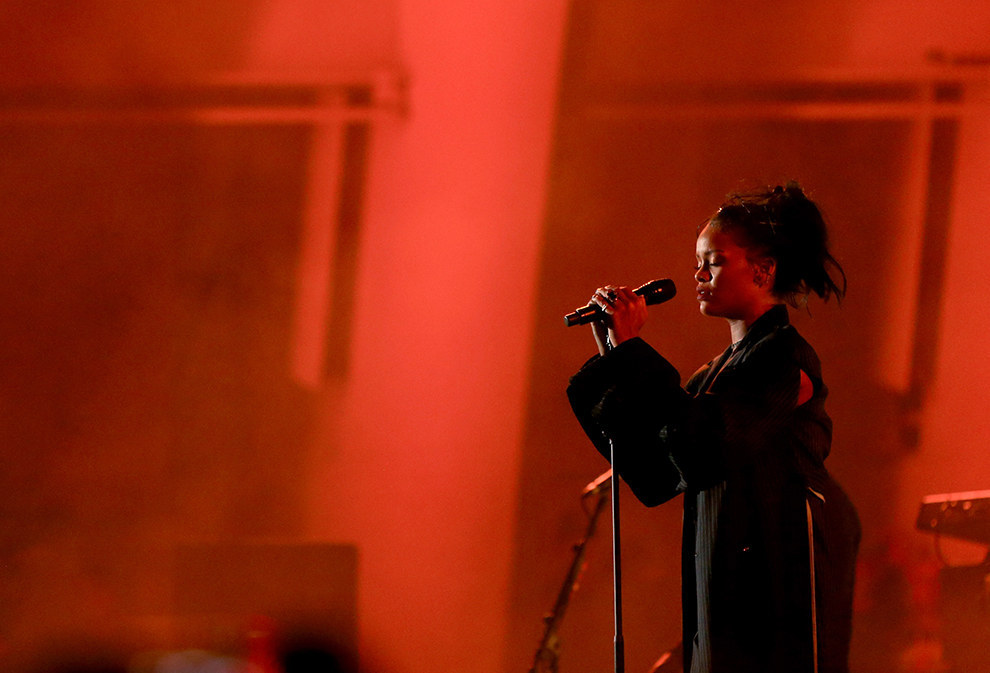 6. "Woo"
KS: My second favorite track, because it's a turn-up song. I like how Travis Scott is in the background. This must have been one of the tracks that he reworked. It's pretty clear to hear his influence on this song.
AA: I like the production on this a lot and there should be a remake with Future on it at some point.
TM: I cannot wait to hear this song in the club, because it is a BANGER. I wish we had more tracks like this to be honest. I love it.
MH: "Woo" makes me feel like an action movie star that just jumped the grand canyon in a cadillac. I don't mind Travis on ad-lib duty either.
KD: I'm going to have to get back to y'all about this one. I'm not feeling it right now, but I think that would change after a few drinks.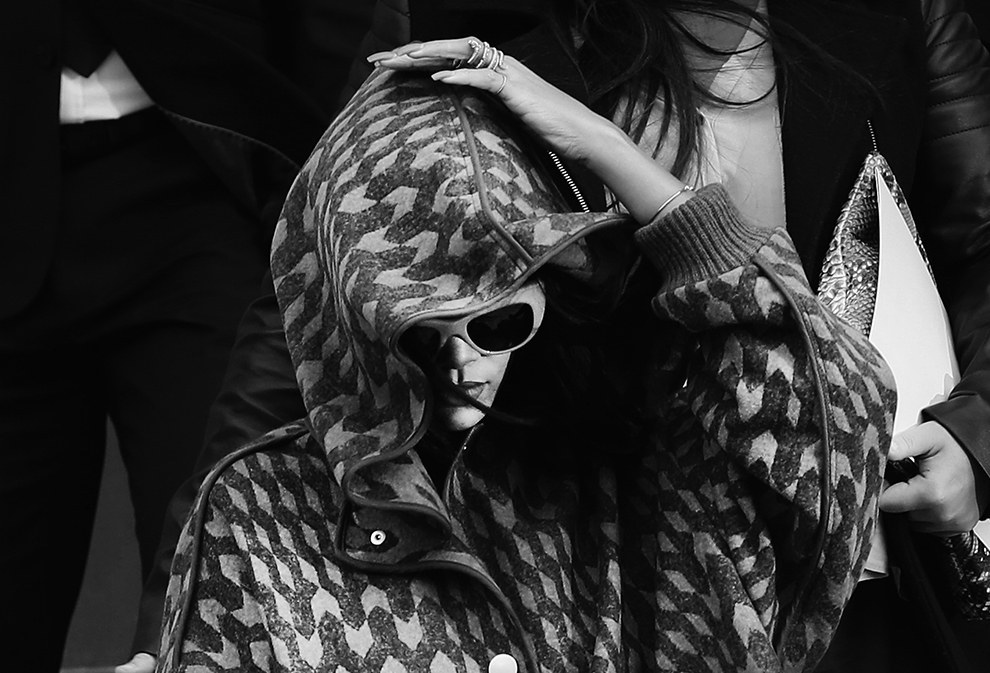 7. "Needed Me"
KS: Did a guy need her or do we all need her? Like, in the music industry or in a relationship… is this a double entendre? The beat is on point with this one, the flow is here. I'm here for this one. I just really am annoyed by how many songs are "chill" on this album! Where are the turn ups?! I feel like this is an album to like have sex to, not to, like, turn up and party to.
AA: MUSTARD ON THE BEAT! This is one of my favorite songs on the album and I think it's going to make for some great remixes that will end up getting like 5,613 plays on a random Soundcloud account somewhere. I'm here for it.
TM: This song is super trippy and I think it deserves an equally trippy music video. Giving me a lot of Tinashe vibes. Speaking of Tinashe, they need to do a collab ASAP.
MH: This was feeling super ehhh until she says "Didn't I tell you that I was a savage? Fuck your white horse and a carriage," which is flat-out legendary. You can kind of tell where the rest of the album is going at this point though.
KD: It's fine, I guess. Serviceable is the word that comes to mind. But, as a matter of principle, Rihanna shouldn't be singing songs that sound like Tinashe's sloppy seconds. That's just not right.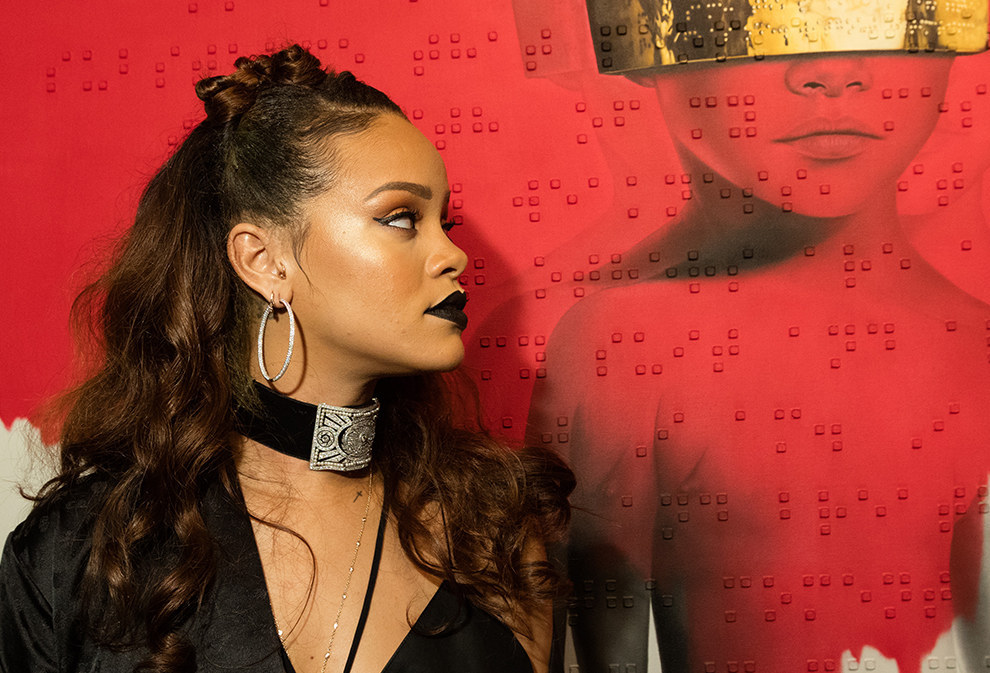 8. "Yeah, I Said It"
KS: "I WANT YOU TO HOMICIDE IT." COME THROUGH, RIH! OK, so, I guess the second half of the album is the "sexy" part of it. Why is this song only two minutes, though? Why are there so many two-minute songs?!
TM: This song is so sensual it hurts. This song is purely made to have sex to. Light some candles, sit back, and enjoy.
AA: I hope a lot of people have sex to this song, but for a longer period of time than this two-minute song lasts.
MH: Another "just OK" joint. Kind of feels it's just here to meet the "one slow dance song per album" quota.
KD: I really did not like the song on first listen. It's growing on me, though. I definitely agree that the length is a problem — again. Why release a Song You Should Fuck To™, if it's only going to be two minutes and 13 seconds long? That's barely enough time to get undressed!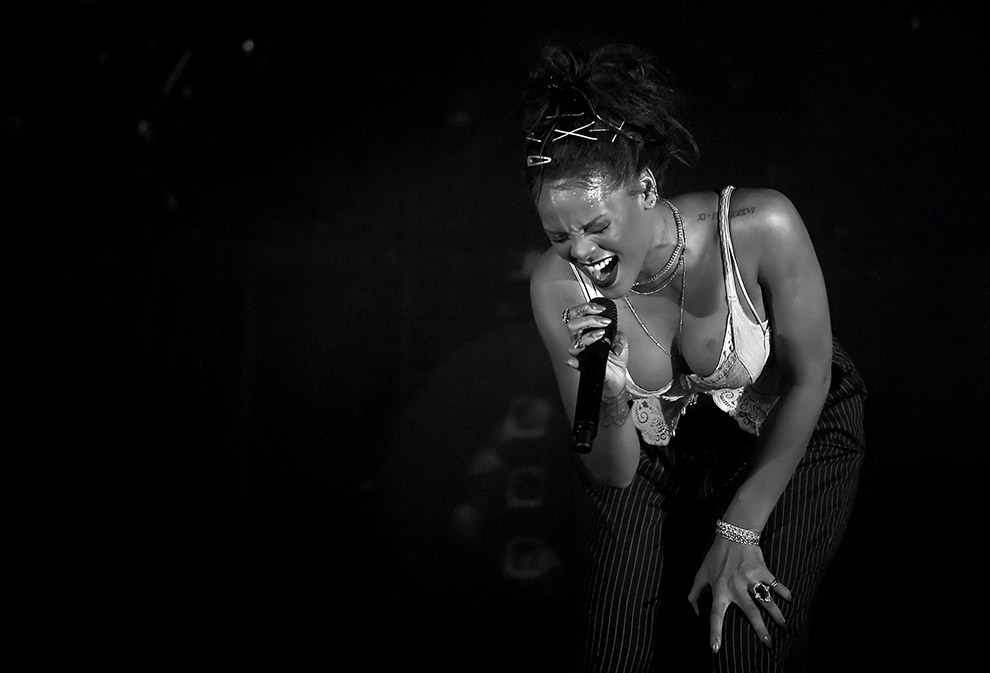 9. "Same Ol' Mistakes"
KS: I really like this one, the beat is everything. This might be my second favorite song. I really like the length. I like the like vibe and feeling of the song. It reminds me of a like, old-school song of some sort.
TM: These breathy vocals have me feeling SOMETHING. This is the perfect blend of synthesizers/vocals I have heard in such a long time and this song will put a smile on your face.
AA: I like Rihanna. I like Tame Impala. It's almost the same as the original, but I guess I like her take on it? I think the video should just be them (Rihanna and Tame Impala) driving through streets filled with neon lights.
MH: Shout-out to Rihanna for putting a straight-up cover on an event album like this. Love the original and I dig her version, but it's literally the same song, she could've switched it up way more and put her own spin on it.
KD: I only sort of like this in theory, which is more than I like it in practice.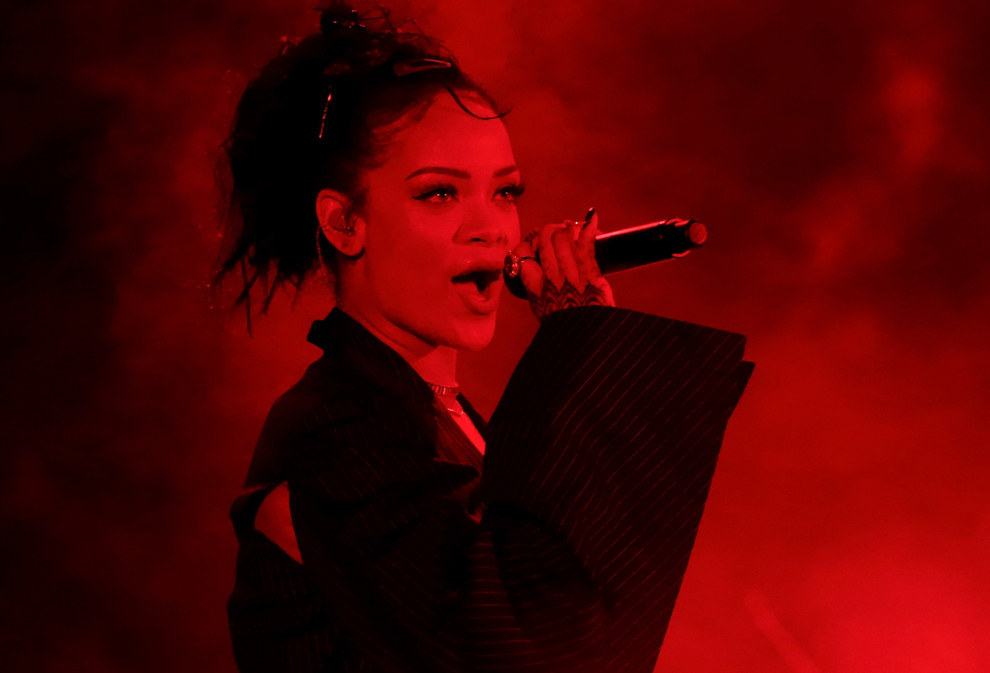 10. "Never Ending"
KS: Hmm… This one is confusing to me. I feel like I'm on a paddleboat in New Hampshire, living a teenage dream or something. This doesn't stand a chance of being a single.
TM: I think this is the only song that doesn't really fit the vibe of the album. I actually think it is one of the more "radio-friendly" tracks; It just feels out of place. I don't mind it though, just kind of blah.
AA: One of my biggest fears is going to a party and having someone pull out an acoustic guitar, and this song has that "will be covered on acoustic guitars on YouTube" vibe. That being said I can get down with indie-music artist Rihanna. I mean if Jack Johnson can keep releasing albums...
MH: Acoustic Rihanna is dope, but I listen to this and just wish that it was "FourFiveSeconds" instead.
KD: Looks like I'm alone on this one: I love this. She's been flirting with adult contemporary for a while — see: "Stay" and "FourFiveSeconds" — and it's fun to hear her go full Dido. So, uh, two thumbs up for the strummy guitar ballad from the basic white chick ¯\_(ツ)_/¯.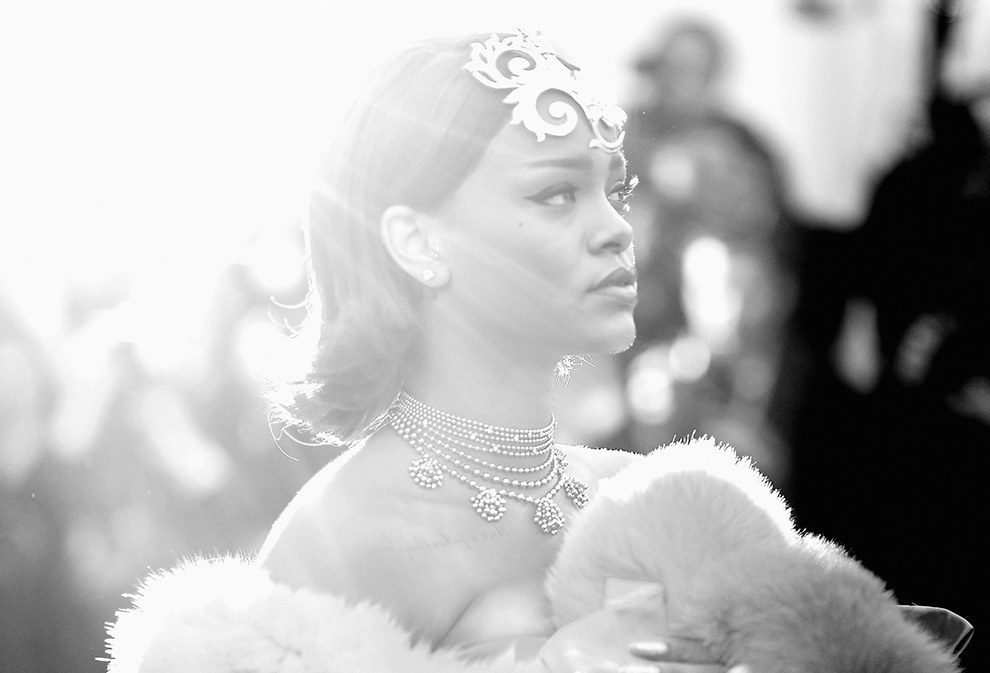 11. "Love On The Brain"
KS: I like this one, it's chill. I feel like I've described a lot of these songs as chill. I feel like Sia wrote this. I'm here for it.
TM: Loving the doo-wop vibe. Rih giving us her best Amy Winehouse tribute. I absolutely love this track.
AA: This song sounds like something that would have been playing in the background of a flashback scene of a dramatic conversation on the forgotten about CBS show Cold Case. I do like her slight voice change when she says "I'm tired of being played like a violin…"
MH: Another one that's going to absolutely kill in a stadium setting. Got some Beyoncé vibes from this one too, Rih sounds great.
KD: This definitely sounds like a reject from Beyoncé's Four, which is an interesting turn for Rih. Never thought she'd play in that old-school R&B playground. It's cute, though!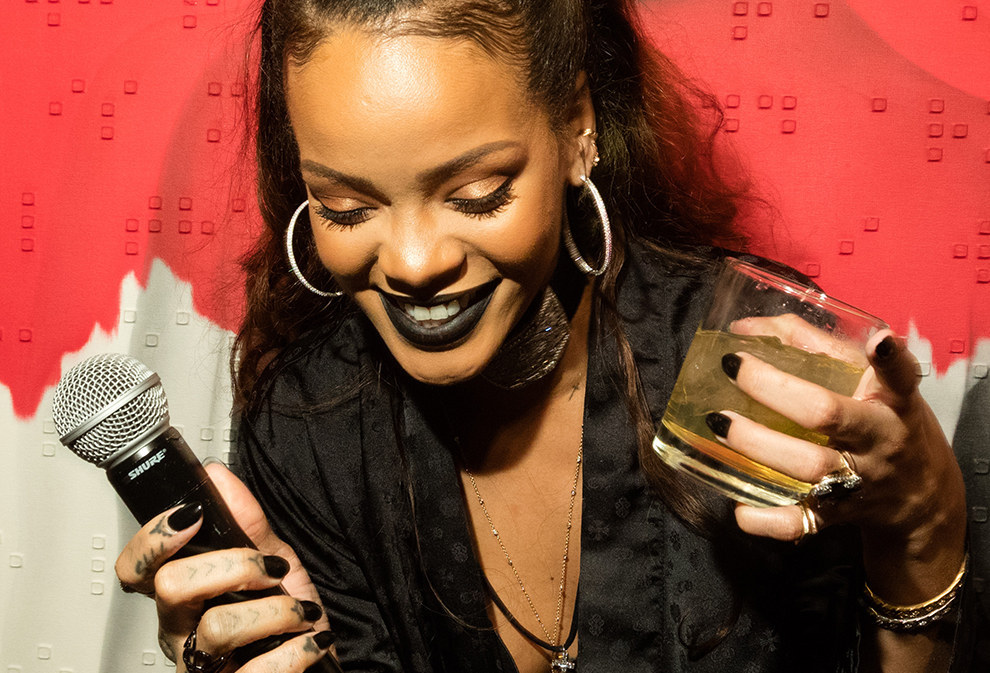 12. "Higher"
KS: Another short song. Kinda sounds like elevator music. OMG — that high note. *Cringe.* I love her, but let's be real: she doesn't have the vocal control of say Beyoncé, Whitney Houston, Aretha Franklin, or, hell, even a Christina Aguilera. So when she tries to like "belt" out tracks like this it makes me snicker. Keep tryin' boo and keep taking those singing lessons. *Sips tea.*
AA: I'm religious now. I believe in a higher power. I really wish this song was a little longer because this review is longer than the song, but sometimes beauty has to be consumed in small doses.
MH: This song was created so it could be shouted out of Uber windows at two in the morning and honestly that's the best kind of song there is.
TM: This song makes me so upset because I love it so much but it's TOO SHORT. WHY YOU DOING THIS TO US RIH. Just makes us beg for more. Her vocals on this are out of control. Hoping this is another "Cake" and she releases a longer version in the future.
KD: I'm on Team "Higher." I actually like the way that she pushes her voice into uncomfortable territory, it's very Sia. And I'm, surprisingly, not bothered by the fact that it's only two minutes. It's super short, but only like other songs on this album it feels complete.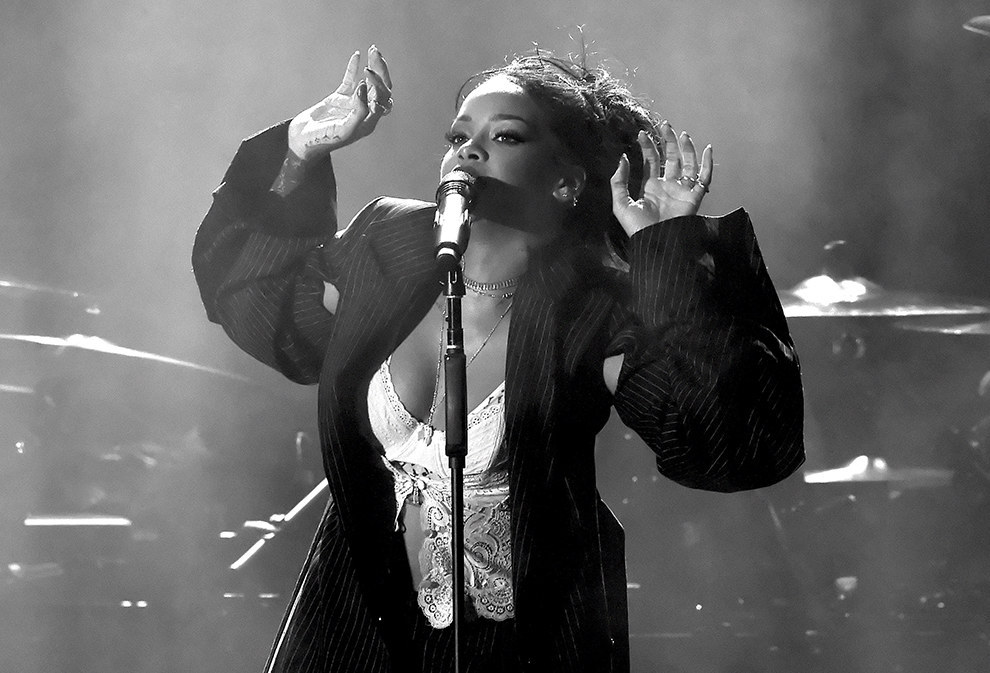 13. "Close To You"
KS: Weak outro. It's very somber. I feel like this entire album is pretty somber. The key she's singing in isn't really one that I'd choose, but this isn't my album so go for it. It does sound like a bootleg "Stay" though.
TM: This is a disappointing closer. It's too slow and sounds like too much like "Stay." It's not a bad song, just nothing. Maybe I need a few more listens, but it's easily forgettable and that's coming from someone who LOVES a good Rih ballad.
AA: "Close To You" doesn't really do anything for me and the album should have ended on "Higher."
MH: I'm choosing to pretend that this is a bonus track.
KD: What a nothing closer. It's like "Stay," but boring.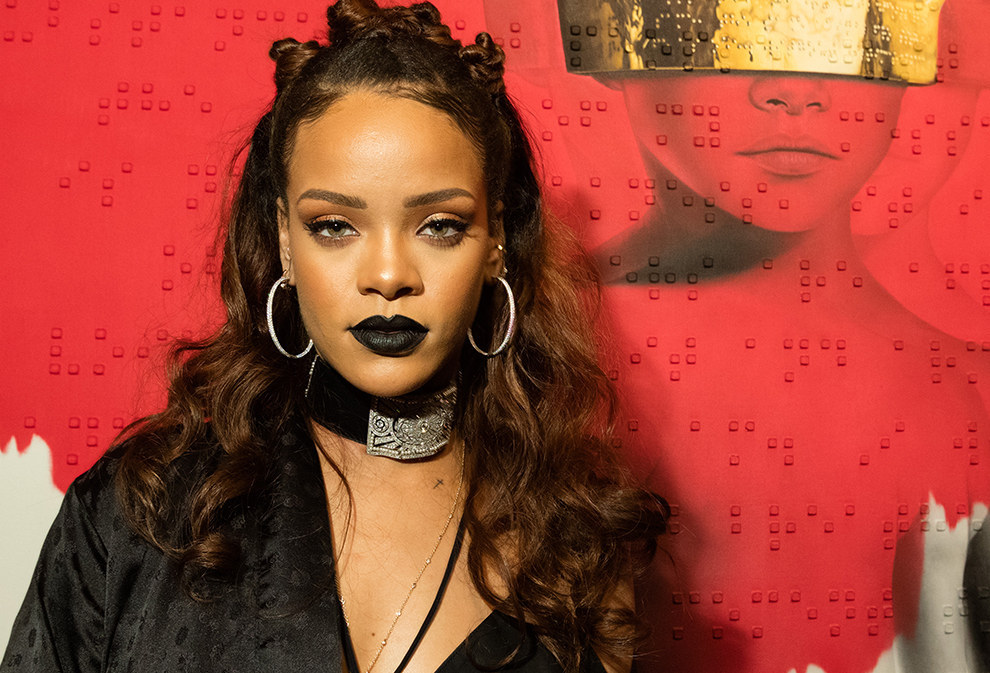 So, now that we've listened to the whole thing, what do you think of Anti as a whole?
TM: For Rihanna, this is definitely her most cohesive album to date. I know that prior to listening to Anti I was definitely hoping for the more upbeat dance tracks that I am used to hearing from her, but I was surprised at how much I didn't miss them after listening to the album in its entirety. I know she was going for a more "timeless" vibe for this album and I think that was achieved.
KS: Anti to me is a flop. She was smart to push the date back and not try to compete with Adele because she would have gotten slayed. I was just expecting this to be an album of epic proportions. It's been, like, five years since she released an album, so for this to be what it is is really disappointing for me. I love Rihanna and everything she stands for, but I feel like she's sort of transitioned from being a musician to being a, like, "It Girl"/supermodel. I appreciate her style and everything she gives in terms of her attitude and not giving a fuck, but this album? Meh. I'm glad I didn't pay for it.
MH: In my opinion all Rihanna albums up to this point have just been a collection of singles and not really a body of work with a front to back creative vision. Anti is definitely the later and while not all of her experiments work out it's still super enjoyable in a way that I've never enjoyed her music before. I'm into it.
KD: I like it more than I thought I did on first listen. Or, more accurately: I've come to respect the overall direction, even if I don't particularly like it. I'm not going to front, I wanted bangers — big, hook-heavy bangers — and they are nowhere to be found on Anti. That was disappointing. But re-listening to the album has me reconsidering my No Music During Sex stance, so, you know, that's something.
AA: I think it's the Rihanna album that flows the best front to back. A lot of people said this album is all over the place, but I'm not sure I necessarily agree. It almost feel like she's switching quickly between various thoughts that relate to a certain person, and I think that's something a lot of people can relate too. It's a moody album and while it always doesn't work, I think she challenges her voice a lot throughout the album and I fuck with that. More than anything it will force people to look at Rihanna as an artist capable of more than just "bops and bangers" and I think that's that good thing.
Was it worth the wait?
TM: Debatable. I think it probably could've been released last year; she teased this album for way too long and I kind of stopped getting excited after she released 3 singles and still didn't have an album. I do enjoy the album a lot though so I am not completely disappointed.
KS: Absolutely not.
MH: I'm not a member of the #Navy, and I'm sure if I was I'd be a little disappointed by the lack/complete absence of club bangers and EDM anthems, but as a casual fan I'd say it was worth it, sure.
KD: Oof. It's complicated? I think if she had released this a year ago or called it a "mixtape" I would've been more forgiving. I see a lot of people saying Anti is Rihanna turning her back on the pressures of an Event Album, but I don't know if I believe that. That feels like a rationalization. A way of excusing the sloppiness and the meandering. This is an album that's been three years in the making. One that Samsung reportedly paid eight figures to roll out. I don't think it's unreasonable to have expected something more.
AA: I joke around a lot about artists not releasing things, but more than anything that's on us (media, music writers, fans). I think it was worth the wait, because almost any time an artist you like drops something, it's worth it.
Are you still a stan?
TM: I think I will always stan Rihanna. She's doing her own thing and dropping tracks that people aren't expecting for her. We can't expect artists not to evolve and try new vibes. I would rather have that than someone pumping out the same generic sound, album after album, *cough* Katy Perry *cough.*
KS: Like I said previously, I'm always here for Rihanna, and I always will be. I appreciate her as a person, who she stands for, her attitude, her "I don't give a fuck"-ness. But as far as the music goes, I mean, hopefully, the next one will be better. You know, assuming we get another album. I still love you though, Rih. And we just all know that you can now transcend and move past music and just snatch our wigs at every opportunity. I love you.
KD: Always and forever.
AA: Yes, I'm still waiting for Rihanna to kill me.
What do you think? Did Anti leave you deflated or are you excited about Rihanna 2.0? Listen to the album on Tidal or iTunes and #Rihact in the comments.