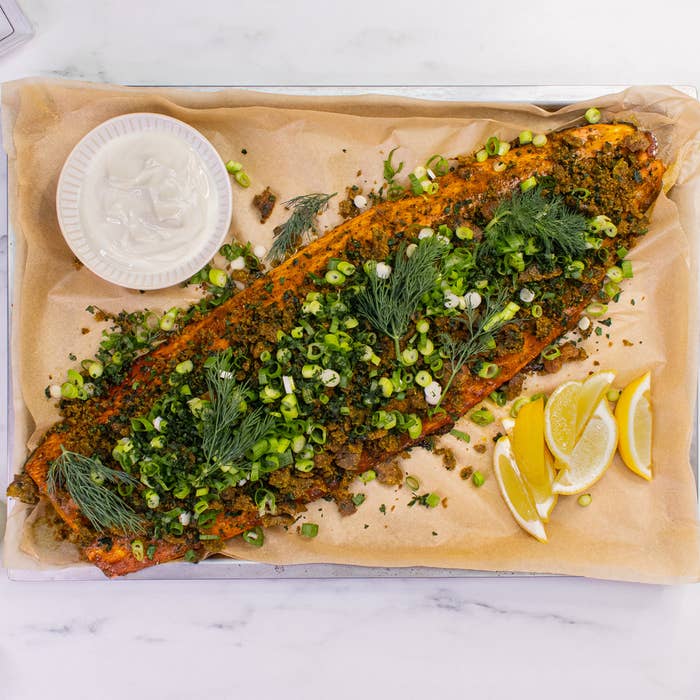 Ingredients
2 teaspoons Keen's Curry Powder 
1 teaspoon Keen's Mustard Powder  
1 tablespoon maple syrup 
1 tablespoon olive oil
½ teaspoon cracked black pepper
1 teaspoon sea salt flakes
Zest of 1 small lemon, reserve lemon to slice into wedges 
1.8kg whole side salmon fillet 
For The Curry Crumbs
3 tablespoons butter, softened 
1 1/4 cup rye bread crumbs, blitzed finely 
2 teaspoons Keen's Curry Powder 

8g packet Gourmet Garden Parsley Lightly Dried 

To Garnish
5 spring onion, finely sliced
½ cup dill leaves
1 teaspoon Gourmet Garden Parsley Lightly Dried 

1/2 cup Greek style yogurt

8 Lemon wedges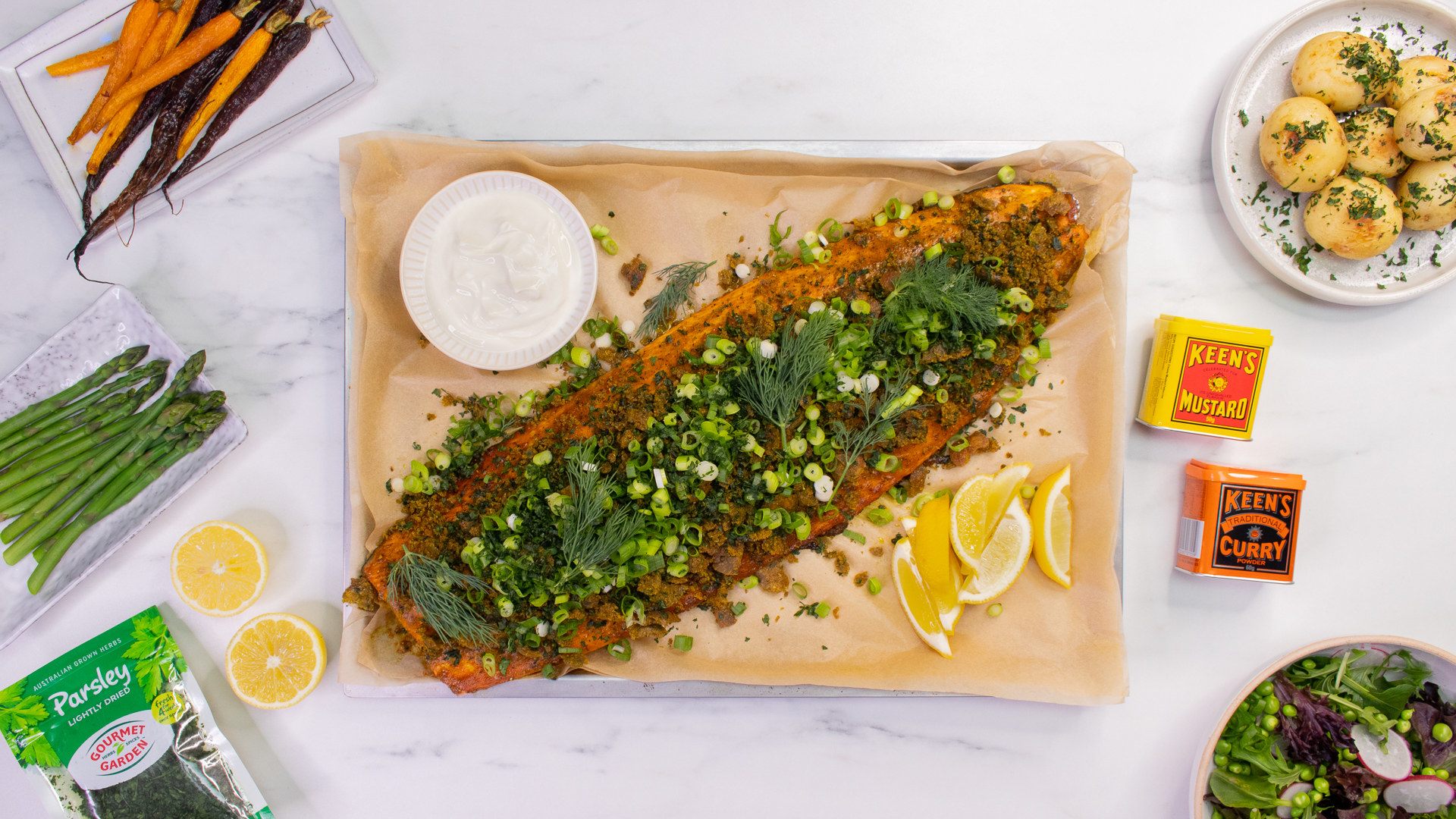 Method
STEP 1: Preheat the oven to 190°C or 170°C fan-forced. Line a large baking tray with parchment paper. 
STEP 2: In a small mixing bowl, combine 2 teaspoons Keen's Curry Powder, Keen's Mustard Powder, maple syrup, olive oil, pepper, salt and lemon zest. 
STEP 3: Place the salmon fillet onto the prepared tray, brush the entire salmon fillet with the curry paste mixture, making sure to evenly coat the salmon fillet. Marinate the salmon for 20 minutes to infuse the flavours.
STEP 4: To make the curry crumbs, place a large frying pan over medium heat, then add the butter to melt. Add the rye breadcrumbs and Keen's Curry Powder to the pan. Toast the breadcrumbs for 5 minutes or until crispy and fragrant. Cool and place aside. Stir through Gourmet Garden Parsley Lightly Dried .  
STEP 5: Place the salmon fillet into the oven, in the middle shelf for 25 minutes or until the salmon is cooked through.  
STEP 6: Place the salmon onto a large serving platter and scatter with the curry crumb mixture. Garnish with spring onion slices, Gourmet Garden Parsley Lightly Dried and dill leaves. Serve with Greek yogurt and lemon wedges. 
STEP 7: ENJOY!