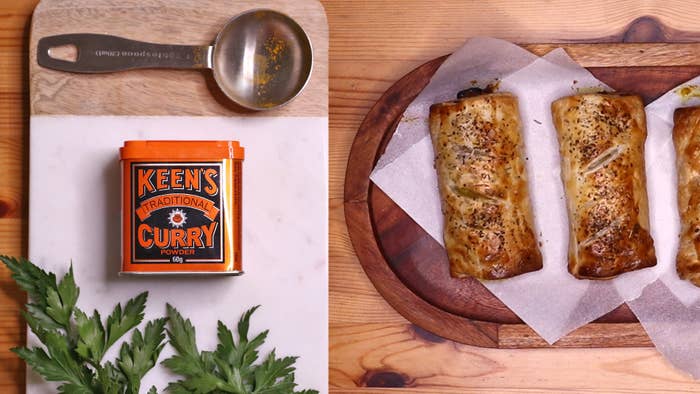 Ingredients:
1 tbsp oil
6 pork or beef sausages
1 onion, diced
1 tbsp Keens Curry Powder
2 tsp garlic, minced
2 carrots, finely diced
2 tbsp fruit chutney
1½ cups chicken stock
3 sheets of puff pastry, thawed
1 egg, beaten
To garnish:
Dried rosemary
Salt, to taste
Pepper, to taste
Method:
STEP 1: Heat oil in a frying pan over medium heat, then add sausages and cook until browned. Remove sausages and set aside.
STEP 2: Add onions and cook for five minutes until translucent, then add Keen's Curry Powder, garlic and carrots, stirring frequently for five minutes.
STEP 3: Add fruit chutney and chicken stock, then allow mixture to simmer for ten minutes.
STEP 4: Add the sausages into the curry mixture and rotate until evenly coated.
STEP 5: Once the mixture has thickened, remove from the heat and allow to cool.
STEP 6: Lay a square sheet of puff pastry on the bench top. Slice in half, then add one sausage at the edge closest to you. Spoon carrots and sauce on top, then, using your fingers, carefully roll the sausage and the puff pastry into a cylinder shape.
STEP 7: Lay the sausage roll on a lined baking tray and, using a sharp knife, score the top three times. Brush with egg wash, then sprinkle with rosemary, salt and pepper. Repeat steps 6 and 7 with the remaining sausages and puff pastry dough.
STEP 8: Bake in the oven at 180°C for 20 minutes, until golden and flaky.
STEP 9: Serve and enjoy!