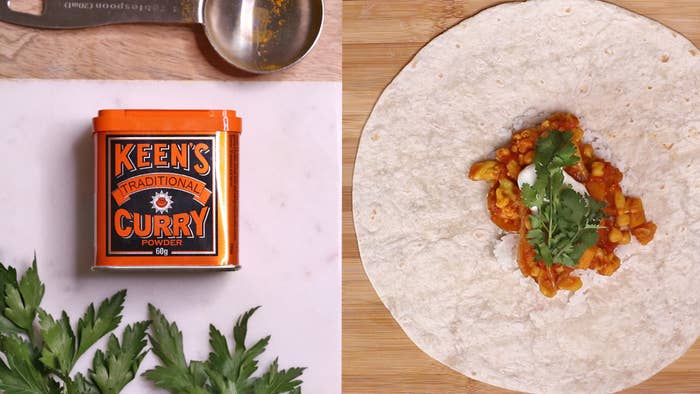 Ingredients:
2 tbsp oil
1 onion, sliced
1 tbsp Keens Curry Powder
2 tsp garlic, minced
1 tsp ginger, grated
400g chickpeas
½ cup pumpkin, diced
1 cup cauliflower florets
400g diced tomatoes
1 tbsp fruit chutney
1 cup water
1 tbsp tomato paste
To serve:
4 tortillas
2 cups jasmine rice (cooked)
1 cup Greek yoghurt
1 bunch coriander
Method:
STEP 1: Heat oil in a saucepan then add onion and cook stirring for five minutes.
STEP 2: Add Keen's Curry Powder, garlic, ginger, chickpeas, pumpkin, and cauliflower and stir until the curry powder is fragrant.
STEP 3: Add tinned tomatoes, fruit chutney and water, then stir until combined. Place a lid on top and allow to simmer for 20 minutes stirring occasionally.
STEP 4: Remove the lid from the saucepan and reduce for 10 minutes until the mixture thickens.
STEP 5: Lay a tortilla down then layer with rice, curry mixture and a dollop of Greek yoghurt. Top with a sprig of coriander then fold both sides of the tortilla wrap inwards, and roll the burrito closed.
STEP 6: Enjoy!