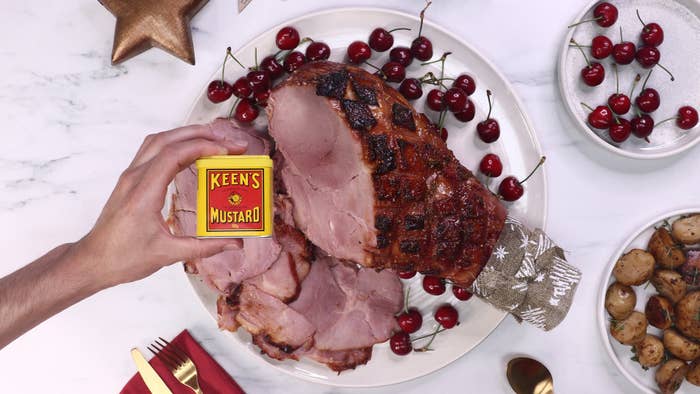 Ingredients:
660ml apple cider
2 cups brown sugar
3 whole star anise
1 tsp yellow mustard seeds
6 sprigs thyme leaves
2 cloves garlic, crushed
2 ½ tbsp KEEN'S mustard powder
3.5kg Leg ham
To garnish:
Thyme leaves
Method:
STEP 1: Preheat the oven to 180°C. Line a large deep roasting pan with baking paper.
STEP 2: To make the glaze, in a medium mixing bowl, combine apple cider, brown sugar, star anise, mustard seeds, thyme sprigs, garlic and 2 tbsp KEEN'S mustard powder. Bring to the boil, simmer for 25-30 minutes or until reduced halfway and thick. Stir through remaining KEEN'S mustard powder.
STEP 3: Carefully remove the rind from the ham, running your fingers gently underneath ensuring you leave the fat on. Run the knife cutting into the fat layer about half a centimetre deep to lightly score a diamond pattern.
STEP 4: Cover ham bone with foil. Glaze ham with mustard glaze, place into the oven on the bottom shelf for 1 hour and 20 minutes, basting every 20 minutes.
STEP 5: Slice and serve with your favourite Christmas dishes.
STEP 6: ENJOY!