The Women Of "Big Little Lies" Are All Welcoming Meryl Streep
"Well, now my acting dream has come true."
Gird your loins because, in case you missed it, Meryl Goddamn Streep is joining the cast of Big Little Lies next season.
According to the Hollywood Reporter, Streep will play Mary Louise Wright, the grieving mother of Perry Wright (Alexander Skarsgård), who will come to Monterey searching for answers. UH OH.
The news comes on the heels of the HBO show cleaning up this awards season — and the cast has been an absolute delight to watch.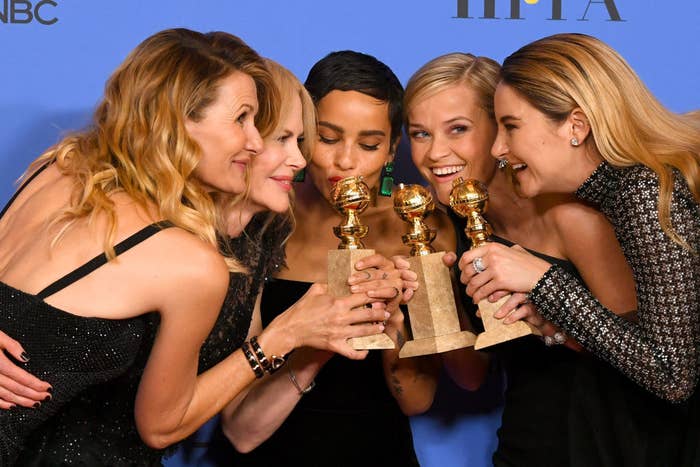 And despite the fact that Mary Louise Wright will undoubtedly ruffle some feathers in Monterey, the women of Big Little Lies are welcoming Streep with open arms on social media.
"Beyond thrilled to have the one, the only, Meryl Streep joining the cast of #BLL for season 2. Get ready for more wine, secrets, and #BigLittleLies. Monterey better watch out!!!" Reese Witherspoon, aka Madeline Martha Mackenzie, and an executive producer on the show, wrote on Instagram.
"Well, now my acting dream has come true. #BigLittleLiesSeason2," Laura Dern, aka Renata Klein, chimed in.
And, of course, Nicole Kidman, aka Celeste Wright (and, as Perry's widow, the actor who will likely share the most screen time with Streep) welcomed the acting legend. "Welcome to the #BigLittleLies family Miss Streep - can't wait xx," Kidman wrote.
The second season of Big Little Lies doesn't premiere until 2019, but we already know what every awards show will look like that year: