The Bechdel Test seems pretty simple. It's a kind of litmus test to gauge the presence of women in a movie.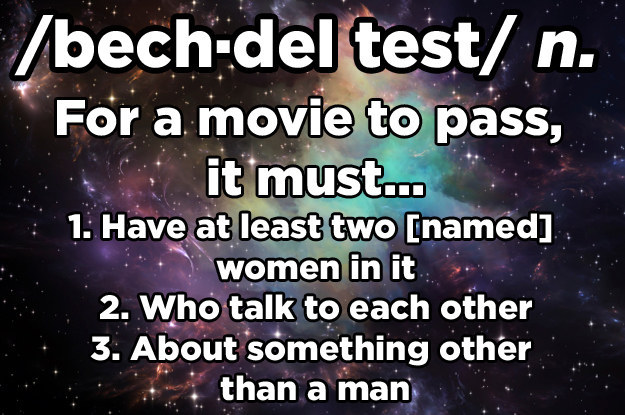 Alison Bechdel invented the test back in 1985, in the comic strip Dykes To Watch Out For.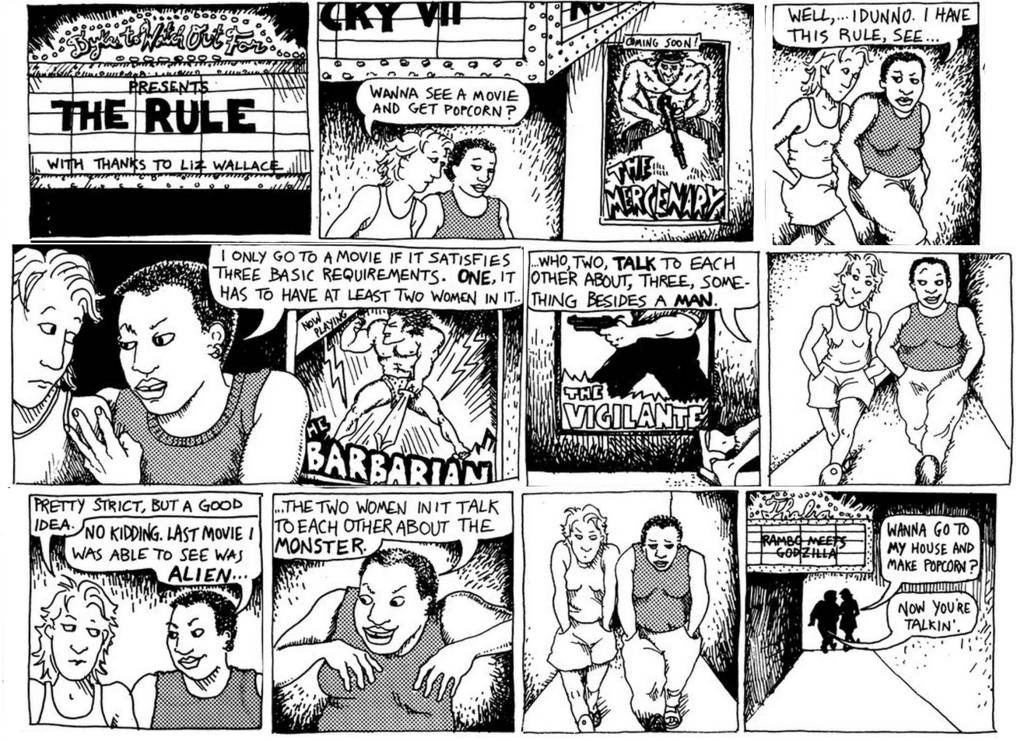 Guardians of the Galaxy (2014)

Marvel / ThinkStock

Most of Nebula and Gamora's conversations revolve around Ronan and Thanos, but they do throw in a couple lines about their own relationship, like, "Gamora, you've always been weak!"

The Amazing Spider-Man (2012)

Marvel / ThinkStock

Poor Gwen Stacy. She deserved better.

Spider-Man (2002)

Marvel / ThinkStock

Poor Mary Jane Watson. She also deserved better.

Big Hero 6 (2014)

Honey Lemon and Go Go don't talk to each other a ton, but hopefully we'll get even more of them in the sequel.

The Dark Knight (2008)

Warner Bros. / ThinkStock

It passes because Ramirez calls Jim Gordon's wife to tell her to leave the safety of the cops who are guarding her family. However, Harvey Dent has Ramirez at gunpoint, and you could argue that the phone call revolves around Jim Gordon anyway.

Captain America: The First Avenger (2011)

Marvel / ThinkStock

Someone get Agent Carter a goddamn female sidekick.

Captain America: The Winter Soldier (2014)

Marvel / ThinkStock

This one just scrapes by, as Natasha and Agent Maria Hill talk to one another about the ballistics of Fury's shooting. It's arguable since it technically revolves around Fury, who's a man.

Thor (2011)

Thank Odin for Jane and Darcy — and Lady Sif and Frigga, though their fate is to be surrounded by Asgardian dudes.

Iron Man (2008)

Marvel / ThinkStock

You could argue that Christine and Pepper Potts trading spars at the beginning of the movie counts. Or you could see it as a conversation within the context of the two ladies' relationship to Tony Stark.

The Incredibles (2004)

Disney / ThinkStock

Helen and Edna have some chit-chat that doesn't revolve around a man, and who can forget that sweet pep talk Helen gives Violet about her powers?

The Avengers (2011)

Marvel / ThinkStock

Can we please get Agent Maria Hill, Natasha and Pepper to go out for drinks? That would be an interesting conversation.

X-Men (2000)

Marvel / ThinkStock

Some might argue that it counts when Mystique disguises herself as Bobby and convinces Rogue to leave school.

X-Men: First Class (2011)

Marvel / ThinkStock

This one barely passes, thanks to Raven exclaiming, "You can fly?!" when Angel opens her wings for the first time. Angel replies, "Uh huh."

Ant-Man (2015)

Marvel / ThinkStock

Hope was such a central character, hopefully when she suits up as The Wasp, we'll get a movie that passes with FLYING colors. Haha.
Note: All results are sourced here.
Didn't see your favorite movie on the list? Disagree with the ranking? Weigh in below.