1.
It's hard to make friends after college.
Via thezodiaccity.com
If you don't like your co-workers and don't have children in play groups, meeting new people can be tough. And until you hang out with your favorite coffee shop barista outside the coffee shop, they don't count as a new friend.
2.
You have to feed yourself.
Via funnycutegifs.com
While this sounds awesome (cereal for dinner FTW!), most of the time it means one of two things:
• Spending ridiculous amounts of money on eating out
• Spending half of your Sunday, every Sunday, cooking meals for the week
4.
Every day you will debate when to eat lunch.
Via sourpatchkid4ever.tumblr.com
"I'm hungry, I should eat now." "The afternoon will be so long if I eat now. I should wait till 1." "No, I should eat now, I'm so hungry." "No I should wait."
5.
Odds are, you will not love your job.
Via amusedeasily113.tumblr.com
When your fourth grade teacher asked you what you wanted to be when you grew up, you did not say, "Stuck in an office with an overly demanding boss doing menial work that is way below my intelligence level." But, here you are.
6.
Most of your decisions will be based on money.
Via alexandrapaixao.tumblr.com
Do you want to go on that cruise? Attend that concert? Buy that fancy dress? No problem! Unless, you know, you want to pay rent, keep the electricity going, and eat this month.
8.
Hangovers last all day.
Via honeypuuh.tumblr.com
One greasy brunch doesn't cut it anymore. Just getting up to go to said brunch is too much work and your whole Sunday is spent on the couch chugging water and Advil, knowing your college self is disappointed in your adult self.
9.
If you don't fix it, no one else will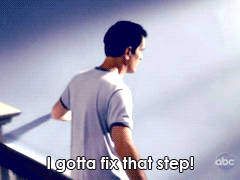 10.
Going shopping has a whole new meaning.
Via no-sign-of-intelligent-life.tumblr.com
It used to mean browsing your favorite stores for fashionable new clothes each season. Now it means spending half your paycheck at Target on necessities like deodorant, toilet paper, and soap. Ew.
This post was created by a member of BuzzFeed Community, where anyone can post awesome lists and creations.
Learn more
or
post your buzz!