1.
When she wasn't afraid to admit that she loves receiving praise from fans.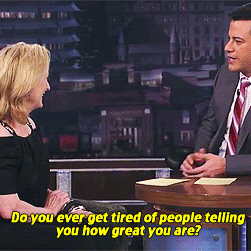 Submitted by Marina L., Facebook
2.
When she wasn't the least bit sorry for winning her third Academy Award.
3.
When she called out the ridiculous sexism in Hollywood on The Graham Norton Show.
4.
When she responded to Patricia Arquette's feminist Oscar speech with a "Yaaass!"
5.
When she gave us all kinds of life as the fierce Miranda Priestly.
6.
The time she overcame her insecurities and vocalized how hot she was as a twentysomething.
7.
When she gave us the most genius comeback in Death Becomes Her.
8.
When she silenced the haters during her The Devil Wears Prada Golden Globes speech.
9.
...And when she couldn't resist releasing her inner Miranda Priestly.
10.
When she poked fun at her serious actress persona on Jimmy Kimmel Live!
11.
The time Meryl made Mark Ruffalo's dreams come true and gave him a smooch.
12.
When she was surprised with Jennifer Lawrence's suggestion for the legendary Oscar selfie.
13.
When she wasn't afraid to be completely honest on the red carpet.
14.
When she graced us with this hilariously dirty line from Julie & Julia.
15.
When she teamed up with Pharrell and did the most flawless shimmy known to man.
16.
When she didn't hesitate to show off her beautiful self when she won a BAFTA.
17.
When she danced her amazing heart out in Paul McCartney's "Queenie Eye" music video.
18.
When she brilliantly shut down Jon Stewart on The Daily Show.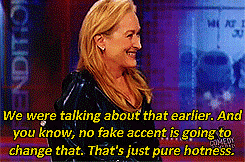 Submitted by Janine O'Connor, Facebook
19.
The time she perfectly captured the essence of the internet in She-Devil.
20.
When New York officially claimed May 27 as "Meryl Streep Day," proving she's the most loved person ever.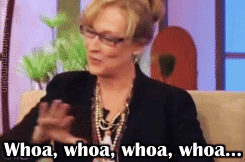 Submitted by Allie Gerds, Facebook
21.
And when she gave the best advice about staying true to yourself.