*Bangs cymbals, rings bells, screams with joy*: Out of the bajillion sales out there right now, I need you to listen to this one, people! Caraway, the creators of literally the best cookware out there, is having their biggest sale ever RIGHT NOW!
Here's a breakdown of their deals: Save 10% on orders $95+, 15% on $395+, and 20% on $525+. And now I shall go into great detail about why these pans are 100% worth every single penny.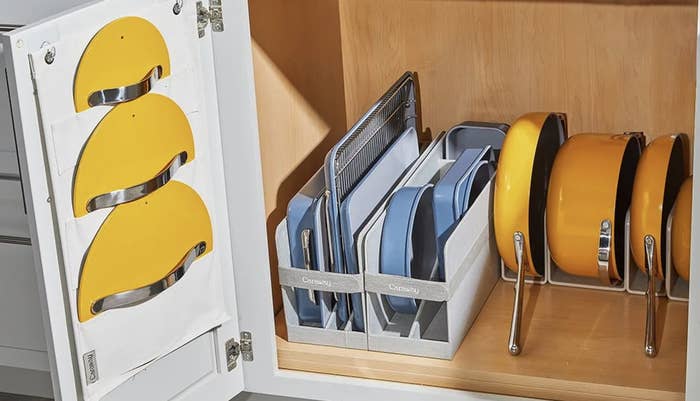 Ok, now let's get to some of the best parts: These nonstick pans are unlike any cookware out there. Yeah yeah, I know, I am sure you've read something similar about some other pot — but when I say I think there was sorcery involved in creating these, I mean it! For starters, how dare they create a system with storage needs! in! mind!
Moving onto my favorite feature of these bad boys. The ceramic coating is made with a nontoxic, mineral-based coating so your food doesn't soak up any toxins during cooking. Although, I am pretty sure it's actually made with magic, because literally nothing sticks to these pans:
Really — I've cooked in these countless times, making a variety of different dishes, and no food has ever gotten stuck or burnt on. HELLO!
And yes, it passes the cleaning test with flying colors!!!
I could go on and on about the wonders of this beautiful pan set, but I will just leave you with this: If you're in the market for a new set, consider Caraway. While it is on the pricier side, their high-quality, nontoxic pans and storage system make it worth every. single. penny.
Me after trading in my mismatched college set for the Caraway nonstick pans: