This post has not been vetted or endorsed by BuzzFeed's editorial staff. BuzzFeed Community is a place where anyone can create a post or quiz.
Try making your own!
The Ex Collection: A Pop-Up
A pop-up shop and show to benefit Planned Parenthood. Turn heartache in to an awesome new outfit!
What's Goin' On?
Around this time of year, everyone I know does some form of spring cleaning. Whether it's dusting, decluttering, or shedding your current partner, everyone is doing some form of cleaning house. And we'll take it all!
I was doing the same kind of sifting and found myself asking, "why do I still have this stupid shirt? I know I like to sleep in it because it's giant and comfy, but it belongs to that friggin' jerkface! WHAT AM I DOING WITH THIS CRAP?"
I realized how much of my wardrobe was made up of items from these past relationships. "But not anymore!" she yelled defiantly in to the horizon!
The Ex Collection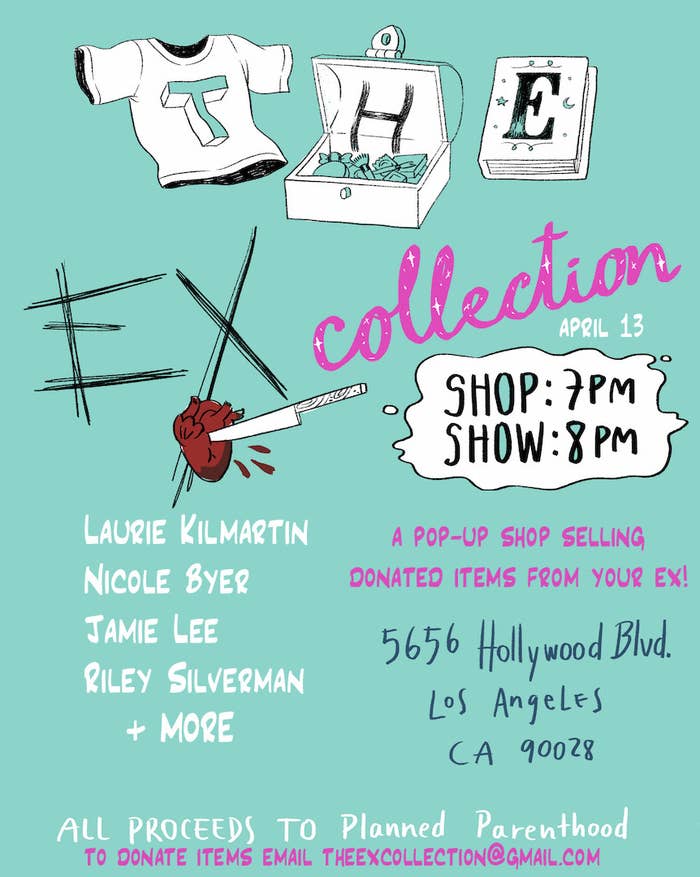 1.
How It Works!
You have items from your ex partner (probably) and you want to get rid of them (probably)!
It's time to turn heartache in to an awesome new outfit!
2.
Email The Ex Collection
To schedule a Pick Up of your items, email The Ex Collection: theexcollection@gmail.com
Or Drop Off to Junior High Gallery
5656 Hollywood Blvd
Los Angeles, CA
90028
All Proceeds to Planned Parenthood
4.
Hit that Shop and Show!
Dang. You did good. You've done all this cathartic work and it's time to actually enjoy The Ex Collection!
Drinks by Donation all night!
5.
Check out the Comics!
Shop Doors Open: 7PM
Show Starts: 8PM
Shop Doors Close: 10PM
Nicole Byer
Jamie Lee
Riley Silverman
6.
Can't Come but still Want to Donate to Planned Parenthood