This post has not been vetted or endorsed by BuzzFeed's editorial staff. BuzzFeed Community is a place where anyone can create a post or quiz.
Try making your own!
11 Signs You're A Facebook Stalker
We've all done it at least once or twice, but some of us have a serious problem. Here are 11 signs that you may be suffering from serial stalkeritis.
2. You have to pretend not to know things about people so they don't think you're creepy.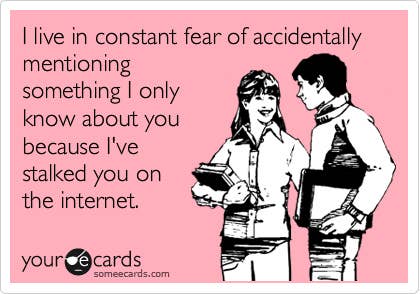 3. You can find ANYONE on Facebook.
4. You don't even need to know their name to find them.
6. This is your reaction when you find a profile set to public:
7. Your friends come to you when they need information on someone.
9. You've found at least one legit celebrity profile.
11. And maybe, just MAYBE, you're a little bit proud of what you can accomplish with a name and a public profile.
Stalk on, my creepy brethren.