1. IT'S TIME!!! GIVE IT TO ME, RYAN MURPHY!
2. This better live up to the hype.
3. Surely it's not going to better than Murder House.
4. Murder House is still the best one.
5. I miss Jessica Lange already.
6. OK, ENOUGH. I AM READY TO CHECK IN.
7. Wait. No. I changed my mind. That is the carpet from The Shining.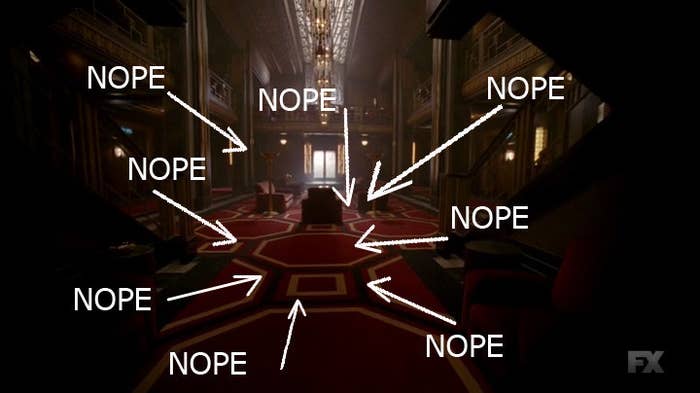 8. I DID NOT COME HERE TO PLAY THAT GAME, RYAN!
9. Not a single soul in that lobby. Definite red flag.
10. A wild Kathy Bates appears.
11. And she's had a shave since last time we saw her.
12. These blonde girls are going to die in about three minutes, aren't they?
13. American Horror Story: No Wi-Fi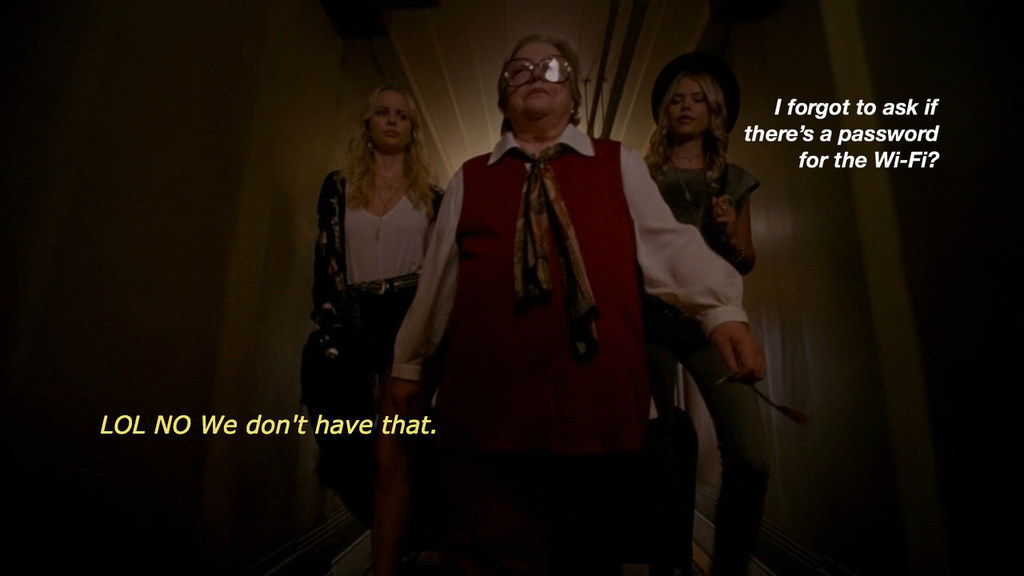 14. Why is she walking through that hotel ALONE?
15. OH HELLLLLLL NOooooOOooOOooo!
16. Children of the corn! CHILDREN OF THE CORN! ABORT! ABORT!
17. FACT: There is nothing worse than old lady ghosts and creepy children.
18. OF COURSE THEY'VE VANISHED. OF COURSE.
19. Creepy hand wearing a sequin glove. Michael Jackson, is that you?
20. The smell is coming from inside the bed.
21. THERE'S SOMEONE IN THE BED.
22. Bitch, don't do it.
23. Tonight's nightmare is brought to you by whatever the sweet FUCK clawed it's way out of that mattress.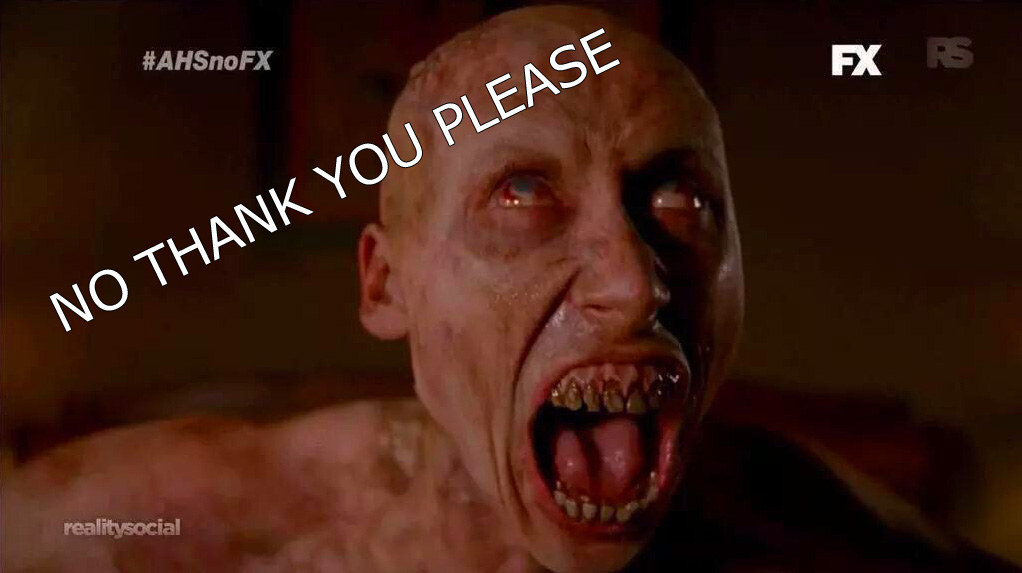 24. OK. Time to recover while they play the credits. *takes a deep breath*
25. I've already got a complex about all future Room 64s now.
26. Sorry but if you're in a super freaky hotel and an alarm goes off at 2:25 a.m., you stay the HELL in bed.
27. BITCH, DON'T GO IN THE BATHROOM.
28. Those kids are creepy AF. I don't like them.
29. Where is Lady Gaga tho?
30. Naked people. That didn't take long.
31. WHAT IN THE NAME OF SISTER JUDE IS HAPPENING?!
32. "He's in a world of hurt." UNDERSTATEMENT OF 2015.
33. So wait, are you saying that he is SUPERGLUED inside of her?
34. I've already had it with this show.
35. Is this like SAW but for TV?
36. IS THAT SCHMIDT FROM NEW GIRL?! DON'T CHECK IN. IT'S A TRAP!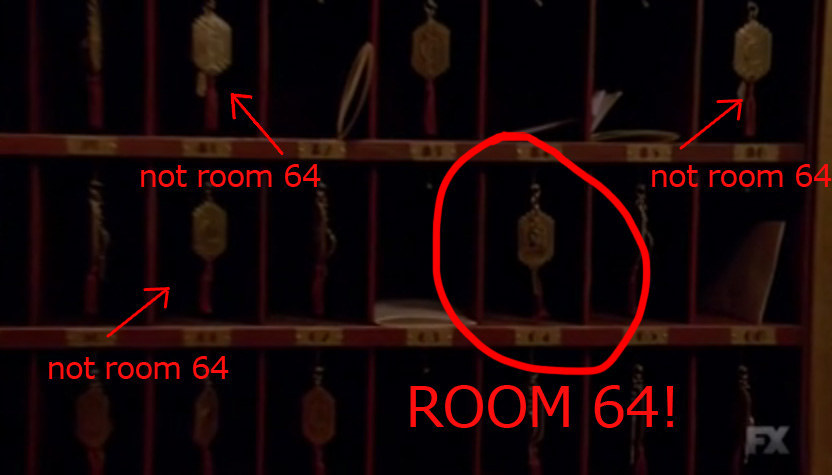 37. All those keys and you gotta give out room 64. IT'S A NO FROM ME.
38. Sarah Paulson! YAASSS QUEEN!
39. Was that a spiked metal stra-? *Checks out IMMEDIATELY*
40. Poor Schmidt. RIP.
41. Oh, I don't think a gun is going to help you in this HELLSCAPE, sir.
42. SLOW PAN TO UNDER THE BED. NO THANK YOU PLEASE.
43. It's that bloody alarm again.
44. SCARY CHILDREN.
45. OMG YAASSS GAGA! YOU LOOK SO GOOD!
46. Ten minutes into Nosferatu and chill and she gives you the look.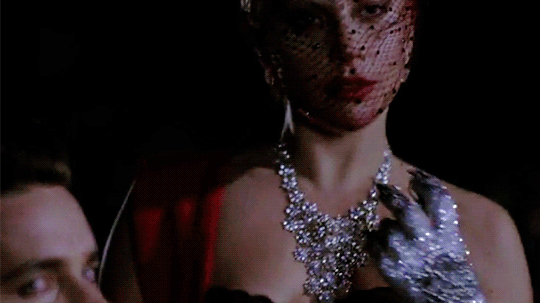 47. This is about to be one glamorous orgy.
48. Aaand there are glittery nipple covers. Only Gaga.
49. #FreeTheNipple
50. WHOOAAAA THAT'S A LOT OF BLOOD.
51. Like, I knew it was coming, but I was not ready for it. Not ready at all.
52. But I'll be honest with you: If anyone had to slash my neck, I'd want it to be Matt Bomer.
53. I wonder how much red food coloring they go through on this show?!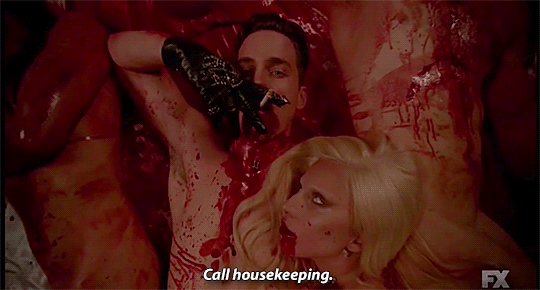 54. Oooh, a cute dog! If he dies, I'll throw my TV out of the nearest window.
55. Yeah, this is exactly like SAW, isn't it?
56. All those contraptions? Creepy guy on the phone? PUPPET MASTER? Hmmm.
57. Also, I bet that is NOT the beer funnel concoction those gals had in mind.
58. WHAT'S IN ROOM 33?! WHAT'S IN ROOM 33?!
59. You better run, gurl. RUN LIKE GAGA'S EMMY DEPENDS ON IT.
60. BLOOP. She's dead. Slayed quicker than Gaga at the VMAs.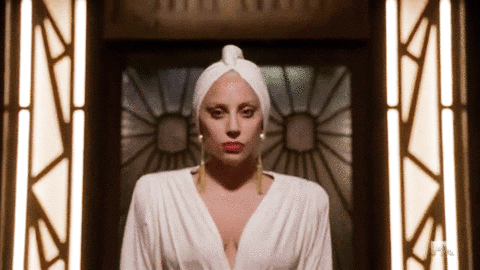 61. I'm living for this '70s aesthetic everyone's got going on. Very American Hustle.
62. Wait, is one of the creepy children of the corn HIS OWN SON?! This just got personal AF.
63. IS THAT MARTHA HUBER FROM DESPERATE HOUSEWIVES? #TRUSTNOBITCH
64. Oh my god, is she going to kidnap the kid?!
65. This is starting to get reaaaaal sinister.
66. SHE'S AN ACTUAL CHILD SNATCHER.
67. Side note: All that sass Liz Taylor is giving off right now is EVERYTHING.
68. NOTE TO SELF: Don't ever fuck with Kathy Bates. EVER.
69. "'CAUSE BABY NOW WE GOT BAD BLOOOOOOOOD."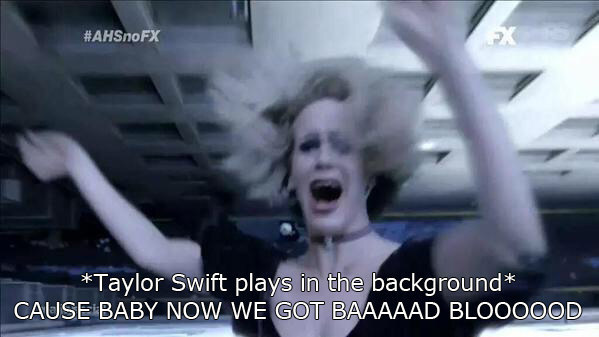 70. @MattBomersRealMum: YOUR BOY HAS A JAWLINE FOR DAYS.
71. I can't wait for Gaga's Emmy acceptance speech.
72. "This Emmy has a jawline for DAYYYYYYYS..."
73. Well then, that was a lot to take in. I'm not sure how I'm ever going to sleep again.
74. That was the best Lady Gaga music video I've ever seen.
75. Hello, room service? Yes, I'd like 12 cloves of garlic and a large wooden stake.
76. Oh, and the biggest bottle of holy water you've got.