1.
Wad-Free, an ingenious device to solve all your sheet-washing woes. It'll help your sheets dry faster and with fewer wrinkles, and prevent them from trapping all the clothes you throw in there with them in the dreaded tangled-up ball. Where have these been your whole laundry-doing life?!?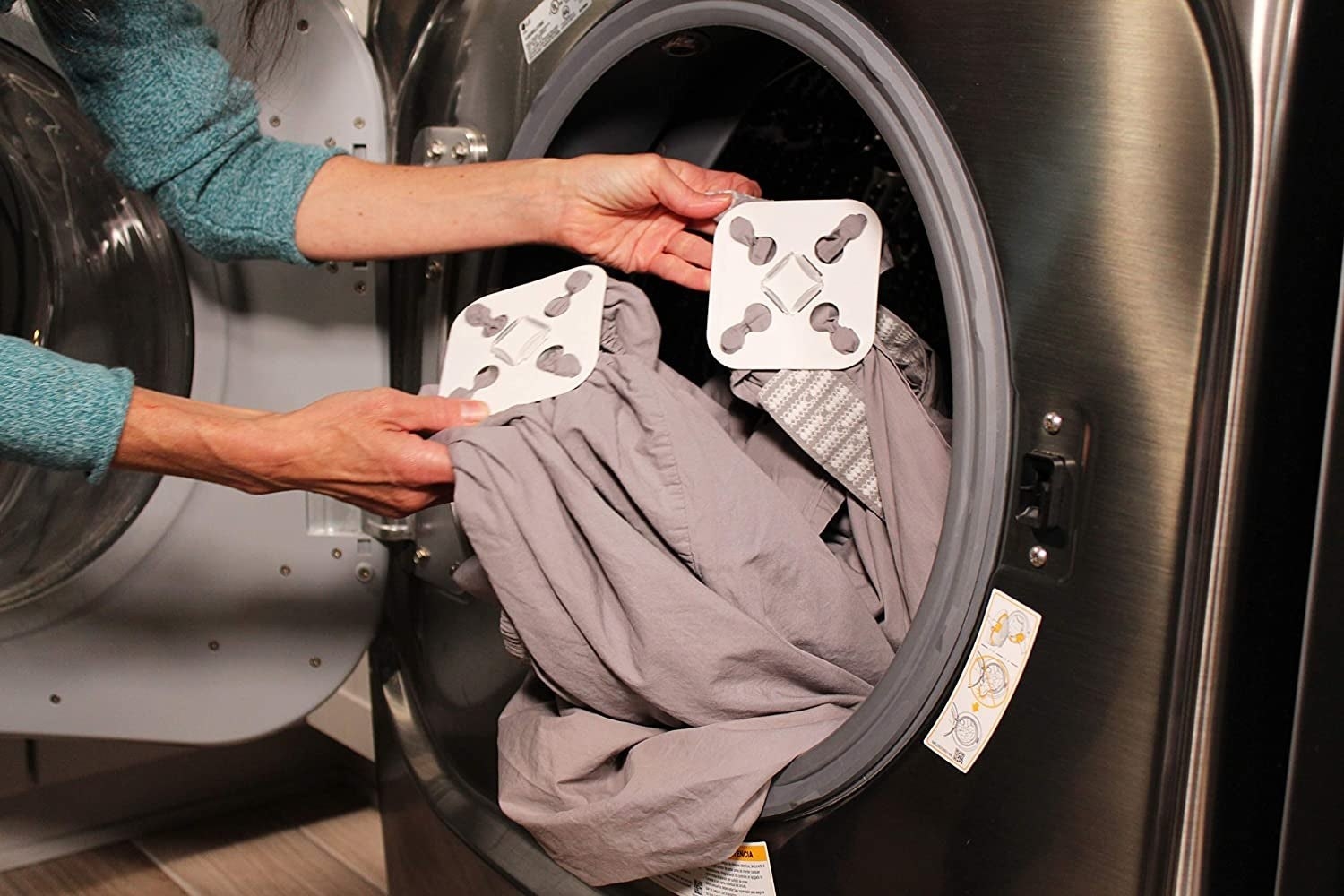 They're reusable, BPA free, and from a small business that launched during the pandemic.
Promising review: "This product has changed my world! Washing and drying my sheets is a breeze! The sheets are not bundled up in the washer and they also dry quickly with no wrinkles! Do yourself a huge favor and try Wad-Free! You will not regret it! Thank you, Wad-Free, for making this chore simple and making washing my sheets a fun, easy breezy experience! I love them!!! I purchased a backup pair, too. Blessings!" —just cruisin'!
Get a set of two from Amazon for $18.99.
2.
A trio of power scrubber brushes you can attach your drill and instantly create a super-powered deep-cleaning device.
Promising review: "These brushes are freaking fantastic. I tried them on a portion of my shower and bathroom floor tiles and grout. I immediately had to do the rest because it made the cleaner sections look dirty. I also tried it on the side of my fridge that is next to my stove top. It did a pretty good job there as well at removing grease and stains. The only downside is that it made me enjoy cleaning!" —Eric T. Ma
Get it from Amazon for $14.95+ (available in six colors, each with a different stiffness/purpose).
3.
A handy-dandy dish squeegee sure to make anyone who has ever done dishes and touched icky leftover food or struggled to clean up a spill say, "Why didn't I buy this sooner?!?!" One side is curved so it works on bowls as well as plates, and it can clean up sinks and countertops just as easily as it can dishes.
I make a lot of orzo pasta, and anyone else who does knows those suckers really like to stick to the sides and bottom of the pot. This product is PERFECT for scraping those stubborn grains out. It feels so much less gross than a sponge, since your hand stays farther away from whatever you're cleaning and it doesn't just sit there wet and festering after you use it. You can rinse it off and toss it in the dishwasher!
Promising review: "This product is AMAZING. We live in a studio apartment with a small kitchenette. Our sink likes to spray everywhere, and we don't have a garbage disposal. This product is not only is fantastic at scraping food off of our plates (so it doesn't go down the drain), but it helps to squeegee the countertop when water has sprayed everywhere!!" —Elizabeth
Get it from Amazon for $7.95.
4.
An instantly downloadable and printable cleaning checklist divided by day and room that'll help you break up the seemingly overwhelming task of cleaning your home while making sure you don't miss a spot.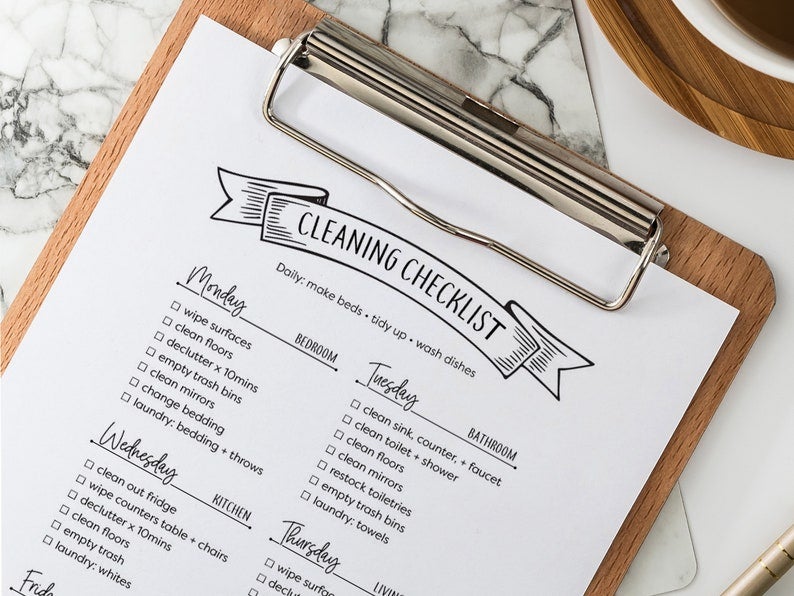 This Canada-based small biz specializes in printable organizing aids. Once you order and download, you can customize the list yourself with Adobe Reader.
Promising reviews: "I have adult children living with me at the moment. I needed clear cleaning instructions/expectations for them to contribute with the house. This easy printout has solved so many arguments. It works great for our situation." —Jennifer Jarvis
"I ended up editing this a little bit to better fit our needs but this was perfect! It made it so easy. My house hasn't been this clean in a while. Lol." —Kathleen Cronin
Get two sizes in JPG format and two sizes in PDF format from CreativeTypeStore on Etsy for $4.48.
5.
A roll-up dish rack that's so much more than a dish rack. It'll save you a ridiculous amount of counter space, both during cooking and cleanup, since you can use it to dry dishes, thaw meat, and strain veggies, or even as just another place to put cutting boards and dishes during meal prep. And when you're done, you can just roll it up and put it under the sink!
Promising review: "How did I ever get along without this thing? We were looking for a way to dry dishes without taking up counter space with a dedicated drying rack. I decided to give this little contraption a try, and boy, am I glad I did. It is incredibly versatile and is a wonderful addition to our kitchen. So far I have used it for drying large items over the sink, filling a pot when the sink was already full, and as a counter trivet for a hot pan, and it performs beautifully in all these roles. The metal rods are strong and sturdy enough to hold heavy items, long enough to span our sink from multiple angles, and, best of all, it rolls up for easy storage when not in use. All around a great kitchen tool, and I'll never be without one again." —T. Eicher
Get it from Amazon for $24.98+ (available in three sizes).
6.
An endlessly reusable, nonadhesive hair remover roller you can just glide over your furniture to suck up the seemingly impossible amounts of fuzz your beloved fur baby deposits on a daily basis. Yes, you can now wear black pants and have company over! Maybe even both at the same time!
Promising review: "I have no idea how I lived so long without it. I literally wish I could find the words to describe how incredible this thing is. I could slap myself for not buying it sooner. I have an 85-pound golden retriever who SHEDS. Not normal shedding — I'm talking this dog has so much hair it's ridiculous to clean up. I vacuum every day and run the Roomba when I'm working. But there was nothing besides lint rolling that I could do for the couches, pillows, sheets, etc. Until this. When I got it, I used it really quickly on our ottoman, which has a ton of dog hair on it just from existing in our living room. Ran this back and forth a little and I kid you not, all the hair was gone. Took it to the couches, sunroom furniture, all the throw pillows, and the bed sheets (which is absolutely life changing), and it removed 98% of the hair. I contemplated buying another one so my husband and I could tag team everything that needed fur removal. I cleaned the couch cushions tonight and when I sat down on the couch (IN A BLACK SHIRT) I had no dog hair on me when I got off the couch. This thing is absolutely incredible and has surpassed any expectation I could have had. I'm not one to give into gimmicky 'miracle' products but this one is legit. Just buy it!" —Nichole
Get it from Amazon for $25.95.
7.
A sponge holder that doubles as a dish soap pump — just press down to immediately get the perfect amount of soap ready to use on your sponge, without making a sticky, sudsy mess of your sink area.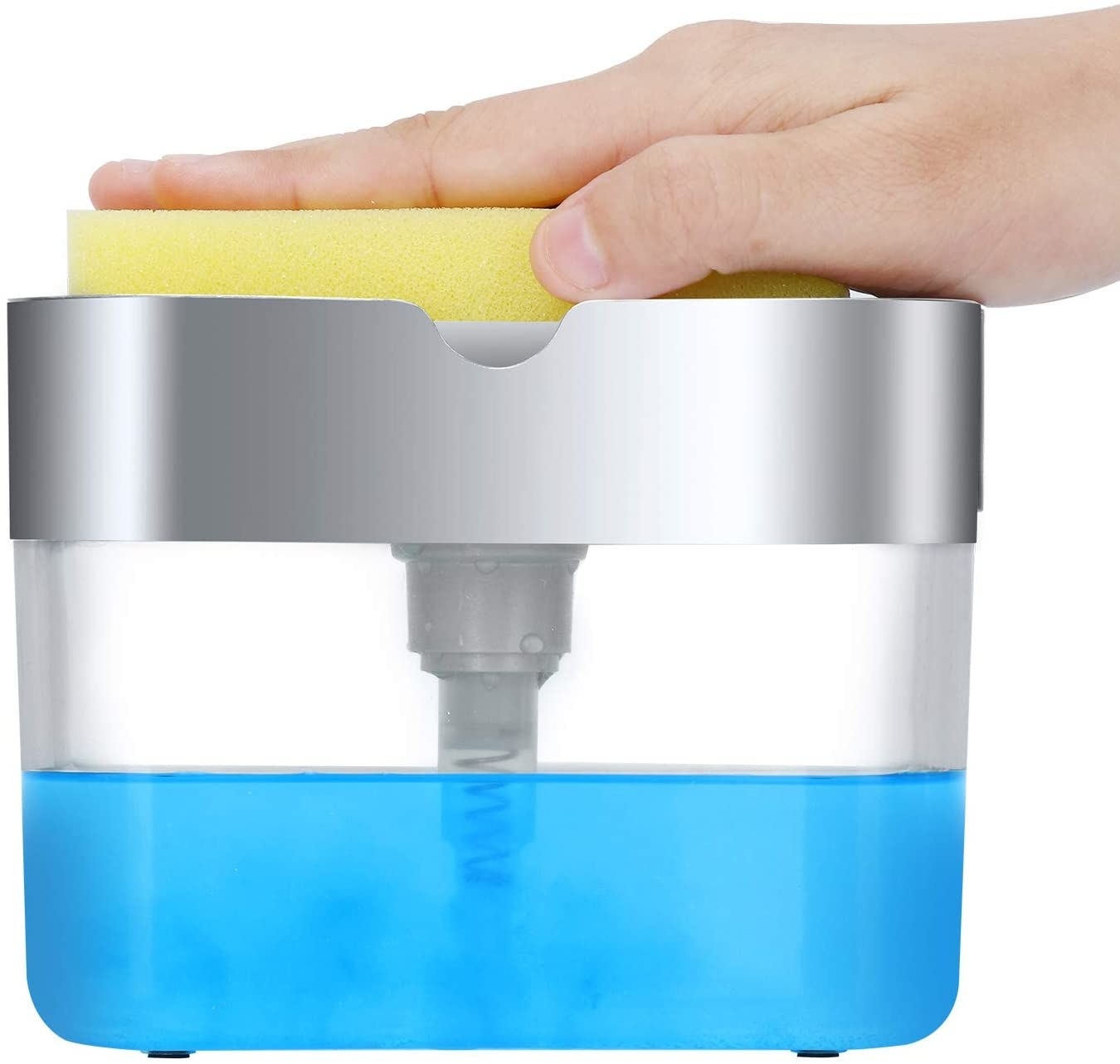 Promising review: "Family approved! Amazing soap dispenser!! Easy soap installation. To activate the pump, push down at least four times. Perfect amount dispensed for effectively washing dishes or using in the sink area; two pushes down with wet sponge seems to be sufficient. I have adult children who pour dish soap on the sponge, with so much wasted, we lose money on soap. This is a game changer! Our family loves this soap dispenser, looking forward to not wasting so much dish soap at one time." —M.Mercer
Get it from Amazon for $9.99.
8.
A handy toilet wand with disposable cleaning pads that'll make cleaning the john so much less gross, you'll actually DO IT for once, dammit. Reusing that toilet brush crusted with old who-knows-what? I'll pass, thanks.
Because I mean actually, you DO know what's on that old brush.
Instead having one toilet brush that you always reuse to clean the crap (sometimes literally) out of your toilet and then store in your bathroom to be used another day (ick), this lets you use dispose of the cleaning pad after each use. Just press the button on the handle, and it'll eject the pad right into the garbage! Plus, each cleaning pad is already loaded with Clorox Cleaner, so it's the only product you'll need. Check out BuzzFeed's full write-up on Clorox toilet wands.
Promising review: "This is the best toilet cleaner EVER! It contains a cleaning product, plus the sponges conform to every bend in the toilet and work easily in the rim. It didn't require any elbow grease either! I promptly threw away my top-of-the-line brush with its fancy under-the-rim attachment that never worked. I am 100% all about this." —Kingfisher
Get the wand, caddy, and six cleaning heads from Amazon for $9.38 (or $8.91 with the Subscribe & Save option), and get more refill heads here.
9.
Or a miraculous automatic bleach toilet-cleaning system that'll actually *eliminate* a regular chore from your to-do list completely. Once installed, it sends cleaner into the bowl every time you flush, so your toilet will basically clean itself!
It's super quick to install, and one cartridge can last up to three months!
Promising review: "I've installed these in all six toilets in my home and they are a great idea. I've been using this for about four to five years. This device circulates bleach product into the toilet bowl after every flush, where it is needed to prevent staining such as water lines from calcium buildup. The chlorine water is restricted to the bowl, not the tank. If chlorine is in the tank it will erode away the flapper and foam seal which separates the tank from the bowl, requiring more expensive repairs. This product solves that problem with no drawbacks and don't look unsightly like the clamp-on bars of chlorine that are permanently inside the bowl." —Dr. D123
Get it from Amazon for $9.97.
10.
Beyond handy bag handles made for anyone whose least favorite chore is grocery shopping simply because of the schlep, and/or who REFUSES to make multiple trips into the house with their baggage. These babies make it possible to carry way more at once (up to 50 pounds!!!) and can even hold the bags together in the back of the car so they don't spill.
Promising review: "It usually takes me a dozen trips from my car to my house to get my groceries inside, and if I carry too many at one time, the handles cut off the circulation in my hands and arms. These special handles solved all my problems. Today, I only made three trips from the car to the house! When I had to put the bags down to open the door, these handles laid on top of the bags and I only had to grab them instead of searching for all the plastic handles as they flopped around. Now there are no more bag marks on my wrist and my hands don't go numb! Who would have thought that something so simple could make my life so much better?" —Rosemary Smith Dattler
Get a set of two from Amazon for $13.95.
11.
Dawn Platinum Powerwash Dish Spray, an awesome grease-buster that'll save you scrubbing and change the dishwashing game for good — by making it actually kinda...fun?!?
BuzzFeed Shopping editor Elizabeth Lilly loves this stuff! She says: "I live in an apartment without a dishwasher, and I honestly use that as an excuse to order takeout instead of cooking. But as soon as I got my hands on a bottle of this stuff (regular Dawn is my go-to dish soap, BTW), I put it to use on both a saucepan I used to make homemade enchilada sauce *and* the casserole dish I baked those enchiladas in, which had a ton of caked-on food. It really does work like I say it does! Like, scary well."
Promising review: "Is it wrong that I wish this came with a holster for the spray gun? Seriously, I see a dirty dish and I want to pull it out, twirl the gun around my finger, and spray, just like in the wild, wild West. The soap is superior to any other; I even use it as a pre-wash for stains on my clothes. There's nothing it hasn't removed. The power wash sprayer is superior. It's easy to use, easy to whip out, soap stays soapy, and rinses clean. I don't feel like I'm wasting any or need to spray more. You can get in close and spray a cup; spray a little further back and you can hit a whole plate. I know it's sad to be this happy over something so simple, but it really does make a task that much easier, and that is appreciated. I will have a Power Wash spray bottle in the bathroom, laundry, kitchen, and pet area, because those are all the places I've carried it. Great product. The soap never fails, cuts through everything, gets rid of any greasy feeling on any material — pans, plastic, walls, and counters — and the spray is fun." —Sssshhhh
Get a spray bottle and a refill bottle from Amazon for $8.44.
12.
Wet & Forget shower spray, which'll revolutionize the way you clean your bathroom. True to its name, all you have to do is spray your shower or tub, let it sit overnight, and rinse it the next morning to reveal a cleaning miracle. It works so well, you only need to use it once a week — which is perfect since the last thing you need is another thing on your daily to-do list.

Promising review: "This stuff is amazing! I had a horrible gray ring in the bottom of my shower that was impossible to remove. I had tried the Dawn dish soap method (with a lot of scrubbing) and had even used toilet bowl cleaner to try to remove the soap scum. My next step was to tear out and replace the shower pan and tile. I figured this was my last chance. I ordered the Wet & Forget spray and really coated the shower walls and floor pan and walked away. I CANNOT begin to tell you how happy I was to rinse down the walls sometime later and watch all that crud roll right down the drain!! This is the best product I have ever used in my life!! Works great and no toxic fumes!!" —Amazon Customer
Get it from Amazon for $19.74.
13.
An easily accessible hanging changing table organizer new parents absolutely swear by for keeping everything right at hand when things get messy. One time you never want to be disorganized? When there's baby poop involved.
It can also be hung on a wall!
Promising review: "Don't know how I lived without it! Before I bought this, I had to stash diapers and wipes under the changing table and bend down and grab when needed. I also had a pile of burp cloths on a side table, and all the baby's outfits in drawers. I bought this and it CHANGED MY LIFE. I keep the wipe warmer on it, as intended, always have easily and readily accessible diapers, burp cloths in one side pocket, and outfits in another. I hung this on the wall next to the changing table so I have it at an easily accessible height, ready to use and to grab whatever I need. I Love the nursery organizer and would recommend to anyone who asks." —Louis Klapper
Get it from Amazon for $26.92+ (available in two colors).